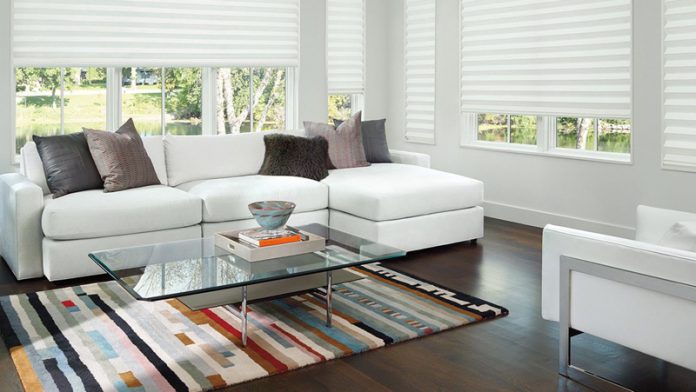 Whilst there are many perks for purchasing custom made blinds for your home, it can get a little tricky when you have a question about the product or process and can't find a good answer. After all, purchasing custom furnishings is quite an investment, so it stands to reason that you want all the facts before taking the plunge. At Amaru, we are committed to ensuring that our customers have the best possible experience – which includes answering any questions that may arise along the way.
Here are our top 5 most commonly askedquestions about made to order blinds:
What blinds are best for sliding doors?
Sliding doors tend to be difficult to dress when it comes to window furnishings, as you don't want to hinder their use and they tend to be wider than the average window. We have found that there are three styles of blinds that work best for such situations – vertical, panel and roller. Each of these styles feature an easy-to-use tracking system that allows for quick access to the door whilst providing privacy when desired.
What blinds are best for privacy?
Although all window furnishings will provide your home with a level of privacy, some are better at achieving this than others. We recommend dual roller blinds – one sheer, one blockout.The translucent sheer fabric provides ample privacy during the day, allowing you to see out whilst preventing passers-by from seeing into your home. The blockout then gives you complete privacy at night.
What blinds are best for noise control?
Many people are surprised to learn that window furnishings can help them to reduce outside noise from penetrating their homes. We have found that double roller and Roman blinds are ideal choices for this function – the dual fabrics of double rollers mean that double the barrier is created against your window, whilst the thick blockout fabric of Romans will absorb a large amount of outside noise. Both mean you can enjoy a quieter home.
How long will the installation of my custom blinds take?
This depends on a few things including the number of custom-made blinds you've purchased, the location of the blinds in your home (difficult to reach locations) and the control options you have chosen (manual v's motorised). As a general rulethe actual installation shouldn't take any longer than a day. Just keep in mind that a consultant will first come out to your home to take detailed measurements to provide you with a quote, once accepted it will then it will take a few weeks for the furnishings to be custom made.
Are blinds safe for children and pets?
It is essential that all blinds in your home comply with Australian Child and Safety laws, which are designed to protect children (and, by extension, pets) from injury and even death caused by accidental strangulation. A control wand is a great child safe option, as is securing the cord partway up the wall out of a child's reach. The ultimate in child safety, however, is motorisation – control your window furnishings with the touch of a button!
If you're in the market for custom blinds in Melbourne, we hope that we've been able to answer some of the more pressing questions here. Window furnishings of all kinds represent a significant financial investment for many homeowners, so it's important that you have all the information you need to make an informed decision. If you have a question about custom made-to-measure blinds that hasn't been covered, make sure you reach out to the helpful team at Amaru – we are here to help!