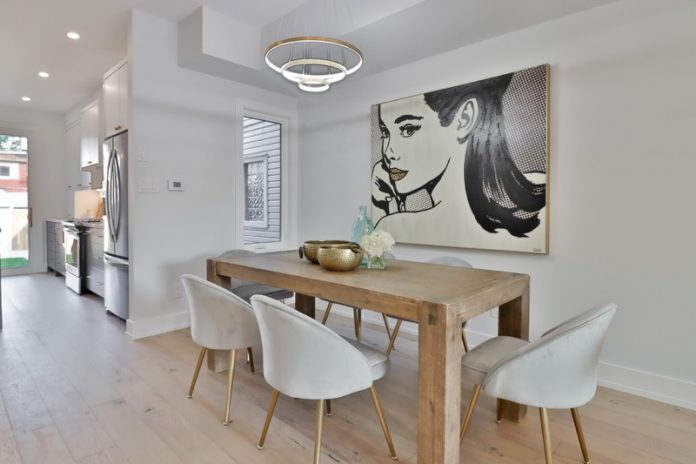 Here is another mood board to inspire you to decorative greatness. This time around, I designed a dining room board in one of my favourite styles: the Mid Century Modern. I'm a great fan of bright patterns and colors, but on this project, I wanted a neutral design with a mid-century dining decor, having a more modern style, and I challenged myself towards it.
Below are several tips to help you build the same style if you love it too.
Clean Lines: Applying the mid-century style on ornamental designs does not usually go well. So instead of going for sleek and symmetry shapes, search for furnishings with tapered and simple legs. Pieces with basic shapes, such as circles, unify the things in the room.
Natural Elements: Utilizing natural textures and elements, such as macramé décor and woven rug in the mood board, can help you keep your room from being too impersonal or cool. The simple shapes and sleek lines give your room some visual interest and warmth.
Warm Metals: Gold and brass finishes are perfect for the mid-century style. They add glamor to your space. You can try it out in an area with light fixtures, decorative objects, or curtain rods. They add some sparkle to your room.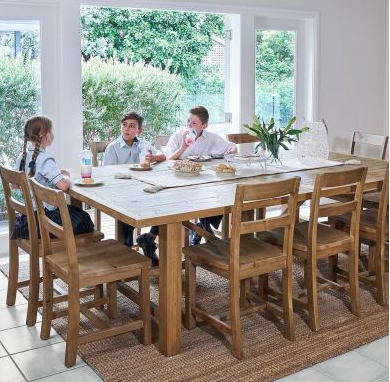 Credit: 1825 Interiors
Wood Tones: Get a staple of mid-century décor is wood tones. Natural wood or wood stained with walnut are perfect for this style. However, in general, do away with anything too dark or too red. This is because it doesn't go well with the style you have chosen.
Let's examine some unique examples of mid-century modern dining rooms.
1. Black Serge Mouille 6 Arm Ceiling Light
Prices from his 1958 masterpiece, the ceiling light made by Mouille, are beautiful mid-century styled lighting fixtures perfect for your dining. It is an excellent choice for dining spaces with numerous chairs because it spreads the light all over the room. Velvet chairs and thick wood tables add to the beauty of this dining space.
2. Cesca Chairs
This is a common design of mid-century chairs in numerous apartments and homes. This chair is S-shaped. Made with a silver metal structure, a cane back, and a seat. You'll get the original for about $1000, but it's worth the money.
3. Sputnik Chandelier
Sputnik Chandelier is quite popular in many mid-century houses. It is a lightning fixture with a semblance of exploding atoms. It is made of brass element with numerous rods sticking out of it in different places. A bulb is placed on each rod. Complete this mid-century dining style with tulip chairs, a tulip table, and cushions with orange seats. You can also get an orange and white coloured rug to balance it up.
4. Buffet
This buffet is perfect when placed against a wall designed in the mid-century modern style. Credenzas and buffets are good mid-century styles, so their inclusion in the dining space is not surprising. The buffet comprises a pass hutch showing off ceramics and jars. Serving platters can be stored in this type of buffet.
5. Eero Saarinen Tulip Dining Table
Designed by Eero Saarinen, this tulip table is a wise investment for your mid-century styles. This classic retro dining table is successfully styled into a contemporary design. It is supported by one central base, meaning that several persons can put their legs under the table without bumping the legs against each other or the legs of the table.
6. Room Dividers
These are popular elements of the mid-century dining style. A beautiful room divider helps divide the rooms of a home, making it an excellent mid-century modern style.