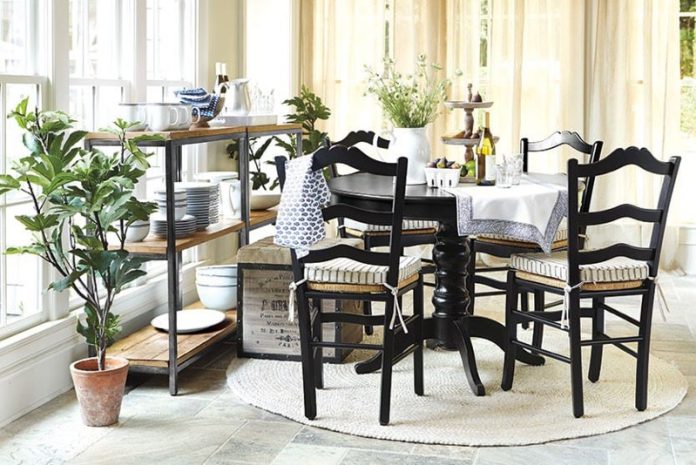 Round rugs are becoming trendy to use in different areas and spaces in your home. You can use those rugs in any area of your room, such as bedroom, dining room, kitchen, kid's room, and many other places. You may use it according to your needs but below are some good places to use a round rug in your home.
1. Living Room
Using round rugs in the living room is popular. Do you have an open and large living room? If you have a big room, you can place furniture anywhere in the room in a unique style; in such a room, you can place the round rug under the furniture to attract others' attention.
But there is another option to place a round rug to allow the furniture on the rug's perimeter. It will not just add intimacy but also give strong designing features. You can also place the rug separately without engaging it with your furniture.  You can keep your furniture items on the side of the rug that will also give an awesome look. You can find many unique and easy ways to place it in your living room.
2. Bed Room
Round rugs are widely used in the bedroom; you can place a round rug beside your bed for landing on a soft and fluffy surface. It will also add to its look and give a very fine and cozy touch to your bedroom.  Mostly rugs are used closer to the bed, but you can also place them in other areas in your bedroom.
If you want a nice look, choose a moderate-sized round rug and place it 6 to 12 inches apart from your bedroom side. It will give a better look to your room and give a safe and nice landing option when you get up. If the size of the bed is larger, like queen size or king size, then 8 inches rug could be a perfect choice for you.
3. Dining Room
It is also best to use round rugs in the dining room. Larger rugs are best to choose when your purpose is to use them in the dining room. When placing a round rug in your dining room, make sure chairs do not get tripped with the rug and are free to move. Choosing a 30 inches or larger round rug is the best choice for use in the dining room.
You can also place a round rug under the square dining table, but make sure your rug does not touch the walls. So place the dining table in the mid of the room if possible. But if you place it closer to a wall, make sure the rug does not touch the wall.
4. Kid's room
It is best to use round rugs in the kid's room. Your kids can sleep on it, play on it, and can study on the round rug. Choosing a nicer, versatile, stylish rugs could be a better decision for your kid's room. Try to place it between the rooms or place it apart from furniture items where your kid can easily sleep or land.
Final Thoughts
There are plenty of choices to use round rugs. We have also provided you with some of the easy ways to use them in the above places. You can consider any of the above ways. But you can use them in various other places such as in the kitchen etc.