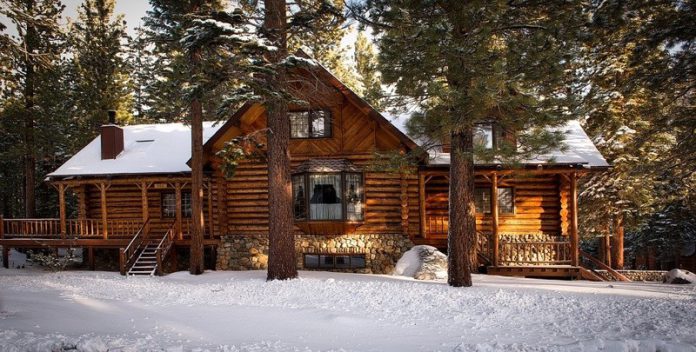 After the colourful foliage in cottage country disappears in the late fall, cooler winter temperatures become more frequent, followed by an imminent blanket of fluffy snow. Living in a cottage during the winter season can be breathtakingly beautiful; seeing the lakes crystallize with ice and the landscape dusted with the freshness of snow is an extraordinary sight.
But some hardships can come with living remotely during the winter season as well.
While many cottage-owners choose to close their properties for the season once the temperatures start to drop, some find much enjoyment in winter cottage. It's common to find properties like these Muskoka houses for sale that can keep a year-round cottage.
Here are four ways to keeping your cottage cozy and safe all winter long.
Keep Your Path Clear
While many cottage country municipalities will take care of main and residential roads, your property is generally your responsibility. Regularly plowing or shovelling snow as it falls and keeping ice at bay with salt or animal-friendly alternatives such as sand or ice melt will help you avoid any slips on your property, whether it be by foot or wheel.
Remove Overhead Dangers
Sometimes we can be so busy looking down to ensure we don't slip; we forget to look up at other winter hazards.
Icicles, while pretty to look at, can be harmful if they grow. Icicles are heavy, sharp, and prone to breaking, especially on windy days or when the sun is melting them. Avoid potential injury by standing well away from forming icicles and knock them down using a tool such as a broom or a shovel. If need be, wear equipment such as protective eyewear and hats to prevent any shattered ice shrapnel from harming you.
Heavy snow formation in treetops is another thing to look out for in winter. Heavy clumps of snow in the above trees can freeze together and come crashing down on your, your vehicles, or your house itself. This snowfall can also bring down branches from the excessive weight, which can harm and damage the landscape or worse. Keeping your trees trimmed can help with the collection of snowfall.
Keep Your Chimney Up to Code
If your cottage has a chimney, it's important to keep it annually inspected by professionals and thoroughly cleaned out. Blockages can occur in chimneys over time when not cleaned regularly or from animals such as raccoons, squirrels, birds, or bats looking for a place to nest during winter. Having a clogged chimney can be a dangerous and potentially fatal hazard.
If your fireplace is wood burning, the smoke is full of harmful carbon monoxide, which can cause nausea, irritations, dizziness, and even prove to be lethal.
Additionally, an excess build up of soot can also be flammable and can create unexpected fires within your chimney.
Keep It Merry and Bright – Emphasis on the Bright
Winter means shorter days and longer, darker nights. It's advisable to keep your property well lit, either by motion detector lights or pathway lighting along the driveway and any walkway paths, to help keep you safe. This lighting will also help you spot roaming wildlife on your property to help avoid the two of you startling each other in the dark.
It is also recommended to have your house number visible by the roadside and well-lit in case any emergency service is ever required at the property.