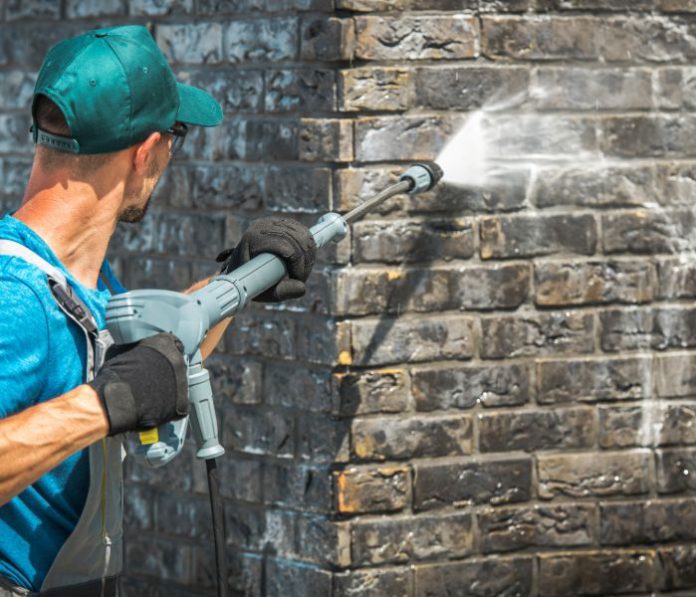 I know how easy it is for Floridians to want to save cost and DIY everything they can think of, which is ridiculous. Unfortunately, some things cannot just be done by DIY because you have to be an expert to be able to perform the function. And for some functions, it requires being expert to be able to carry it out without grave consequences. Pressure washing your home is one of such functions that requires a degree of professionalism to be done properly.
You will be doing a lot of disservice to take the DIY route for pressure washing your home in Florida. In the first place, pressure washing by yourself is not cost effective. The pressure machine alone is capable of causing damages on your property because of the force it spouts is about 1300-3000 PSI or more. This estimated force is calculated as the same as when a car is smashed against a surface. If damage is caused by this force, it will cost you more to fix the damage. On the other hand, if you try to be careful by reducing the pressure, then the washing will not be as effective. You most likely will end up with the same stain or dirt.
Trust the professionals at Largo Pressure Washing Services to get the job done right! Be sure to check out our website for more information at largopressurewashingservices.com.
Should I Pressure Wash Myself or Hire Someone?
You should not pressure yourself except you are a pressure washer expert. Apart from the waste of time and resources it would cost you going the DIY route, you are better off with a professional for the following reasons;
1. A professional knows the right pressure that is required for your surface based on experience. He knows the kind of distance to keep, the length of time to assert pressure on a spot, etc. All of these calculations eliminate the possibility of damage that could arise from the pressure.
2. An expert pressure washer knows the right chemical solution that will be effective for your surface. If you had done it yourself, you most likely would not know the right chemical solution. In the end, you either get a chemical solution that is too harsh for your surface thereby running the surface, or you'll get a solution that does nothing to the stain you are trying to eradicate
3. A professional knows what type of pressure washer is best for your surface. Different surfaces require a different approach to pressure washing. Some surfaces require hot water washing, and others cold water. The situation of the building will tell whether an electric pressure washer is best or a gas pressure washer.
4. Getting a trusted pressure washing company to do your pressure washing saves you the cost of buying a pressure washer and maintaining it.
5. A professional is not only licensed, they are also insured. Incase of damages, you are assured that their insurance will bear the liability
No matter what the circumstances may be, you are better off with a professional in handling your home improvement
Benefits of Pressure Washing Your Florida Home
When you think about the cost, the potential damage that it can cause, you almost want to decide that pressure washing is not worth the pain. But when you think about the health benefits of living in a clean environment, the increased value of a clean house, you'll realise that pressure washing your house is not only worth it, it is also a necessity.
Just watching stain(s) stick to your vinyl siding, concrete siding, patio or any part of your surroundings will not make it go away. Unfortunately, just detergent and water will not get rid of the stain(s) either. At this time, pressure washing is totally worth it because;
● Pressure washing is active in kicking out bacteria from your surfaces. All the professional needs to do is to combine the right solution and then the assert pressure from the nozzle would kick out but the stains and the bacteria around the surface.
● Pressure washing your exterior gives your external home a sight to behold. This alone increases the value of your building if you are looking forward to sell
● Pressure washing keeps you and your family away from germs since it helps eradicate harmful bacteria from your home
● Pressure washing is environmentally safe
● Pressure washing saves energy, time and resources. For instance, the water required to pressure wash a surface is less than the one used with a garden hose if you are to wash the same surface.
How Much Does it Cost to Get Your House Power Washed?
The cost of getting your surrounding pressure washed depends on a lot of factors. According to Home Advisor, the national average cost of getting your home pressured washed is $281. In Florida, such as Largo, FL, depending on what part of the state you live, pressure washing services can cost as high as $400, and as low as $120. The cost also depends on what parts need to be pressure washed. For instance, a patio or deck can cost about $150 – $450 depending on the size, whereas a driveway would cost less than that. The cleaning agents required for the structure depends on how badly stained the area is. If the area that needs to be pressure washed is badly stained, that will require the use of more chemicals, and then, it will also take more time to complete the task. This will invariably increase the bill.
The time it takes for a washing task to be completed usually depends on the size of the area or structure and the extent of stains or dirt. To get the best value for your money, just get quotes from different pressure washing companies, check out their reputation and reviews.
Pressure Washing: How Often Should it Be Done?
Maintaining a healthy environment is very important, so there is no question of how regular it should be cleaned. The ideal thing would be to wash your surroundings whenever it is dirty but when it comes to pressure washing, you cannot afford to keep pressure washing every time your exterior surfaces are dirty.
Here are some helpful tips on how often to pressure wash your surroundings:
● Basically pressure wash your exterior once a year to keep it sparkling and give it a higher value
● Pressure washing  after a storm. Storms usually come with some debris and dirt.
● Pressure wash once you notice the growth of mold and mildew that is caused by damp weather.
Never DIY, Only Hire a Professional for Pressure Washing Your Florida Home
You are better off leaving the pressure washing in Largo, FL of your vinyl siding, patio, gutters, concrete siding, etc in the hands of a professional. In Florida, there are lots of home improvement companies that can handle this task, but you have to look out for the one with a competitive advantage in terms of cost, service delivery, and reputation. Most importantly, choose a company that has insurance protection.