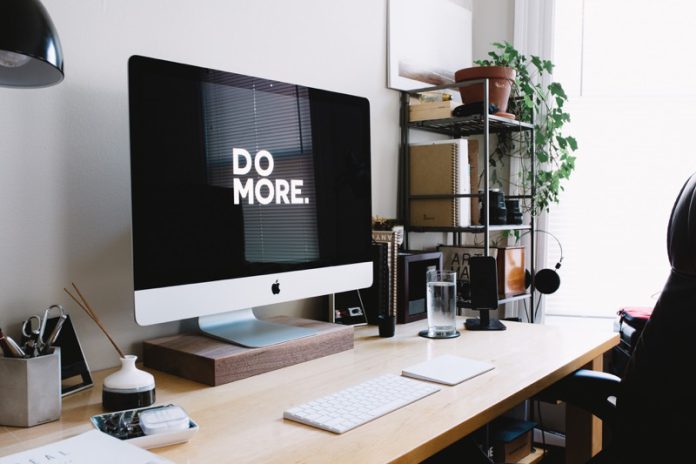 As the world is still dealing with the impact of COVID-19, many of us are working from home full-time. Physically being at the office isn't necessary to produce great results. Remote work brings about many benefits, including improved mental health and better work-life balance. Let's not forget about job satisfaction. Right now, working from home doesn't feel like something new anymore. Good jobs tend to be those that can be done from home. The work from home trend stimulates demand for virtual assistants, as reported by Virtalent. Managers who used to be reluctant to embrace the idea of hiring a VA are beginning to show interest.
If you're a well-educated person, you'll most likely be allowed to continue to work from home even after the coronavirus pandemic is over. Not surprisingly, very few of us have sat down and thought about the type of space we need to work comfortably. With a dedicated office, it's simpler to separate work tasks from your personal life. The WFH space should support work over the long term. There are plenty of non-equipment enhancements that support a healthy working life. If you've never got the chance to play interior designer, now you do. Designing a work-from-home space is easier than you think.
Ditch The Kitchen Table
You can transform your kitchen into an office space. It doesn't matter if you have an island or a freestanding table; both make a fantastic workspace. Kitchen counters accommodate all sorts of appliances and utensils, but the surface of the table can easily be cleared away for work purposes and turned back into a hangout zone in the evening. But it's not exactly a good idea to look at expensive reports while eating. It's better to ditch the kitchen table altogether. Find a place in your home that you can devote only to work. Your workspace options depend on the size of your home and available rooms.
A spare bedroom is the best choice because it provides more than enough space. You can decorate it however you want but consider your functional needs. Besides installing an extra phone jack, you might want to insulate the windows to keep out the cold. Your workspace should be separate from the place you relax or eat in. Unless you're able to maintain boundaries, you'll feel as if you're always at work and you won't find any pleasure in being at home. Use a small area in the house that can accommodate a bureau and a computer, and let you enjoy a little bit of quiet.
Light It Up
It can be easy to underestimate the importance of lighting for your ability to work. Lighting impacts your health and productivity. Eye strain is what you need to worry about. Exposure to harsh lighting can lead to eye strain and even blurred vision. If you lean forward to read the screen due to poor lighting, you risk developing neck pain. The point is that you need to strike a balance when it comes to lighting. Ideally, you should have enough sunlight to illuminate your space. So, find an area that gets lots of natural light. If you don't have a lot of natural light, improve the lighting in your home with fixtures, dimmers, and lumens.
You can use lamps for additional lighting, but don't place them right next to the monitor. Make sure they don't create a glare on the screen and they're not in your direct field of vision. Equally, make sure your monitor brightness isn't too dim or too bright. The brightness level you decide on depends largely on your sensitivity and the ambient lighting in the room. Keep in mind that the brightness of the room where the display is installed alters in the morning, afternoon, and evening. Invest in a display that comes with a function to automatically adjust screen brightness for an optimal outcome.
Upgrade Your Seat
On average, you spend five and a half hours in your chair. Only lunch breaks add variety to your day. In case you didn't know, sitting in the wrong kind of chair can wreak havoc on your health. If it's not adjusted properly, it can lead to poor blood flow to your shoulders, legs, back, and neck. The best thing you can do for yourself is to acquire an ergonomic chair. It's customizable with movable armrests and has adjustable height. Not all ergonomic chairs are created equally, so find one that offers the right type of support for your body. It'll have an impact on your happiness and productivity.
If you're thinking about working from home permanently, you need a good desk chair. If it malfunctions for whatever reason, don't worry because you have a warranty and can get it fixed. A dining chair is rarely the best choice because it doesn't encourage an upright position. What you need is a professional office chair that's fit for your body and workspace. With so many types of furniture on the market these days, it can be hard to make a choice. But at least you have peace of mind knowing that advances have been made in materials science and we have a better understanding of human anatomy.
Prioritize Privacy
When you're working from home, you're not the only one around. At times, you'll find yourself yearning for some peace and quiet. If possible, try to reduce the noise. Purchase noise-canceling or muffing headphones, which will let you do your thing. Mitigating sound can be accomplished by adding carpet and window treatments. Also, you can invest in drapes with sound-blocking potential. Not only do they block outside noise and light, but also the drapes keep the heat inside. Indoor plants have many advantages, including noise reduction. The stems, leaves, and branches absorb sound. Fleshy leaves are particularly effective at absorbing sound because of their dynamic area.
If you want to enjoy quiet time, talk to your loved ones. Suggest them to choose at least an hour of the day where they can be silent. When they listen, you feel like you're being respected.