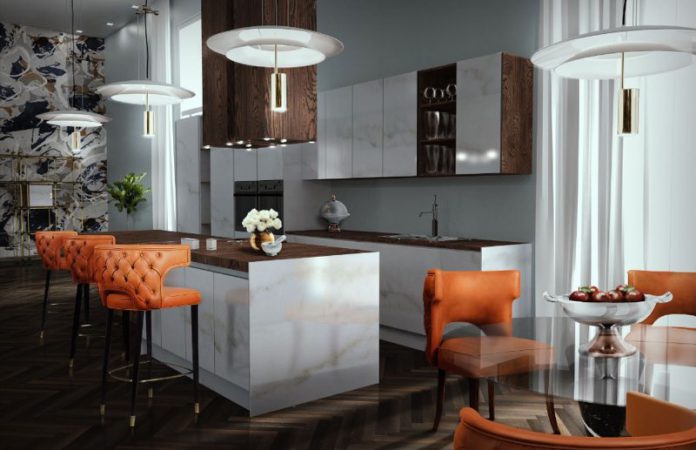 Des: Kitchen design for a property in Dubai. Kitchen trends 2022 for decorating real estate in the UAE. What to pay attention to when decorating a kitchen in Dubai 2022.
When you purchase a property in the UAE, the first thing you look at is real estate prices. You can find apartments' prices in Dubai Marina, Palm Jumeirah, and other areas of Dubai on the Ax Capital website. After you choose an apartment or villa, you need to decide on the decor. One of the most important places in the house is the kitchen. In this article, we take a look at the kitchen design trends 2022 that you can use when decorating your property in Dubai.
Hidden functionality
Picking up on the studio space trend, designers often combine the working kitchen area with the living space. Thus, the person involved in cooking remains in contact with the rest of the family.
To unite the zones, a policy of common color schemes, ergonomic arrangement, and finishing materials is used. Movable structures are gaining relevance – for example, a kitchen set is hidden behind sliding panels. Eliminating unnecessary details becomes especially relevant in small apartments, but it is also actively used for large areas. So, whether you prefer an apartment or a villa in Dubai, this trend will fit in perfectly anyway.
Bar counter combined with an island
This trend is more often used in large open spaces. "Island" is relevant for a kitchen combined with a living room or a studio apartment. If you plan to abandon wall cabinets, then it is the island that can become a high-quality storage system – both open and closed. A bright trend is the use of lighting for a built-in showcase, which is especially important for an industrial style.
In the case of the "island", replacing the dining table with a bar counter allows you to rationally organize the room.
Metal details in the interior
For kitchen interiors in 2022, it is recommended to actively use metal elements: stainless steel, copper, brass, chrome. In the design of the kitchen, metal will be included as:
details of mixers and lamps;
legs of bar stools, racks;
cases and tables from stainless steel, facades;
design of the hood;
as decorative inserts and trim.
Moreover, in this case, the metal can be used both on a large scale and as single accents. For furnishings in the concept of minimalism, a warm shade of brass will benefit. Metal goes well with the rough texture of wood, marble, and granite.
Marble concept
Marble in the decoration of the kitchen continues to hold its position. It is practical, stylish, and elegant. Natural stone can ennoble even the simplest interior due to the richness of the natural texture.
In the interior of the kitchen, marble can be used:
for flooring and window sills;
design of an apron and countertops;
as a lining of the island and bar counter.
The favorite of the designers was "Arabescatto" – a beautifully polished marble from Italy, characterized by a gray-brown base with a spectacular ivory shade pattern. Add a bit of sunny Italy to your marvelous property in Dubai.
Trendy colors
If you are a fan of black, add rich and thick tones to it – dark wood, coffee, taupe and gray. The atmosphere in the kitchen will noticeably change, it will become more comfortable.
Dark interior solutions are suitable for open-plan kitchens and well-lit areas. Dark furniture itself tends to darken the room. If there is no way to add lighting, it is worth reducing the dose of black.
Real estate in the UAE
If you plan to invest in real estate in Dubai or any other emirate in the UAE, check out the Ax Capital website. The specialists who work there will help you obtain housing in Dubai, which will meet all your requirements. Go over to the website and start your search!