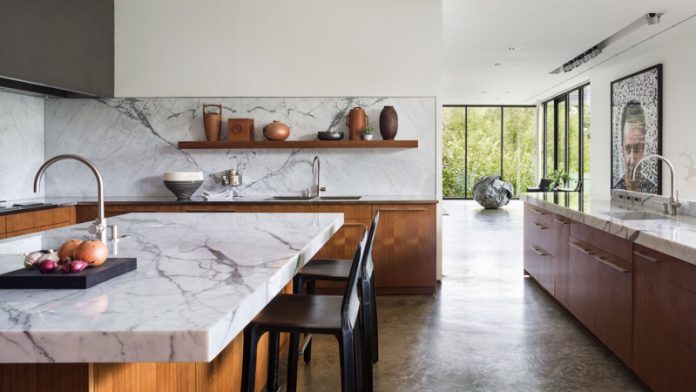 Tired of looking at your old and worn-out kitchen counters? Then why not try overlaying them with something new. Instead of removing the whole countertop, you can overlay it with any material of your choice.
Quartz has been around since the 1970s, but it became a popular choice as a kitchen countertop only a few years back. It is a durable and stain-resistant stone that will give an elegant look to your kitchen. Most hotels and houses are opting for quartz countertop overlays to enhance the appearance of their kitchens.
What is Countertop Overlay?
Countertop overlay means covering your old counters with new material. You do not remove the old countertops; rather, you cover them with a fresh one. The problem everyone faces while deciding for overlaying is what material to go for?
Some kitchen owners like to use the same material; others are experimenting with something new. If you are from the latter category and are confused about what material to go for, Quartz countertops are your savior.
Why Choose Quartz Countertop Overlay?
Quartz countertop overlay has become one of the most celebrated overlay countertop options in recent years. It has various advantages that one can't simply ignore. Let's see what they are:
Choosing not to destroy your old countertop and overlay it with a new one will decrease the amount of waste it could have created.
Overlaying uses a thinner version of Quartz, which thus makes it an inexpensive procedure to have it installed in your kitchen.
It is easier to overlay a quartz countertop than fix a brand new one in the kitchen. However, for overlaying a quartz countertop, you have to fix it with your old countertop.
Quartz countertops have a premium look that makes them stand out from all the other countertop materials. After having just one look at your kitchen, anybody would fall in love with it.
Quartz countertops require very low maintenance and are easy to clean. However, use a soft cloth and some detergent to remove dust.
Nonporous and stain resistant
As quartz countertops are nonporous, nothing can damage them, and they remain in good condition for a long period. These countertops are stain-resistant as well, so don't worry if you spill anything while cooking. It will go away in minutes.
Ways to Transform your Kitchen Tops with Quartz Countertops Overlays:
Turn it all black
Imagine having your kitchen countertops all covered in Black. Sounds exciting, right!! You can either go all Black with your quartz countertop overlay or try some fun textures; either way, your kitchen top will look popping.
Play with textures
Fine Textures help in redefining the look of a place. It adds flavor to the walls, floors, and tables of a house. But, being the soul of every house, the kitchen also needs some spice in its arena.
With Quartz countertop overlay, you can easily add fun to your kitchen countertops. In addition, there are plenty of texture options available in quartz stones.
Experiment with different textures and showcase your personality. Read this quartz countertops guide if you wish to know more about using texture in your kitchen.
Keep it minimalistic
Quartz counter overlays should be your mantra if you like to keep all things minimalistic. After you have installed a quartz countertop overlay, you won't need anything else to accessorize your kitchen countertops with. Keep lesser objects on the counter and let them spread their shine.
As white as snow
White countertops have been in trend for ages, and it feels like it won't be going off the charts anytime soon. Getting a white-colored quartz countertop overlay is the best decision you can make for your kitchen counters. It looks classy and graceful. You will love every corner of your kitchen after the overlaying.
Add in a little color
Are you bored of all the black and white countertop ideas? Then let's talk about some colored Quartz countertops for your kitchen. Colored countertops have started emerging as a new trend these past years. They look super gorgeous and give your kitchen a unique appearance. Choose a color that is the polar opposite of your old countertop.
Finding the appropriate color may seem to be a lot of work; however, firms that manufacture Quartz countertops, such as Caesarstone, can assist you in making the right choice.
Matte vs. Polished Quartz Countertop
It's your choice whether to go for Matte or Polished countertop. Both of them look great and are easy to maintain. The only difference is that the polished quartz countertop will reflect light, and the matte will not.
People usually prefer polished quartz countertops in a traditional kitchen and have matte countertops at more contemporary houses. Nevertheless, It all comes down to your preference. These days people who used to have polished countertops have started overlaying them with matte countertops.
Leathered Texture Quartz Countertop
There are some colors in Quartz Countertop that are available in leathered textures. After introducing these new textures to your kitchen, your kitchen will transform in a big way. Note that Leathered texture countertops are not easy to come by.
Conclusion:
The most difficult decision for a homeowner is when they decide to make some changes at their place. Remember that everyone's taste in the family is significant. When it comes to the kitchen, you will have thousands of opinions lined up.
In some houses, countertops serve as a place where the whole family sits together to have breakfast. So, you need to make sure that your kitchen's countertop is made from good quality and excellent material. Quartz countertop overlay is the ideal solution to create an aesthetically pleasing and safe environment for your family in your kitchen. Countertop overlaying is a budget-friendly way for converting your kitchen into your dream kitchen. By adding quartz into this process, you will get excellent results.