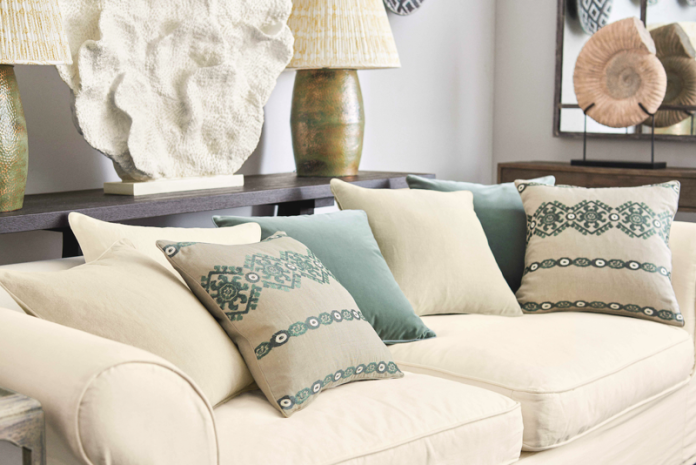 Beauty is in the detail. Small décor items like fruit bowls, potted plants, and couch cushions may seem irrelevant, but they can make a huge difference. What's great about cushions is that they can go almost anywhere – in the living room, bedroom, or backyard patio. If you style them the right way, you can make your room as it belongs on the pages of a magazine.
If you want to find out how to style cushions like an interior designer, keep reading.
Different Types of Shop Cushions UK
There are different types of cushions you can buy for your home, depending on their usage and shape. Cushions can be purely functional, while others are for decorative purposes. Some of the most common types of cushions include the following:
Bench cushions
Chaise cushions
Throw cushions
Window seat cushions
Chair cushions
Bolster cushions
Lumbar cushions
Box cushions
The first step is to figure out what kind of cushions you want for your home. You can put them on the sofa, armchair, bed, and anywhere else around the house. The next step is to find a good store. There are lots of shop cushions UK businesses offer. This includes ready-made cushions and made-to-measure cushions.
How to Style Cushions
There's more to picking cushions than just selecting their colour and shape. You also need to know how to style them. While it may seem like an easy task, there are quite a few factors you need to consider. Here are some of them:
Choose the Right Colour Palette
The first thing you have to figure out when buying new cushions is what colour you want them to be. It's important to choose cushions that not only match the furniture but the entire room as well.
When it comes to colour, you have two options. You can select a complementary colour scheme that matches the room's tones. Or, you can create a contrast. For example, you can mix a few natural tones with your favourite colour. Another option is to throw in a few cushions with a pattern. Popular cushion patterns are geometrical, polka dot, and floral patterns.
Match the Fabrics to the Room
Not only can you choose from a wide variety of colours for your cushions, but you can also buy cushions made from different fabrics. Some of the most common fabrics used for making cushions include cotton, linen, silk, wool, and velvet.
Some fabrics, like silk and cotton, are better suited for cushions that will go in the bedroom. If you want to place the cushions in the living room, it's a good idea to get linen, velvet, or wool cushions. You also have the option to mix two different fabrics. The two best fabrics to combine are cotton and linen. You can also add one fluffy faux fur cushion for a luxurious effect.
Combine Different Shapes and Sizes
There's no better way to style cushions than by combining different shapes and sizes. If you get five or six cushions that all look the same, the room might seem bland and uninviting. Mixing throw pillows and mini cushions are a great way to add variety. A popular combination is two large pillows, two small pillows, and one medium pillow.
The same goes for the cushion's shape. Don't only use square pillows, but throw in some round and rectangular cushions. If you're styling a child's room, you can even add funny shapes, like heart-shaped and star-shaped cushions.
Organizing Your Cushions
Cushions can be used as a great way to add some spice to the interior design. We talked about their colours, fabrics, shapes, and sizes. Now let's discuss how to organize them.
It's all about layering them the correct way. The good news is that you can never have too many cushions, so you can layer up to ten pillows on one bed or couch. The rule of thumb is to place the bigger pillows in the back and the smaller pillows in the front.
Style Cushions Like a Pro
If you're giving your room a makeover, there are various things you can do to give it a new, fresh appearance. Choosing the right cushions is one of them. However, finding the right look isn't so easy. You have to think about the colour scheme, sizing, patterns, and shapes, and how to organize them in the best way. At the end of the day, you should have fun with it.