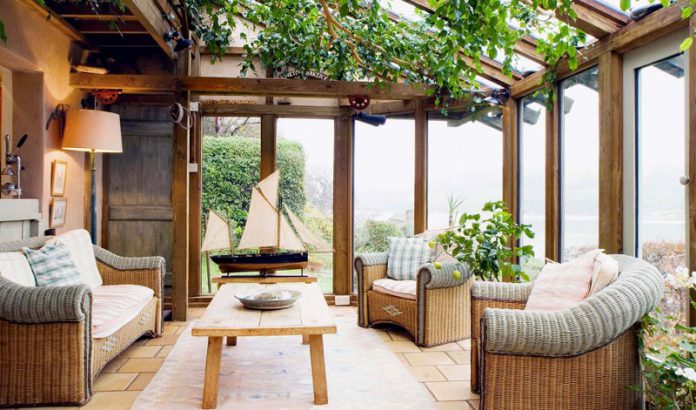 There's something magical about the start of spring. That first warm day when the cold Calgary winds don't bite at your skin stirs something in all of us; a realization that winter is almost done and that summer is just around the corner. It makes us look out at the yard and yearn to spend endless hours outside – until we remember the reality of summer in Alberta, with the bugs and the skin melting heat. It's at that time you should be thinking about a halfway house; a way to spend time feeling like you're outside without actually having to be outside.
A Desert Sun Patios Sunroom is the perfect solution to this problem conundrum, and here are 5 reasons why you'll want a sunroom for the summer:
Be outside every day – it's everyone's summer dream to be outside every day, but every Calgary resident knows that this isn't always practical. However, with a sunroom you can enjoy the views . out over your garden and the warmth from the sun without being bothered by bugs or risking heatstroke. The big windows will allow plenty of light in, and the protection of a roof means you can lounge on comfortable furniture while feeling you're outside all day.
Extra space – another reason to have a sunroom this summer is to get some extra space. While your family might be running around outside all day, the sunroom provides you with a safe haven to retreat to away from the noise. It's also perfect for those rainy evenings when everyone feels like they're on top of each other – turn the sunroom into an adults only space for the day and enjoy some peace and quiet all summer long.
Cheap to install – many big home extension projects require months of planning and building. However a sunroom can give you dozens of square metres of space in a matter of weeks and at the fraction of the cost. Of course, you can increase the cost of your sunroom dramatically with your choice of design and materials, but you'll be surprised at how cheap it is to install a sunroom in time for summer.
Free to heat – a three season sunroom is one that doesn't require hooking up to your home's heating system. Instead, it relies on the natural heat retention properties of the sunroom to heat up during the day and stay warm overnight.
No extra footprint – finally, the reason why so many sunrooms are quick and cheap to install is that they can be built upon your existing deck or patio. You'll gain this space as a permanent addition to your home without sacrificing any of your garden.
A sunroom is for life, not just the summer. While you're going to spend most of the summer months in your new sunroom, the fun doesn't stop when the weather starts to get colder, especially if you install a four season sunroom. This type of sunroom connects to your home's heating system in addition to using the sun's rays to heat the room, meaning you can live your best indoor outdoor lifestyle all year long.