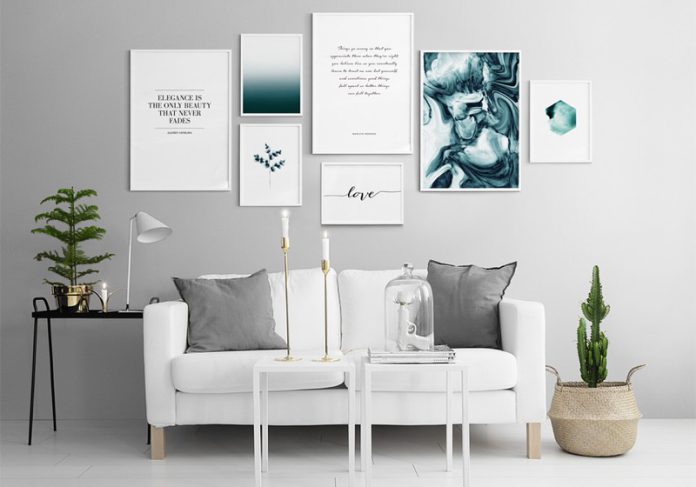 Artwork and pictures make a house a home like no other decorating tool. They allow you to add a personal touch and customise your home to make it your own. For picture frames to create the ultimate impact, they need to be hung correctly. Here are some handy tips to help you hang your pictures frames perfectly on your walls.
Pick quality hardware
If you rent, it may be a condition of your lease agreement that you do not fix anything permanently to the wall, such as screws or picture framing hardware. If this is the case, you can still display your picture frames using adhesive hooks. It's always a good idea to choose quality brands when opting for this type of hardware for two reasons, one so that they stick properly to the wall and don't damage your artwork from falling to the ground, and two because cheap backings on these types of hardware can pull the paint off when you remove them. Ensure that you follow the directions on the packaging and always wait at least 24 hours after sticking it to the wall before putting your picture on it. This will give the backing sufficient time to stick to the wall and will ensure it can bear the weight of your frame. Only attach picture frames that the adhesive picture framing products can handle. Exceeding this limit will place additional stress on the grip, and it may falter as a result.
If you own and you want something a bit sturdier, sawtooth brackets and wire systems work exceptionally well.
They are easily accessible and affordable.
Measuring the traditional way
Once you've got your hardware of choice, you'll need a couple of other things to ensure you attach them straight and where you want them to be. Here are some items that can make hanging picture frames easier:
A tape measure
A laser level (optional)
Pencil
Painters tape
Hammer for non-adhesive fixtures
It's always a good idea to measure out the placement of your frames before you put any holes in the walls or attach your stick-on hooks. If you plan on bunching a group of frames together, painters tape can provide a great visual of what the end result will look like. Place the tape on the wall to outline the size of the frames and position. Stand back and see if anything needs adjusting before attaching your hooks.
Using your tape measure or laser level, measure where your picture will hang and mark with a pencil or piece of chalk. Attach your hardware to this spot for a flawless application.
Considering the wall and picture frame
You'll need to consider the surface you intend on attaching your frame to. For example, you cannot use an adhesive hook on abrasive brickwork, it won't stick properly, and it's highly likely that your picture frame will fall off the wall. A better solution would be to drill into the wall using a masonry bit and inserting a plastic wall plug and then a screw.
If the wall is standard plaster and your picture frame is heavy, you should attach your hardware to a stud. You can locate a stud in the wall with a stud finder. While this is a good option to create a secure hold, worry not if a stud isn't where you want your picture to go. Expanding toggles and hollow wall anchors work equally as well, and they don't need a stud to attach to.
Hacks to make hanging picture frames a breeze
While the ideas mentioned above work very well, we do have some hacks up our sleeves that can make hanging your picture frames a walk in the park. Contact your Picture Framing expert today to find how to best hang your frames!
Download a picture hanging app
If all else fails or you want to simplify the process of hanging your pictures, you can download a picture hanging app on your smart device.
Using a picture of the proposed wall hanging location, you can adjust the location of your frames until you find the perfect placement. It will give you the exact measurements meaning no more nails or hardware holes from making adjustments.
Toothpaste method
Now you may be thinking, what on earth would you need toothpaste for when hanging picture frames but, this unorthodox method works a treat. Simply apply a dab of toothpaste to the back of the picture frame hook and position it against the wall where you want it to go. Pull the picture frame back towards you slowly. This will leave a small dab of toothpaste behind on the wall where the hardware can then go. It is quick and effective, just make sure you wipe off any excess toothpaste before placing it on the wall.
We hope this post has given you an insight into the different ways you can hang your picture frames. While it can seem tricky to begin with, once you've got the right equipment and tools, it's quite a simple task.
Regardless of which installation method you choose, there are almost endless options when it comes to hardware for picture frames allowing you to find the perfect one for your home. If you have any questions about hanging picture frames, contact the professionals here at Mobile Frames 2U. Were South East Queensland's favourite framing company and we know a thing or two about mounting your picture frames and would gladly help if need be. Get in touch today!