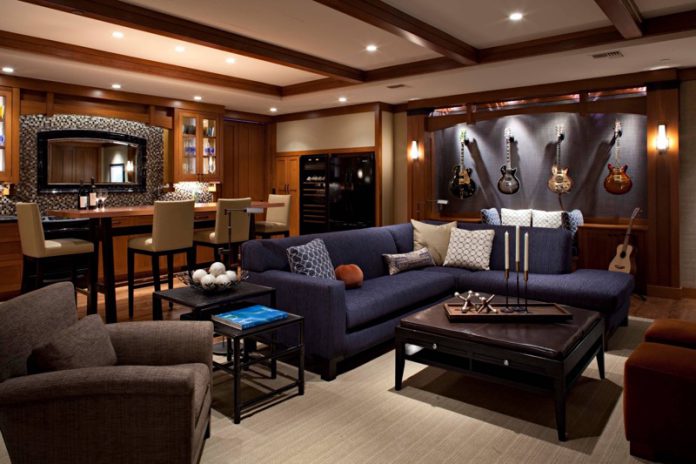 When you set your mind to making the perfect man cave, there's a LOT you need to keep in mind. Planning is the most crucial step! Read these tips for creating a man cave carefully, and make sure you don't miss out on anything essential when designing your haven.
Invest in Proper and Strategic Lighting
It is critical to make sure a room is well lit to make it look welcoming. Whether you're aiming for a warm, homely look or a neon look, make sure that you still have a properly lit room for any emergencies or cleanups.
Get Multi-Purpose Shelves
Shelves don't just have to be stored; they can serve as decor too! In many cases, you can even turn shelves into furniture you can sit on. Make sure to do thorough research about the available styles before deciding on one.
Remember to Invest in a Refrigerator
This is especially true if you convert your basement into a man cave because walking upstairs to the kitchen will ruin the mood. If you have a mini-fridge (or a full-sized one, if you can afford it space-wise and financially), you can easily stock it with all the drinks and snacks you love.
Embrace Your Weirdness
Your man cave can consist of whatever you like. Do not allow yourself to be ruled by the fear of judgment because this is your personal space. Embrace what others consider weird. If it brings you happiness, involve it in your man cave!
Let Your Passions Drive You
Maybe you're a comic book geek or a cinema lover. Perhaps you are obsessed with sports. Whatever it may be, allow them to shape some corner of your man cave because it will bring you happiness and satisfaction when you indulge in it. Additionally, you can enjoy it with all of your friends and family. Imagine having guests over on a Friday night to play golf conveniently on a set-up for indoor putting. What a wonderful way to create memories in your unique space!
Try to Avoid Wires
If you can go wireless, do it. Need speakers? Many excellent options are wireless. Need a vacuum? Get a robotic one. Try to reduce the number of wires you have. Not only will it make your space look more organized and less messy, but it will also make organization and portability quite accessible.
Use Your Walls as Much as You Can
Walls are essentially just empty canvases. You can use them to display what you love or use them as storage. Sometimes, you can use them as both! If you're not sure where you should store something, hang it up on the wall strategically, and it will look like a piece of decoration.
Try Not to Copy Someone Else
It's okay to be inspired by other people's man caves, but if you try to copy someone else entirely, you will not be happy with the turnout. A man cave is supposed to be a place customized to your liking, so make sure that you identify with how you're designing your man cave.
Break Free From Themes if You Want
Metal, wood, and neon are all super cool themes, but your man cave does not need to stick by one. You can mesh multiple themes into one if you want or abandon themes altogether. The bottom line is that you don't need to follow rules of aesthetics when it comes to interior designing your man cave; you need to do what makes your heart happy.
Check for Electric Outlets
You will need to plug in something at some point or the other, so make sure you have multiple electric outlets. Also, make sure all the electric sockets and buttons are functioning, especially if you're moving into the garage or the basement.
Figure Out Plumbing if Necessary
If you have a washroom nearby, this is not necessary. However, if you're aiming for your man cave to have a kitchen area, a bathroom, or simply a sink, you need to make sure you've got plumbing covered.
Have Comfortable Seating
There are many ways to make your seating arrangements comfortable, and it's essential. Otherwise, you will end up with muscle spasms and body strain. Your goal is to relax, so make sure your furniture is on your side.
Invest in Ventilation or an AC
Depending on the climate of the area you live in, ventilation could make or break your man cave. You wouldn't want to suffocate inside, so make sure there are some windows for ventilation. If that isn't possible, you can install a ventilation fan somewhere or buy an air conditioning unit.
Final Thoughts
You may be tempted to leave everything and immediately get to assembling and decor, but a lot needs to be done before you begin any hands-on work. Make sure all your planning is complete and that you have no loose ends that can cause problems later. A well-planned man cave is a sustainable man cave!