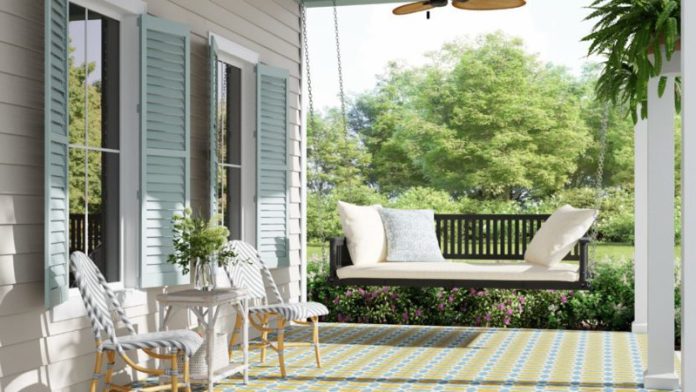 Summer is right around the corner and in the weeks leading up to the season of outdoor fun, more homeowners are taking on outdoor home improvement projects in preparation. There are many things you could do to your home to make it ready for entertaining during the summer, but these are five of the most sought after improvements buyers are looking for in 2022. Even folks that are building a new house are including these projects with their construction plans.
Let's take a look at the top five outdoor home improvements homeowners and buyers alike are championing in 2022.
1. Outdoor workspaces
Remote work is here to stay, at least in some capacity, and homeowners are embracing it 100%. Those who are lucky enough to work remotely are moving away from the makeshift office in their dining rooms and are building a workstation outside. These workstations come in the form of a converted garden shed, a covered patio, or a simple setup near an outlet and shade.
2. Structured outdoor living spaces
Homeowners are embracing patios, decks, and screened-in porches as an additional living space that people actually want to spend time in. These outdoor living spaces aren't like your parent's decks, complete with white plastic chairs and picnic tables. Folks are building spaces that feature built-in seating, an overhead covering, and so much more – all in the name of summer fun!
3. Patterns on surfaces
Patterns can brighten up any space, and that includes outdoor living spaces. We're seeing bold area rugs on decks, brightly colored fabrics on patio furniture, and some homeowners are going so far as to use stencils to spruce up plain concrete slab patios.
4. Stylish seating arrangements
Homeowners are upgrading their outdoor furniture for sets that blur the line between indoor furniture and patio furniture. The name of the game here is to marry the comfort and style of indoor furniture with the weather-resistance and quality of outdoor furniture. People are going so far as to combine textures like rattan and wicker with the bold patterns we mentioned above for a look that is trendy and resilient.
5. Backyard oasis
The backyard is more than just an extra lawn that needs to be maintained. Homeowners see their backyards as a place to kick back, relax, and enjoy the moment. They're turning the simple backyard into a backyard oasis that makes them feel like they're away on vacation without ever purchasing a plane ticket. To achieve that, we're seeing homeowners invest in water features, chaise lounge chairs, pools, and even spas – all in the name of creating the ultimate getaway at home.
Homeowners all over the country are embracing outdoor living spaces as an extension of their homes and they're taking on upgrade projects now more than ever. They're building decks, patios, and porches. They're decorating these spaces with furniture and decor that is both weather-resilient and comfortable. They're adding touches like pools and spas to create their perfect summer oasis.
And for buyers, these improvements are exactly what they've been looking for!