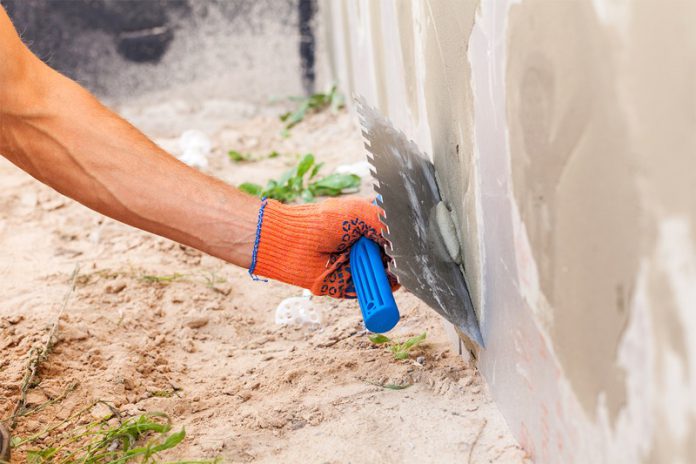 Care for Your Home's Foundation is Not Only Necessary – It Also Adds Major Value 
When homeowners are thinking about how to upgrade their home, their imaginations quickly turn toward interior renovations, expansions, and remodeling. A nice finished basement might come to mind, new cabinets, or upgraded appliances.
However, there are some less thrilling renovations and repairs that can add as much value to your home, even if they don't make for a great "reveal" on a home repair TV show. One of the most important big changes you can make to your home is foundation repair.
Below, we take a look at why this structural repair is essential to your home's condition, and why this work will add significant value to your home.
How Do You Know if You Need Foundation Repair?
To determine if this sometimes-necessary fix is a good investment for your home, consider the tell-tale signs of trouble. Here are some of the most common issues that homeowners run into:
Water in the Basement
If you are noticing water in the basement, this could be a sign that the foundation is letting water in. Look for the source of the water. After a heavy rainfall, is it coming through cracks in the walls, or running down the wall? Is it coming up through the floor, but not through a drain? These signs often indicate to homeowners that the concrete walls of your home are in need of repair.
Bowing or Tilting Walls
If you are noticing floors that bow or tilt, foundation repair may be necessary. Bowing, which is a warped inward hump in the wall, occurs when soil is pushing against the wall in particular places.
Soil expands when it's wet, and puts pressure against the exterior. Soil pressure can also cause walls to tilt. Also, the settling of the home can cause this pressure from above.
A house's settling may be another cause of bowing or tilting walls in your basement's foundation. If you're unsure if walls are bowing or tilting – as these issues can sometimes be difficult to spot – you can also identify cracks that appear as a result of soil or building pressure. These cracks are often another tell-tale sign that foundation repair is needed.
Cracks in the Basement Walls and Flooring
Cracks are clear signs that repairs in the basement are warranted, and these are easy to identify, even for the novice homeowner.
These cracks most often signal that repair is needed. These are caused by soil and the home's pressure on the foundation walls, and they are the most important cracks to pay attention to.
These are a tell-tale sign of bowing. Look toward the corners of the foundation along with an original horizontal crack that begins the "stairs" feature.
While not as concerning, keep an eye on these, especially if they get larger, or if water begins to seep through. You may also consider getting a professional opinion to ensure that these cracks aren't causing foundation issues.
Make sure you also investigate the floor for cracks. These are also caused by swelling soil after it is saturated by rain.
Cracks Around Windows and Doors
While cracks around windows and doors on the upper floors of the house may not seem to be foundation related, they certainly can be. If there is a second story to your home, look for cracks around the windows and doors as well. The foundation's movement can affect the rest of the home's condition in ways that are often unexpected.
What Kinds of Investments You Can Make
Foundation repair can involve a number of techniques to ensure that cracks in the walls or flooring, as well as bowing or tilting walls, are repaired, and not causing additional water damage, or eventual collapse.
A seasoned, professional repair team can diagnose the issue, and offer a diagnosis and solution that fits your particular situation.
These solutions can include:
Using a polyurethane or epoxy material, cracks can be filled to prevent further damage, as well as provide necessary waterproofing.
Vertical peers made of high-strength steel are placed under the home to strengthen the floor and foundation, as well as level any areas that are sloped. 
A concrete mixture is pumped under the floor to raise it in areas where it is sloped. This mixture also fills voids to ensure the floor's stability and foundation.
A common technique for wall anchoring are vertical "I Beam" braces that are placed flush against the foundation wall to provide additional support against wall movement and foundation shifting.
Why Make the Investment?
As we mentioned earlier, foundation repair doesn't jump out at homeowners as the kind of repair they want to make when thinking of adding value to their home. Most of us have other plans and repairs that will bring us more enjoyment in the comfort of our living space.
This kind of repair, though, can be a necessary support in your home renovation dreams. Imagine finishing your basement, only to find out that there's water leaking in behind the new walls of your perfect rec room. Caused by a foundation problem, this water issue could have been addressed prior to a homeowners vision for their home.
Also, if you're looking to sell your home, homeowners will be wowed by the new finished basement, but their inspector and realtor will remind them that there's more to a house's value than the floorplan or interior design. Foundation issues will scare off potential homebuyers because they don't want to be saddled with a serious construction issue down the road.
Think of these basement repairs, then, as an investment in your home so that you can enjoy your remodels and renovations, as well as present an attractive, valuable home to prospective buyers.