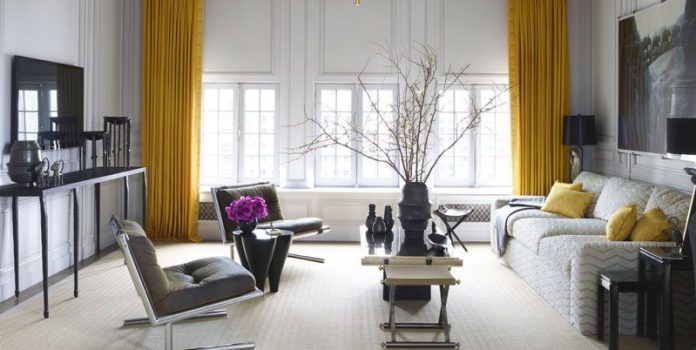 How To Use Bespoke Window Dressings and Soft Furnishings to Create a Luxurious and Comfortable Home
If you're thinking about doing a refresh to your interior spaces, you might wonder how best to use window dressings and soft furnishings around your home to create a unique environment that exudes opulence.
In this blog we'll discuss some tips and tricks for using bespoke window treatments, and various soft furnishings to create cosy spaces that are also classy and upmarket.
Use Heavy Fabrics for Opulence and Insulation
In the UK our homes can get draughty and cold in the winter, which is why it's helpful to use thick fabrics like velvet as curtains. You can also get thermal curtains, or blackout curtains in these styles for extra insulation without compromising on fabric quality or luxury.
A window treatment featuring heavier fabrics in rich colours looks magnificent and conveys opulence to anyone who walks in. You can use complimentary soft furnishings to match the style, with rugs and cushions if you want to follow a colour scheme or style theme through the entire room.
Mix Up Textures and Patterned Fabrics
When you're creating a sublime window dressing, you could opt to use different textured fabrics to add some textured layering to the interior space. When you create a bespoke window treatment, you have the options to personalise everything and make it truly unique. You can have curtains made to measure and suit the style of the room. That goes from your curtains, to blinds, and cushions.
The other option is to use fabrics that have bold patterns on them, and use this theme around the entire room. For example, you could have a vibrant pattern that makes a bold statement, and use it in your blind fabric panelling and the cushions to add cohesion.
Use Complimenting Colours Across All Soft Furnishings
An excellent way to have luxurious spaces is to use colours that compliment each other in all your soft furnishings. It's a great way to use a colour theme and show you've thought about the space.
When thinking of colours too, you can use an element of psychology to your advantage too. We associate colours with certain things like emotions, or styles. For example, red is usually anger, and blue means calm. Companies use this when creating their own logos and branding. Black and purple are luxurious colours, but you could use any rich colour like mustard yellow, a deep forest green, or teal.
But you can use complimenting colours to create a real impact, like using navy and pink together, or green and silver.
Add Layers with Fabric
When creating a luxurious window dressing, you can layer fabric together to create something contemporary and stylish. This could involve using curtains and blinds together, or you could opt for two types of curtain.
Using a sheer curtain is better for insulation and privacy, especially on those large windows that while bringing in lots of light don't give you anywhere to hide. Then you can use heavier curtains at the edges to add some volume to your window dressing.
In the rest of the room you can use throws, cushions, and rugs to layer fabrics together and create a magnificent space that conveys opulence to anyone who enters the room.
Use Bold Blinds To Add Colour
You could make a statement by using roller blinds or roman blinds with vibrant colours and designs to make your window treatment more striking. Roller blinds and roman blinds offer a wide space for fabric panelling when they're closed.
You can get bespoke blinds made to measure your window, which can be even more impressive if it's an odd shape or size. Using custom-made blinds means you'll get the perfect fit for your window every time.
Blinds are much sleeker than curtains, making your window dressing look polished and chic. It can give the entire space a modern feel. However, you can also compliment the blinds by adding curtains as well, there's no rule against it. You decide what you want, it's your space.
In Summary
There are various ways you can use your soft furnishings and window treatments to create a home that is both comforting and luxurious. The best ways are to use high-quality fabrics that will last longer, and work from a rich colour palette.
When you opt for something bespoke, everything is tailored to your desires and you'll create something unique and chic, that suits you and your home. You can mix your fabrics, use distinct patterns and textures, or opt for heavier curtains to exude true luxury.
Whatever the choice, as long as it's something you love it'll be the right option for you.