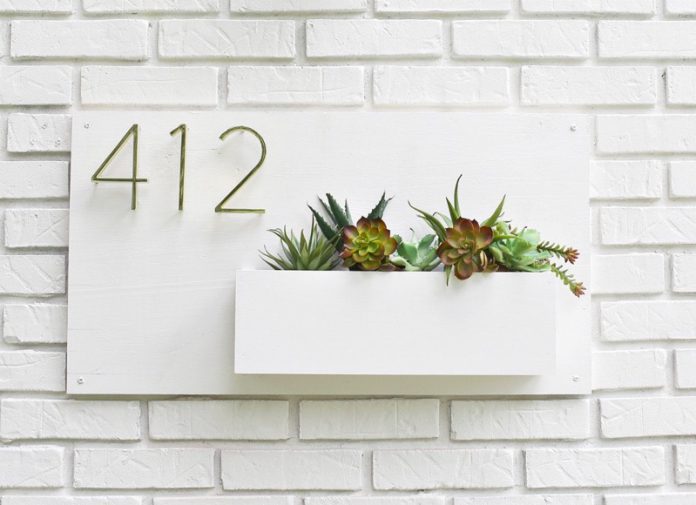 If you're looking to display your house number, but don't want it to be boring or unoriginal, then here are ten ideas to help you out. From old-fashioned to modern, you can find something that fits both your style and the aesthetic of your home in the following ideas.
1. Bold and Bright Colors on a White Wall
A white wall provides the perfect backdrop for any type of sign, but it's especially well-suited for large, bold house numbers. If you want your home to stand out from the rest on your block, consider installing eye-catching numbers that are illuminated. "Signs that incorporate any type of lighting are great for providing added visibility during the nighttime. Besides, illumination provides an upscale appearance," explain the interior designers at Front Signs, an LA-based prominent sign maker with a vast portfolio of light up signs in Los Angeles and around the US.
2. Mini Letterboxes
One great way to add visibility to your house number is by incorporating it into a mini letterbox. This type of display can be made out of any material, but we recommend using a sturdy metal so it will withstand the elements. These unique, mini letterboxes are a great way to add some curb appeal to your home. You can find them in a variety of colors and styles to match your home's exterior. Plus, they're easy to install and can be done in just a few minutes.
3. Flower Basket
A flower basket is a great way to show off your house numbers in style. You can either hang the basket on your front door or place it on a pedestal near your entrance. Be sure to choose a colorful mix of flowers that will stand out against your door or siding. If you're not much of a gardener, you can also buy pre-made baskets at your local nursery or home improvement store.
4. Create Magic with Lights
There's something about lights that can make even the most mundane things feel special. And when it comes to your home, there's no reason not to go all out. Take a look at some incredible lightning ideas to take your house atmosphere to the next level. The great part is that it works well to display important identity at doorstep like setting up a DIY lantern-shaped lighted sign on a stake, or a neon address number, so that the guest will always find their way to the front door.
5. Be Natural with Planters
Houseplants are a great way to add some life to your home.  There are plenty of reasons to having plants indoors. You can place potted plants on either side of your front door, with the numbers in between or hang a planter filled with flowers or greenery next to your door, with the numbers displayed on it. Another way is to place them in a pot on the porch or stick them in the ground by the mailbox.
6. Be Traditional
The most popular way to display your house number is by simply attaching it to the front of your home. This can be done in a variety of ways, such as with screws, nails or even magnets. You can also purchase a premade housing for your numbers that attach to your siding. If you want to get creative, there are plenty of other options available to you as well. For example, you could paint your house number on the sidewalk using stencils and a bucket of paint. Or if you're feeling ambitious, consider painting your address on an old window and hanging it outside.
7. Use your Front Door as a Canvas
Your front door is the perfect canvas for a custom house number display. You can paint your numbers directly onto the door, or use a decal for a more temporary look. If you want something really unique, try using stencils to create a design around your numbers. Before replacing your front door, you can plan to add some extra touch to surprise your visitors.
8. The Brick Game
A brick path leading up to your home is a great way to add some curb appeal, and it can double as a creative way to display your house numbers. Arrange the bricks in a pattern and then use a stencil or paint to add your numbers. This project can be as simple or as elaborate as you want, and it's a great way to personalize your home. For example, use black lettering for an edgy look, bright colors for a more traditional vibe, or words from favorite poems for something truly unique. For an added touch of class, place tiny flowers at the base of each brick.
9. Play with Colors
A great way to make your house numbers stand out is to use color. You can either paint them directly onto your door or mailbox, or you can use a decal. If you want something really eye-catching, try using two colors that contrast well with each other. For example, if you're painting your house numbers on the front of your door in black and white, then add red and green lines inside the black and white ones. Or if you're using red and green as an accent on a decal for your mailbox, then add blue stripes on top of the red and green stripes.
10. Use a DIY Theme
A great way to show off your personality and style is to create a DIY house number display. You can use anything from old license plates to recycled wood to create a one-of-a-kind look for your home. Plus, quote stencils for your wall chalkboard are usually much cheaper than buying a pre-made one. Be sure to drill the holes in the boards first before nailing them together. It is one of simple DIY tasks you can handle Other possible materials include corrugated metal or fencing material that you could paint with chalkboard paint to write on, an old mailbox that has been painted black or a large piece of decorative molding that you might find at an upholstery store.