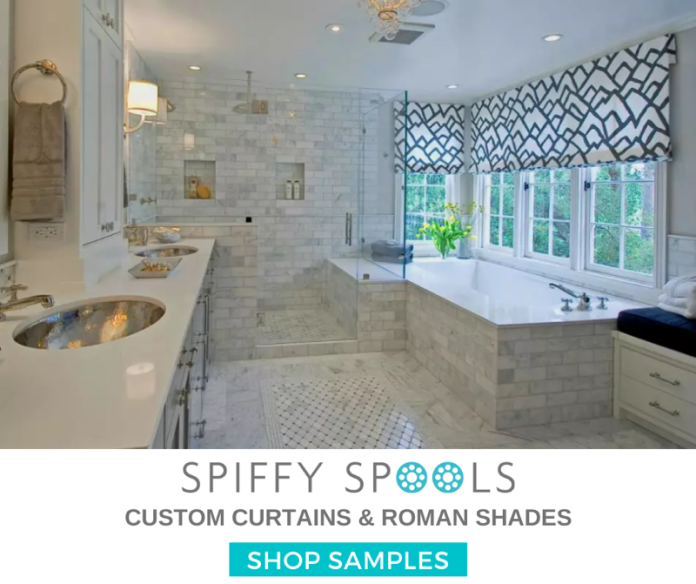 Bathrooms are the most private space inside a home. And yet, every bathroom needs a window or two, opening out to the elements to bring in sunlight and fresh air. This double-edged need for privacy as well as light and air is managed through the right kind of bathroom window treatments.
Think of it, you just can't choose your bathroom window treatments the way you would for your living room or bedroom, simply because bathrooms are predominantly wet places and we need to factor in resistance to dampness and moisture in any window treatment we choose.
We have compiled some key things to remember while choosing your bathroom window treatments. Read on and you will be able to make the right choices.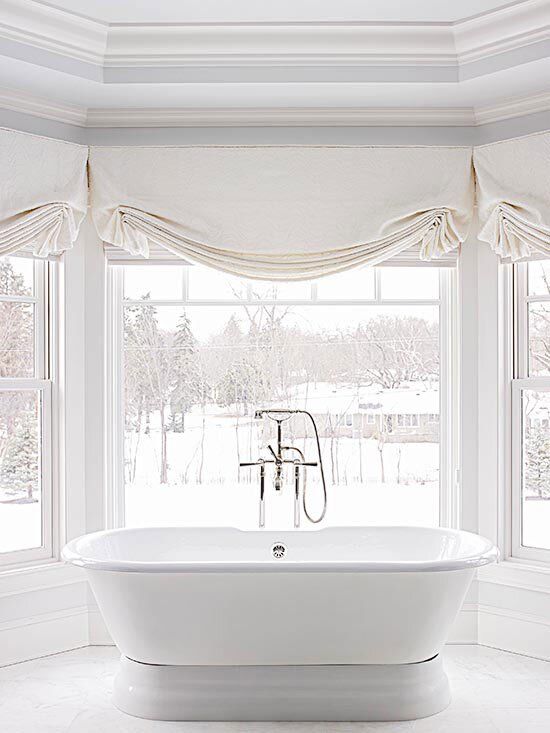 What's the size of your bathroom
Small bathrooms have the sink, shower, and commode enclosed in a small space. This means higher chances of bathroom drapes getting wet with water splashes. Humidity also stays trapped for longer in smaller bathrooms. For small bathrooms, it is best to choose water-resistant window treatments such as metal/ faux wood roman blinds or roller/ roman shades in PVC that will stay unaffected by any water splashing on them. If the shower cubicle is separated from the rest of the bathroom with glass walls, you can go for lightweight, easy-dry custom curtains on windows. For bigger bathrooms with sufficient separating space between the bathroom fixtures and the windows, you can even opt for full-length floor-to-ceiling drapes in a quick-dry blended fabric.
What are your privacy requirements
If you live in an apartment, you should keep in mind which floor you are on – ground floor, basement, and mezzanine bathrooms require way more privacy than those on higher floors where there's much less likelihood of anyone being able to look inside while you are conducting your business. Bathrooms on higher floors or in houses with enough compound area are relatively free of the chance of any prying eyes peeping in. Unless your bathroom is on a higher floor and also faces another residence's balcony or window, you can go for translucent drapes or café curtains (half window coverings) that will maximize natural light while also obscuring direct views. In contrast, a bathroom on the ground floor or in the basement needs window treatments with 100% view blocking ability to fully protect your privacy.
What's the size of your window
The window treatment to be used for your bathroom depends considerably on its size. For smaller windows, using large curtains that cover up most of your window not only hampers its functionality by covering it up and blocking light and air but also looks shabby and unprofessionally fitted. Instead, you should consider using custom roman shades or blinds which have a better fit and have higher functionality in controlling the entry of light and privacy. However, if there is no such size hindrance and you have enough stacking room on the sides of the window, you may use curtains, keeping in mind the material you choose for them.
What materials are you choosing
We have already discussed this in bits and pieces earlier but being an important factor, we need to go over this. Natural materials like cotton, linen, silk, wool, wood, etc., do not work well with bathroom window needs. These are natural materials that get damp easily, take time to dry up, and are prone to mold and mildew. Wood tends to warp and peel as well in high humidity zones. For bathroom window treatments, you need waterproof or fast-drying materials that will be unaffected by moisture and steam. We recommend polyester, polyester blends, faux wood, and metals like aluminum. The good news is that the practical bathroom window treatment material needn't be boring. For example, among the numerous colors and patterns available in the market and these tips, you can always find the perfect curtains that retain their functionality while also enhancing your bathroom's aesthetics.
If you have a hectic schedule with limited housekeeping time or a limited budget that doesn't stretch to professional cleaning, we recommend window treatments that can go long with just a wipe and clean routine. Lightweight washable fabrics that can be washed in the washing machine and don't need ironing are your next best friends. Wash them and hang back in the bathroom straightaway for drying. Anything that needs specialist cleaning likely costs more and also needs extra money for maintenance. So, go for those only if you have the budget and the time.
Use these tips and you will get bathroom windows that are functional as well as user-friendly.