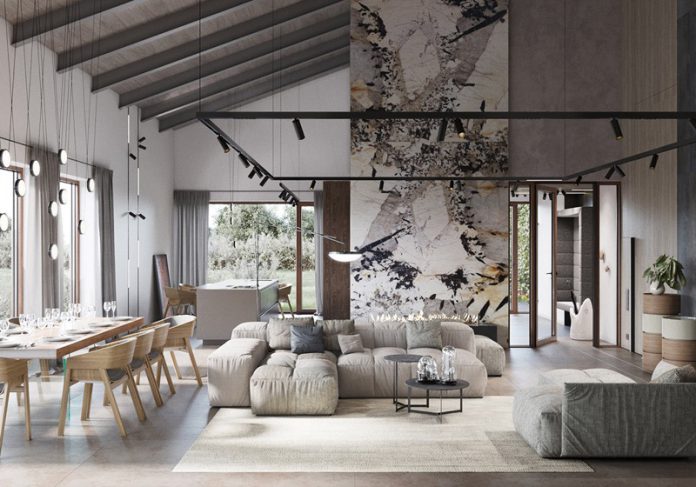 When you love modern design but also adore having a natural aesthetic of the natural décor with rustic design, you can be confused about how to incorporate the two. When the rustic and the modern style are blended intentionally, they can lead to a stunning design. You can use modern rustic to make your interior details beautiful in different ways and places. This article will explore modern rustic interior details.
A great way to decorate your home is decorating the walls, which may include cladding with wood, painted plaster, or plastic. You can also consider using plastic wall panels, which are a good way of decorating your walls. When choosing such, you can consider using patterns that you like, or you can look for a customized design to make your walls look beautiful. Additionally, you can consider using wood like imitation or tiles in wet areas.
You can consider using modern rustic for the floor covering. To achieve this, wood is mainly used and can be rough but natural. Additionally, you can use proceed and glossy wood. Most times, people use ceramic tiles or a wicker carpet which must imitate the wood's color and texture. Further, you can consider using rusty surfaces and old stones. When you have these materials, you must consider refining and processing such that the wooden wall can be sanded and antiseptics used to coat it to bring the modern touch. You can also consider tinting and varnishing.
When decorating the house's interior, the furniture plays an important role. When designing the interior, you must use modern models to ensure the designs are simple and natural. You can consider handmade rustic furniture and incorporate a color palette that swings to natural. The furniture needs to be comfortable and preferably oversized. The most preferred colors to use include grays, brown, and green which help remind and blend well with the tone of the masonry and old wood.
When decorating your interior, you don't want to forget the ceiling finish as it helps to complement the house look. When considering the modern rustic design, you can consider using wooden beams. You can also decide to use standard smooth wood or board and paint your ceiling with grey or white colors.
The door and windows are crucial in the overall look of your home and in ensuring security. This is why you need to consider using the PVC window and door styled like wood. When designing the doors, you must ensure it's completely closed using simple geometric embossing. For the windows, consider using wooden beams, even though they might be pretty expensive. Additionally, make your windows large enough to allow good sunlight penetration into the room. Further, when choosing the curtains, you can consider the linen and wall length fabric with a discrete color to match the tone of the interior.
Wrapping Up:
The above is incredibly modern and rustic in the interior details. Ensure you choose the perfect rustic style for every part, such as the doors, walls, and furniture, and ensure they match harmoniously to create a perfect interior tone.