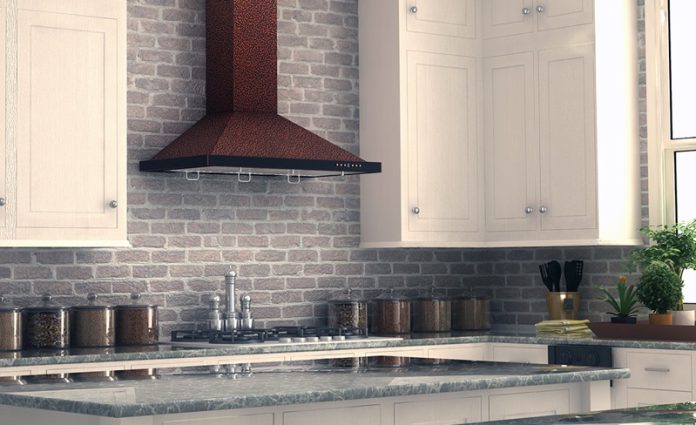 A range hood can be a great addition to your home. Some people don't think range hoods are necessary to homes, but they really do give your kitchen extra flair- while keeping greasy smells out. You're probably trying to decide which material you should get for your range hood, but take it from us  copper vent hoods are simply the best choice. They're beautiful, they last longer than other materials, and they add a nice finishing touch.
Copper Is A Versatile Option That Creates A Unique Look
Copper is known for being a natural yet beautiful option for a vent hood, and the aesthetic adds warmth to a room that might not have had it before. In addition, you'll find that copper offers a timeless look that can work in space for years instead of months. The best part about copper vent hoods is that if your kitchen area is more traditional, you can customize it to blend in better with your kitchen. That means that no matter what interior design or color scheme you have in your home, there's a range hood for you. 
Copper Vent Hoods Age Beautifully
Copper vent hoods also age more beautifully than other options because copper can form into any shape, and because of what is known as the patina event, it ages slower than other materials. During the patina effect, your copper will naturally change color and blend well into the environment. By choosing copper vent hoods, you can watch the material evolve naturally and become more beautiful as time passes.
Copper Vent Hoods Require Little Care Or Maintenance
Cleaning and maintaining copper vent hoods are straightforward. Because of their durability, you have fewer scratches and damage, which is one reason you can keep them functioning so well. The cleaning process is straightforward as well, the only thing you need is a damp cloth and some soap. Because copper works naturally as antibacterial material, you won't have to clean your range hood very often.
You Can Customize Them Easily
The most popular reason why people prefer copper vent hoods is that they're customizable. For instance, the style and finish can be customized to your liking- and it completely changes the look and feel of your kitchen. In addition, you can also pick what type of mount you want, choose a rich color, and switch up little things like the rivets and trim. When choosing a copper range hood, you can customize it down to the very last detail like whether you want straps going down the front of the copper vent hood.
Copper Vent Hoods Are A Wonderful Option
Copper vent hoods are an excellent option for your kitchen and it's the best option that you will find. Generic range hoods offer no customization, don't have antibacterial properties, and must be maintained with a lot more cleaning. The best part of copper vent hoods, however, is that they're easily affordable and can give your kitchen a great finishing touch.