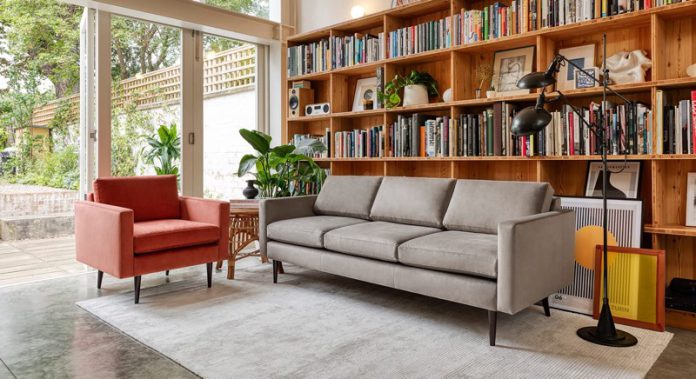 When you're in the market for a new item of lounge furnishings, whether that be a comfy sofa, a relaxing armchair, or somewhere to put your feet up, no doubt you'll have a few considerations in mind. Can I source a suitable suite that matches my current decor and preference? Can I have a piece that is both stain-resistant and beautiful? Is it even possible to get any item I choose through the entrance or into my house? These are just a few questions our team has been asked over their decades in the sofa business. These reasons and many more have led us to create the stunning Sofa in a Box design. But how does this compare to a traditional sofa, and what are the main differences?
The Biggest Difference
There main fundamental difference between Sofa in a Box couch and a traditional lounge suite is getting them set up in a home. While both can come in various styles, sizes, and colours while complimenting any room they're placed in, the primary difference between the ease of getting the sofa in your house in the first place. The Smart Sofa range is designed to get in any doorway, home, apartment, or flat, with each piece fitting easily in its own box to fit through tight doorways. Many traditional sofas are already set up and cannot be broken down into smaller parts to make delivery easy. This means you may not be able to choose a traditional sofa you may like as it won't fit in your door. You will never have this issue with Sofa in a Box.
Style and Options
Style options make a difference; think elegance, comfort, and versatility. Each piece is luxurious, practical and comfortable, well-crafted with quality construction and is available in various configurations, from three-seater sofas to armchairs to complimentary ottomans. The upholstery is soft, vegan, pet-friendly velvet that's stain-resistant while retaining softness and sophistication. The foam and polyester filling means there are also no animal products used in any of our sofas. And we are so sure of our range that each of our pieces comes with a 25-year warranty. So does your traditional sofa guarantee all of that?
Delivery
Sofa in a Box came about after our team spent decades selling traditional sofas. Unfortunately, there were multiple occasions when the sofas couldn't be delivered due to small doorways and tight halls. More than one failed delivery led to disgruntled and disappointed customers who wanted their sofa in place. That led the team to create the better delivery method used now. Each sofa is modular and split apart, packed in its own box for delivery. Unlike a traditional sofa, Smart Sofa can get in place no matter how tight the doorway is.
Construction
Now you may think this ease of delivery must come at a cost to the setup and longevity of the sofa, but the team has thought of everything. Unlike a traditional sofa that may need tools and several people to put together, there is no such hassle for a Sofa in a Box. It's easy to construct with no tools and ready to sit on straight after. It's really that simple and stands out from the crowd with the ease of use.
The Full Range is Also Eco-Friendly
To add the cherry on top, Smart Sofa is passionate about sustainability and guaranteeing an eco-friendly range. Every piece of our extensive range uses only FSC-certified wood, which provides environmentally friendly forestry management focused on timber production that does not destroy forest biodiversity and ecological integrity. Each frame we build is composed of solid hardwood timber, built to withstand the rigours of daily life without compromising comfort and beauty. It may cost a bit extra, but it pays with the environmental benefits. Does the traditional sofa you're considering provide this peace of mind?
We are a UK Company
Our team and operations are proudly UK based, and as a UK company, we adhere to all quality and construction guidelines expected from home-crafted furniture. We are focused on our local customers, aiming to deliver quickly around the UK, and ensuring each client is delighted with their new sofa or item of furniture.
Visit the Smart Sofa Website
For more details about Smart Sofas, please visit our website. You can even order colour samples and swatches! Our mission is to craft top-quality, comfortable sofas that are simple to deliver, comfortable to use, and with beauty that lasts a lifetime.