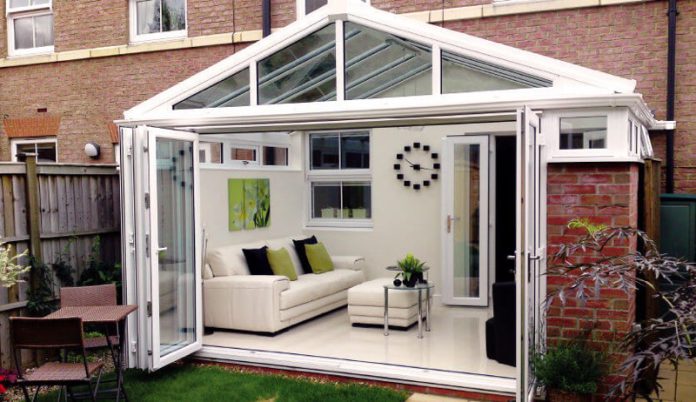 What is a Solid Conservatory Roof?
A solid conservatory roof is an advanced replacement for the traditional conservatory roof. It is built with modern materials that are thermally advantageous and lightweight. In fact, you can put a solid roof on most older conservatories. In the industry, this is referred to as a "retrofit," and it is growing in popularity with homeowners who have older conservatories and want to upgrade or even add value to their homes. It's worth speaking to experts and getting a number of quotes as depending on your requirements the solid conservatory roof cost can vary.
Your current polycarbonate roof may be dripping or simply beginning to appear old-fashioned. Older conservatories are sometimes criticised for being "too uncomfortably hot in the summer" and "too freezing cold in the winter." All of these problems will be solved by a solid tile roof, making the area usable all year round. Below are the benefits of having a solid conservatory roof:
Thermal Efficiency – One of the main advantages of choosing a tiled roof for your conservatory is improved thermal efficiency. You may use your conservatory all year round thanks to the additional insulation layers in the roof structure.
Greater aesthetics – Solid roofs may be customised to completely match your entire property thanks to the extensive range of colours and designs that are provided. As a result, your conservatory will appear more like a signature addition to your house.
Better ambiance – Adding a tiled roof to your conservatory will increase both the heat efficiency and the noise of your space. Tiled roofs will produce a serene living area by decreasing the noise by up to 30 decibels when compared to glass and polycarbonate roofs.
Maintained skylight effect – Regardless of whether you selected a solid roof, you can still receive the light that a standard glass roof conservatory provides. While the interior of your home will have vaulted ceilings, it won't affect the natural light you would want from a conservatory.
Adds value to your home – You can raise the value of your property by choosing a conservatory with a tiled roof. The enhanced functionality and architectural appeal presented by a tiled roof conservatory can in uence your living space. A tiled roof conservatory could decrease the time it takes to sell your property if you decide to put it on the market in addition to increasing its value.
How much does a Solid Conservatory Roof cost?
The type of roof, the size of the conservatory, and the material you select for the new roof will all affect how much the project will cost. Glass, tile, and polycarbonate are the most widely used materials. Each has unique bene fits, drawbacks, and average costs. A conservatory roof replacement or installation normally takes 2 to 3 days to complete and needs a minimum of 2 workers. The average labor cost is between £300 and £500 per worker per day. The average cost to replace a solid tile conservatory roof in 2022 is £4,100. For a bigger conservatory, a brand-new solid roof can go from roughly £5,500.
Will a Solid Roof Conservatory add value to my home?
Your home's value will increase if you add a solid roof conservatory which gives you more space that can be used all year round. When it comes to selling your house, choosing the perfect style, fit, and shape can make your conservatory a valuable asset. Also, combining Double Glazing in your conservatories will make the room energy efficient and attractive to buyers. According to well-known real estate expert Phil Spencer, a conservatory can increase the value of your home by about 7%, while the actual amount of value it adds will be heavily influenced by how well the conservatory blends in with its surroundings. It's vital to ensure the new area complements your house, has been carefully thought out to create consistency and mirrors the interior design of your house.
Is a Solid Roof Conservatory Energy Efficient?
Solid roof conservatories are known as warm roofs due to the way they surpass other conservatory roof styles in terms of thermal efficiency. Their lightweight tiles are designed to control airflow around
the conservatory space to maintain comfortable temperatures inside, come rain or shine. In comparison to a conservatory with a glass or polycarbonate roof, you will also benefit from a large decrease in your heating costs throughout the winter and keeps a cool temperature in summer.
Conclusion
Your roof should be at the top of your list of priorities when it comes to home improvements. You may invest in your conservatory roof in a variety of ways, from performing regular maintenance and repairs to having a new solid roof installed. Below are some reasons why you should consider upgrading to a solid roof conservatory roof:
Protect your home and family
Your roof safeguards your home, but it also safeguards you and your loved ones. The peace of mind that comes from knowing that your roof and everyone who lives under it is secure cannot be overstated. You can rest easy knowing that your roof is secure if you invest in a solid conservatory roof replacement.
Better shelter and efficiency
Having an outdated roof can lead to a lot of issues. Leaks are a significant issue, but energy loss should also be taken into account. Your old roof may have insufficient insulation, is improperly ventilated, or invisible air leaks. Upgrading to a new solid roof will ensure your conservatory and home are warm and dry.
A great advantage when selling your property
Do you intend to sell your house? Even if you don't have any immediate plans to relocate, a solid conservatory roof will add value to your home if you plan to sell. Buyers are looking for more living space that can be used all year round with a good energy rating.