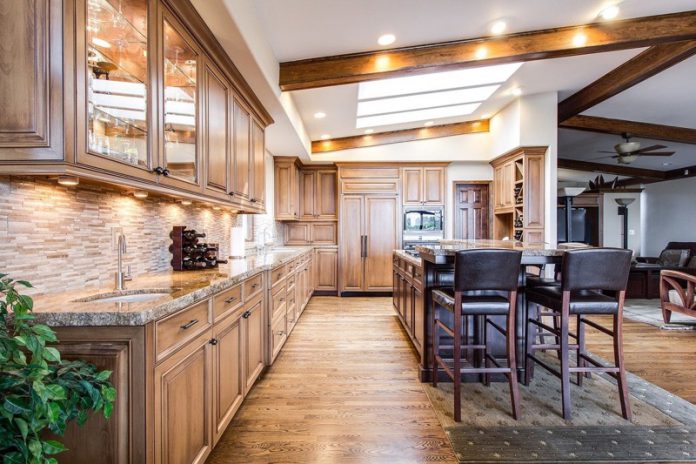 Kitchens come in different sizes. A kitchen layout allows you to decide where to place the various aspects of your kitchen, depending on the amount of space you have. Putting together a kitchen plan provides guidelines for ensuring ease of use and functionality. Even if you have a fully built kitchen in place already, you can incorporate a kitchen plan into your renovation.
This article shows you different kinds of kitchen layouts, from small to large kitchens, that you apply to ready-made kitchens or starting from scratch.
One-Wall Kitchen Layout
The one-wall kitchen or Pullman kitchen comprises cupboards and appliances against a single wall, best suited to studio apartments and lofts. The one-wall layout is ideal for tiny houses such as studio apartments and lofts because it keeps everything within easy reach.
In this kitchen layout, vertical space is crucial. Shelves and overhead cabinets make the most of available storage and organizing space. When space allows, the one-wall kitchen arrangement can expand with the help of extra things. For example, a movable kitchen island or a kitchen cart might provide additional work and a serving area.
Galley Layout
Ideal for small kitchens and cramped quarters too. The galley plan is a slim and efficient solution for small kitchens and tight spaces. This kitchen arrangement defines two walls that face one other.
A galley kitchen allows you to make the most of limited space. Corner cabinets are rarely tricky to configure, but this is not always the case. When dealing with a galley kitchen layout, keep the workspaces on one of the walls rather than both. This layout will reduce traffic in the kitchen and help avoid injuries or accidents.
L-Shaped Layout
The L-shaped kitchen plan is both functional and appealing. It has units on both sides of a corner and plenty of work areas. An L-shaped kitchen arrangement provides a lot of flexibility. Larger kitchens may frequently accommodate an island, instantly changing the look and feel of the room. Still, in classic designs, the "L" corner might be a troublesome place where you will lose storage places. Pull-outs in the corner can increase utility and save up a lot of space.
U-Shaped Layout
The U-shaped kitchen layout encircles three walls, defining the cooking zone and separating the kitchen from the rest of the house. U-shaped kitchens, often known as horseshoe kitchen layouts, give plenty of storage space, allow for optimal efficiency, and allow numerous people to maneuver the kitchen concurrently.
This kitchen layout provides the ideal opportunity to construct a continuous work triangle to maximize space. Even yet, two corners can result in two sets of pinch points. Pull-outs and carousels ensure that no corner space is wasted and allow users to access difficult-to-reach areas.
The U-shaped architecture can also generate a closed-in feeling in smaller settings. As opposed to wall units, open shelves can provide the impression of a more open, extensive area.
Island Layout
Best suited to larger kitchens with a focus on hosting and socializing. The island layout is one of the most popular kitchen layouts. The island is a versatile solution that can serve as the main prep area in the kitchen, a cooking center, or a washing center. Kitchen islands are pretty helpful.
Because of its central location, the island acts as a traffic controller to keep the kitchen area flowing naturally. A double island arrangement can shake up the standard kitchen setup for extraordinarily open spaces and a spacious kitchen. A double island arrangement encourages socialization while providing a functional design with a separate entertaining and cooking area.
Moveable islands can also convert a one-wall kitchen into a galley plan and an L-shaped layout into a horseshoe or U-shaped configuration. Users can adjust the arrangement of their kitchens as needed by using moveable islands.
Peninsula Layout
A peninsula kitchen is a U-shaped kitchen with an island connected to it because the linked island's shape gives it that G-shaped design. Peninsula kitchens have a similar traffic pattern as island kitchens. Although they have greater leeway and workspace available, this is an excellent solution when space does not permit the establishment of a separate island.
While someone else is cooking, the peninsula space is ideal for dining and aiding with food preparation. It's an excellent option for enclosed kitchens that wish to mimic an open-space look and feel without pulling down walls.
Knowing different kinds of kitchen layouts while adding your taste to them gives you a harmonic arrangement of countertops, appliances, and access doors and panels in your kitchen. Always remember to have building or renovation projects handled by professional contractors.