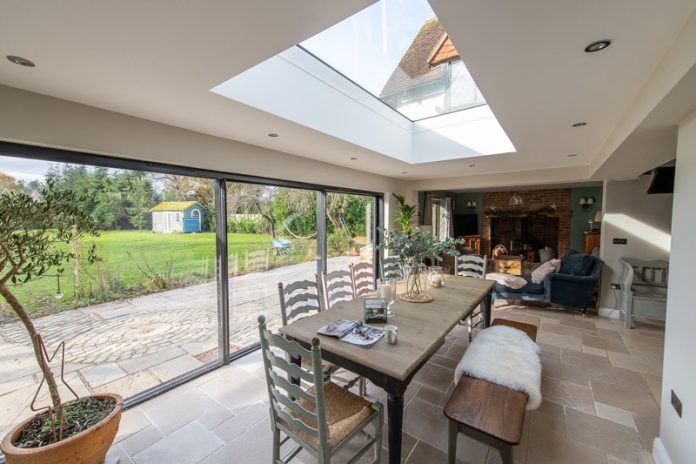 Roof lights are one of the best options for bringing natural light into the home. Not only do they look great, but they also provide many benefits to the home's occupants. Installing roof lights can transform the appearance and atmosphere of each of these areas. The blog post will look at home areas that can benefit most from installing roof lights.
1. Loft Conversions
When adding light and air to your home, a loft conversion is one of the best places to start. While a traditional window might take up precious wall space, you can install Rooflights in the roof space to provide plenty of natural daylight while keeping your walls free of clutter. Not only do they provide an abundance of light, but they also add a touch of style to any space.
By installing roof lights into your loft conversion, you can create an eye-catching feature that will add a unique design element to the entire room. With roof lights, you can make the most of the available space by using them to break up the space and create distinct areas within the room. Roof lights also provide ventilation, so you don't have to worry about the air quality in your loft conversion.
2. Conservatories and Extensions
Roof lights will allow plenty of natural light into the room, making it feel bright and airy. That can be especially helpful when creating a space for entertaining or relaxation, as the natural lighting can help set the mood. You can also choose the size and design that fit your extension's look, from traditional skylights to more modern styles. Roof lights that can open and close can also provide additional ventilation, which is ideal for hot summer days.
Your plants will also benefit from having access to all the natural sunlight that comes in through the roof lights. That can be especially helpful for growing food items in places such as greenhouses, where controlling the amount of sun is critical. Overall, roof lights can be a great addition to any conservatory or extension, offering a range of benefits, including extra natural lighting and improved ventilation.
3. Kitchens
Kitchen space requires ample lighting to provide a safe and comfortable environment for meal preparation, and roof lights are the perfect way to bring natural light into the kitchen. Roof lights are a great way to invite extra light into your kitchen and create an airy, bright atmosphere. They can make all the difference in a typically small and dark room, especially if you don't have much natural light coming in.
Roof lights are perfect for over islands and dining areas and lighting up any workspace. Skylights can be incorporated into existing ceilings, allowing you to make the most of whatever space you have. When considering roof lights for the kitchen, look for ones with good U-value ratings and sound insulation to help regulate the temperature in the room. Having a lot of natural light can also help to make your kitchen appear more significant than it is, which is always a bonus.
4. Hallways and Landings
Roof lights are an excellent way to brighten up your hallways and landings with ambient lighting. Ultimately, roof lights are ideal for making any hallway and landing area appear more open, airy, and inviting. They'll give your home an extra layer of elegance and charm while adding a touch of practicality to your home too. Most hallways and landings are in areas where traditional windows would be impractical or difficult to install, so having a stylish alternative, such as a skylight, is the perfect solution.
Plus, since these spaces don't tend to get much natural light, installing well-placed roof lights will also help balance out the light levels in these areas. That can even provide energy savings by reducing the need for electrical lighting. So, if you're looking for a way to make the most of your hallway and landing space, installing roof lights is an option worth considering.
5. Open Plan Spaces
Roof lights illuminate large open-plan spaces because they allow natural light to enter from above, creating an inviting and bright atmosphere. That lighting provides a warm and cozy ambiance for daytime and nighttime activities, like reading, eating, or entertaining guests. Installing roof lights in open-plan spaces can also help to create a sense of continuity between different areas within the same space.
When installed correctly, the lights link each part, resulting in a unified look and feel without being affected by distance from the windows. That can help to give the space a more cohesive and inviting appearance. Thus, installing roof lights in your open-plan ground floor spaces can create a more attractive and functional environment. With the right design, you'll be able to take advantage of natural daylight while creating a sense of unity between different areas within the same space.
Conclusion
Roof lights are a great way to bring natural light into any home, but certain areas benefit most from this type of lighting. Loft conversions, conservatories and extensions, open plan spaces, hallways and landings, and bedrooms are all significant areas to install roof lights. Roof lights are an excellent choice for brightening up a small area or transforming an entire room. Not only do they provide natural lighting, but they also create a unique design feature that will enhance the look and feel of any room. If you're considering adding extra light to your home, roof lights should be at the top of your list.