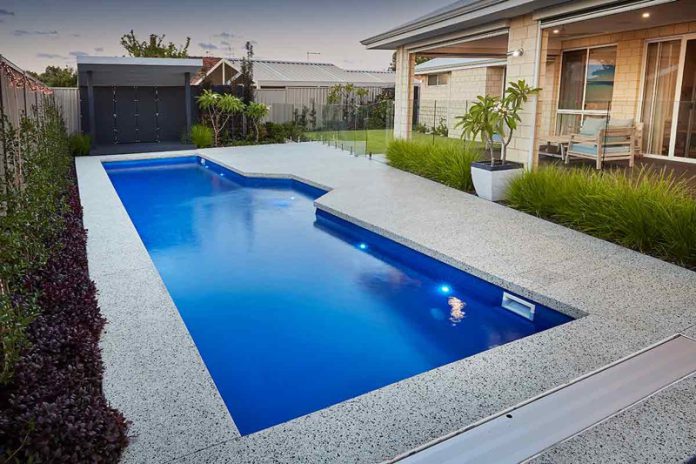 You've decided to buy a swimming pool for your house – this is an exciting time indeed! The size of your swimming pool is one of the many decisions you will need to make. Like an increasing number of people, you might be thinking of installing a smaller pool at your house. At Barrier Reef Pools Sydney South, we get lots of questions about our small pools, here are some of them!
What is a small pool?
The demand for smaller pools has risen greatly over recent years due to the ever-decreasing backyard size. A small pool is essentially a swimming pool that is smaller than a traditional-sized swimming pool and it typically doesn't exceed 7 metres in length or 3.5 metres in width. Smaller fibreglass pools are usually shallower than regular-sized pools with an average depth of 1.2 metres.
Why should I choose a small pool over other types of pools?
Opting for a smaller pool doesn't mean that you have to forgo any of the wonderful benefits that owning a swimming pool can bring. In fact, smaller pools come with a variety of advantages, including:
Smaller pools require less water to fill them, and as a result, they require less water to top them up and to clean the equipment via processes such as backwashing. This can save you money on your water bills.
Small pools are an excellent match for heating systems if you're thinking about installing one. They heat up quicker than larger pools due to their compact size. You don't need to run the heater as long because they warm up faster, saving you on your operating costs.
Pool surrounds can be more affordable
Generally, you'll need less paving and fencing for a smaller pool. You may be able to significantly reduce the overall cost of installing your pool by choosing a smaller one.
Accessories are budget-friendly
You can keep your pool in excellent condition with little effort by using pool accessories. Smaller pool specific accessories like pool coverings and robotic cleaners are typically less expensive than those designed for larger pools.
They don't take up a lot of space in the backyard
A large pool is fantastic however, if it doesn't allow for anything else, it may restrict you from really enjoying your backyard. A well-planned backyard serves multiple purposes and has a variety of attractions.
Often, smaller pool pumps don't need to run for as long as bigger pool pumps to sanitise the water efficiently. With the pump being the biggest energy consumer of all your pool equipment, this is a great way to save money on your energy bills.
Lower Amounts of Chemicals Are Required
The dosage of chemicals required to effectively clean the water is substantially lower than that needed for a huge pool.
How small are your pools? My backyard is not very big
The smallest pool in our collection is a mere 1.6 metres wide by 4.2 metres long however, you'll need to allow additional room for your pavers, pool fencing, equipment etc. Contacting our friendly team for an obligation-free measure and quote is the easiest way to know whether one of our small pools is suitable or not. If your backyard is too little for a small pool, you may still be able to get a spa or installing your pool in the front yard may be another option available to you.
What are your most common small pools?
Many of our smaller pools are simply smaller versions of our bigger pools meaning you get all the same features and benefits, just on a smaller scale. We have a growing number of small pools, here are some of our top sellers:
Billabong Plunge Pool
Swim Spa
Brampton 5.2m x 4.4m
Billabong Slimline 6.2m x 2.8m
Is Installing A Small Pool Cheaper?
A compact pool might be slightly less expensive than a family-sized pool although the installation process is much the same and the price difference may not be as drastic as some may think.
Are small pools more affordable to run?
Yes, they are in most cases. The pump (the biggest energy consumer of all your pool equipment) doesn't need to be as powerful and it doesn't need to run as long in a smaller pool. In addition, heating costs are cheaper, fewer chemicals are needed and less water is used. The pool's smaller surface area means that cleaning it doesn't require as much time.
Can you swim laps in a small pool?
Although a smaller pool is probably not the greatest for swimming laps, you can still enjoy doing laps in a smaller pool with the help of swim jets. They are typically positioned at one end of the pool and direct a strong current of water toward the swimmer which is used to swim against. Swim jets are worth considering if you are looking to make your pool multipurpose.
Do You Have A Lot Of Small Pools To Pick From?
In short, yes! We are quite proud of our large range of small swimming pools. They all come in a variety of styles, colours, and shapes and we are continuously adding to our collection to offer our customers the most contemporary and cutting-edge designs.
How long does it take to install a small pool?
The quick installation time of sydney fibreglass pools is just one of their many enticing features! Once it has arrived, the pool shell is already made and prepared; all that is left to do is to install it in the ground. A small fibreglass pool can be completed in a matter of a week.
How much does a small fibreglass pool cost?
The price can vary greatly but to give you an idea, a small inground fibreglass pool will usually start at around the $30,000 mark and go up from there.
How do I go about installing one of your small pools at my house?
Simply get in touch with our helpful staff at Barrier Reef Pools Sydney South if you'd like to get things started. We can arrange your free on-site quote and are pleased to answer any queries you may have about our small fibreglass pool options.