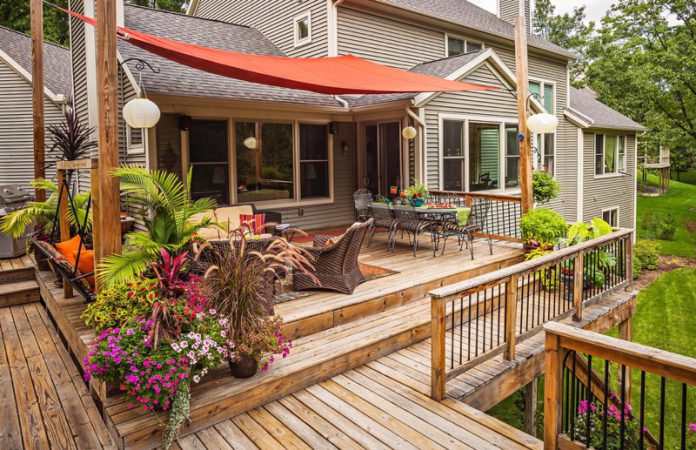 Adding a deck to your house can provide additional outdoor space for entertaining, relaxing, and dining.
However, a deck can not only improve the appearance of a home, but it can also add significant value. Installing one to a home can be a sensible investment, as it can increase the property value by 10-25%, which is quite impressive.
Additionally, because it may be utilised for various functions, a deck can give a lot of flexibility to a home. It can, for example, be used to entertain guests, hold cookouts and barbeques, or simply relax and enjoy the outdoors.
Let's get into more detail about it.
How much does building a deck cost
Before we go into how a deck can boost the value of your home, let's first look at how much it costs on average to have a proper deck built and what the return for that deck will be once you put your home on the market.
Adding a deck with its own railing and built-in bench is one of the more valuable home improvement projects that homeowners can benefit from.
This annual report shows how much different construction projects cost on average, their resale value, and what part of that money you'll be able to recoup.
So let's look at the cost and resale value of wood and composite decking.
The average wood deck cost in the UK is from £1,200 to £2,500 per square metre. But when you're reselling the property, a wooden deck can increase its value by up to £25,000. So we can say it's definitely worth it.
Composite decks, on the other hand, cost around £2,000 to £5,000 on average for materials and installation. So if you have one of these decks installed on the side of your house, you'd recoup its cost when you sell the property.
Looking at these statistics can be discouraging. After all, based solely on them you might think that adding a deck to your home is a waste of money that you won't win back.
However, that isn't really the case. On the contrary, decks are actually more than worth the investment!
Here's why.
Why building a deck is worth the investment
Constructing a deck is a wise investment for homeowners for various reasons.
For starters, it increases the total value of your property, making it more appealing to potential buyers.
Second, it adds to your living area, allowing you to enjoy outdoor activities like grilling, dining, and entertaining visitors.
Lastly, it improves the overall appearance of your home by boosting its aesthetics.
Decks also require less care than other types of outdoor construction, making them a viable option for busy homeowners. There are other environmentally friendly options available.
Finally, you can customise the deck with various materials, styles, and colours.
Adding a deck is a worthwhile investment because it increases your home's value, aesthetic appeal, and usable outside living space.
Expands your home's square footage
Although adding an outdoor deck isn't the same as adding an extra bathroom or bedroom, but it's considerably more affordable. Still, it gets the job done when it comes to expanding your property's square footage.
And as we all know, the bigger the square footage, the higher the house's resale value.
Decks can be versatile
Whether you want a small, cosy deck or a large, multi-level deck with built-in seating and lighting, the design options are virtually endless.
You can choose from various materials, such as wood, composite decking, or even eco-friendly options like bamboo. You can even prioritise deck and patio materials that are easy to pressure clean and maintain.
The most popular deck styles in the UK depend on personal preferences and property type. Conventional wood decks are a timeless option with a natural, rustic appearance. Modern decks have clean, modern lines and a minimalist aesthetic. Raised decks can be created for a greater view or uneven terrain, while multi-level decks are ideal for bigger homes and sloping landscapes. Rooftop decks are becoming increasingly popular in metropolitan areas with limited space. Individual preferences and specific property restrictions will ultimately determine the optimal deck type, and you are advised to collaborate with a professional deck builder to select the best design and materials for your budget and needs.
Young homebuyers love decks
According to an NAHB (National Association of Realtors Research Group) study, 37% of all homebuyers are millennials (born between 1981 and 1996).
And unlike baby boomers, millennials love a good deck. That's at least what this 2016 study made by NAHB claims. According to them, most millennial homebuyers they interviewed said a deck and front porch were a must-have for them.
Considering how millennials will eventually become the majority of homebuyers, it's always a good idea to appeal to them when putting your home on the market. And in many cases, it might be the decking that seals the deal and helps you sell your house for a good amount of money.
Add in the right patio furniture, and you can further sweeten the deal.
Conclusion
In conclusion, if you're considering building a deck, we say if you have the chance, do it! It's a profitable investment and provides various benefits that can raise the value of a home.
A well-designed deck may expand living space, improve the property's looks, and offer functionality and value to outdoor life.
Keep in mind that to guarantee that the project is finished to a high standard, it's necessary to plan carefully and evaluate the size, materials, and design of the deck and deal with skilled professionals.