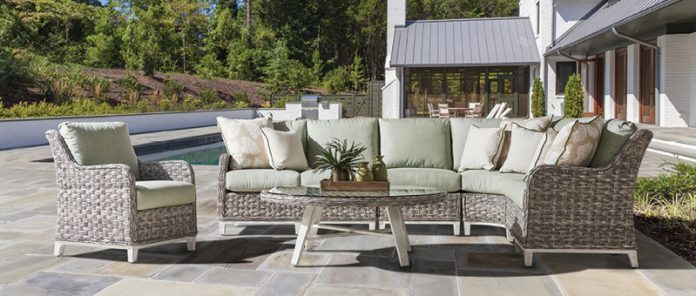 Finding the perfect patio furniture is an important part of creating an inviting outdoor space. From enhancing the ambiance to keeping guests comfortable, the right outdoor chairs, sofas, tables from Casahq can make the look more aesthetic.
In the market for new patio furniture, and wondering where to begin? Read on for a roundup of five things to consider when refreshing your patio or another outdoor entertaining space with new furniture.
1. Start with Your Space
Not all outdoor areas are created equal. Some patios have a huge amount of square footage. Others are limited in space and may require some creativity (and restraint!) when it comes to maintaining a relaxing and clutter-free aesthetic while still maximizing the functionality of your patio. Additional space considerations include the layout, amount of shade, and flow (both indoors and out).
2. Consider Your Wants, Needs, and Goals
One family's "perfect patio furniture" is not the same as the next's. The best furniture for your patio will depend entirely on your wants, needs, and goals.
For example, if you're planning on doing a lot of entertaining, you'll want to make sure you have a large dining set and plenty of seating. Looking to use your patio through the seasons? Incorporating a fire pit and ample lighting will extend the life of your space. Envisioning your patio primarily as a private sanctuary and retreat from the hustle and bustle of daily life? Furniture like plush deep seating, rockers, and outdoor swings will ensure ample opportunities for luxurious lounging.
3. Prioritize Quality and Care
Your outdoor furniture has to hold up to a lot. One of the best ways to make sure it will stand the test of time is to seek out high-quality furniture from leading manufacturers known for their commitment to construction and durability. While cheap, lower-quality pieces look great now, they may look very different after a couple of years in the sun. Conversely, higher-quality outdoor furniture is more likely to be made with materials and fabric that will maintain their vibrant color and remain intact.
The most exciting part? Today's weather-resistant materials and innovative design elements have transformed the outdoor furniture market. Gone are the days of the same-old patio chairs and tables. Instead, there are many different styles of outdoor furniture in a variety of fabrics.
4. Echo Your Indoors
Your outdoor patio furniture doesn't have to be a precise match for your indoor furniture. However, to create the most cohesive space, consider choosing pieces in the same or a similar style. You can also promote a harmonious overall effect by staying within a color palette and sticking with the same finishes.
Can't find exactly what you're looking for? Consider custom outdoor furniture. Personalizing your furniture ensures that it will meet (and exceed!) your expectations in terms of form and function.
5. Don't Forget About Storage
Patio furniture is an investment – both in your home and how you live in it. Make sure to protect that investment by planning to store it in a safe location during the off-season. While weather-resistant outdoor furniture can withstand a lot, you can still prevent excess wear and tear by putting it away when it's not in use. Outdoor sheds and other storage structures are wonderful for storing furniture and other seasonal elements.
Outdoor living is one of the biggest design trends of the moment. If you're looking to spend more time outside in the comfort of your own backyard, the right patio furniture can make all the difference. These five tips will help you make the most informed purchases while creating the patio, pool area, or other outdoor spaces of your dreams.