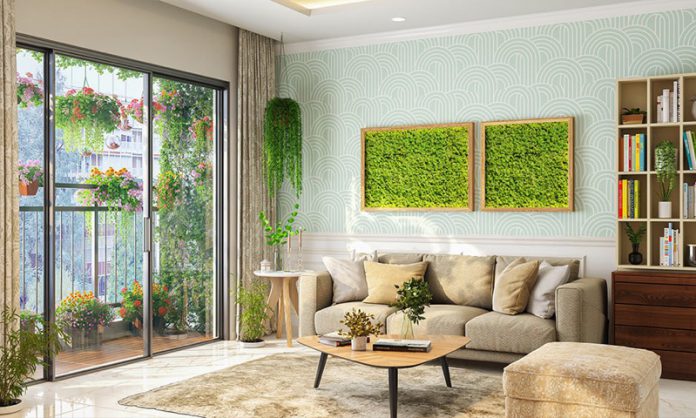 Summer is a time of transformation where we bid farewell to heavy fabrics, dark hues, and cluttered spaces, and welcome lighter, brighter and more inviting elements. It's an opportunity to design a home that exudes the warmth, joy, and carefree vibes that define this time of year. By incorporating a few of the latest trends and leveraging innovative tools like free 3D home design software, you can create spaces that encapsulate the spirit of the season. Whether you're dreaming of a coastal paradise, a tropical oasis, or a minimalist retreat, this is your guide to creating the perfect summer home.
Embrace Colors that Mimic Nature
Kickstart your summer interior design project by infusing it with innately bright, cheerful, or earthy colors that mimic the summer colors that are prevalent during the season, like sunny yellows, ocean blues, coral pinks, and greens. These shades instantly evoke a sense of joy and bring a refreshing atmosphere to any space.
Introduce Raw Textures for a Laid-Back Vibe
Introduce raw textures like rattan, jute, and woven materials into your summer home design. Incorporate these elements through furniture, light fixtures, and decorative accessories. Not only do they add visual interest, but they also provide a tactile experience that enhances the laid-back ambiance that we love.
Bring the Outdoors In via Home Decor
Celebrate the lush beauty during the season by adding natural features for summer home decor. Include houseplants and fresh flowers to add a touch of greenery and color. Display driftwood, terracotta, and other beach-inspired treasures as delightful accents that reflect dreamy coastal getaways.
Swap in Lightweight Fabrics to Maximize Light
Maximize natural light by using sheer curtains or opting for blinds that allow sunlight to filter through. Additionally, strategically place mirrors to reflect light. Embrace lightweight fabrics for upholstery, and replace heavy rugs or throws with lighter alternatives.
Revamp the Floor Plan with Free Home Design Software
To create a summer home design, use free home design software, like HomeByMe. This user-friendly tool allows you to assemble and explore different floor plans, furniture arrangements, and decoration schemes. Create a virtual 3D model of the space, play around with a variety of design elements and ideas, and finalize your design to ensure it captures the right look and vibe.
Emphasize Al Fresco Dining with a Stylish Outdoor Nook
Transform a dull or underutilized outdoor nook into an outdoor dining area that invites relaxation and enjoyment. Set up a stylish dining table with comfortable seating, complemented by vibrant or earthy table linens, melamine dinnerware, and flickering candle lanterns. This is an excellent way to encourage more memorable al fresco dining experiences with friends and loved ones.
Embrace the magic of summer design by transforming your interior project into a captivating oasis that reflects the season. With our expert tips and the assistance of HomeByMe's intuitive 3D floor design tools, you have the power to create a summer home that exudes warmth, relaxation, and undeniable style.