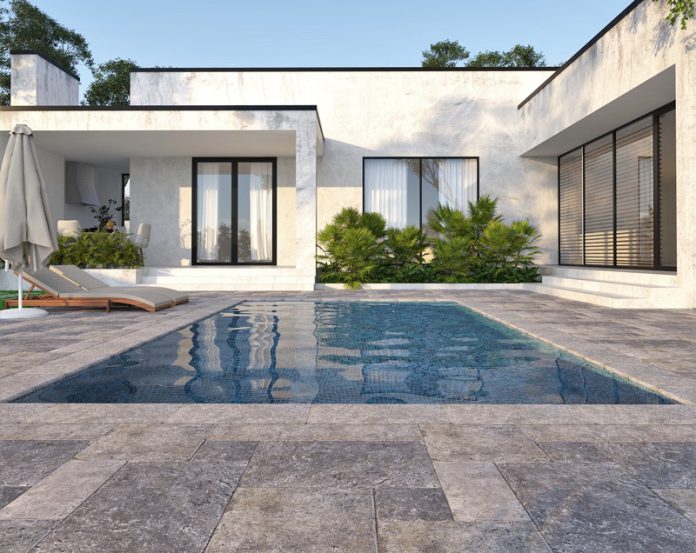 You must have heard the quote, "Life's only constant is change." The statement feels all too accurate lately. However, many individuals seek security and joy at home amid a constantly shifting environment. Due to the recent challenging years, many homeowners are more motivated than ever to design vibrant houses bursting with colour, pattern, textures and natural stones.
Australians have a natural talent for fusing sustainability, functionality and aesthetics to create enthralling theme-based houses. Travertine pavers are one material that consistently stands out in their preferences. Travertine has emerged as the material for homeowners looking to add distinctive themes to their living spaces due to its timeless beauty, durability and eco-friendliness. By examining the adaptability of this natural stone and how it works with different theme trends, we will explore why Australians like Travertine pavers for their theme-based houses in this blog.
Why are Travertine Pavers the First Choice?
Versatility and Colour Palette
Because of their amazing adaptability, Travertine pavers are perfect for various themes. Their distinctive forming process produces many patterns and textures, translating into multiple colours. Travertine offers different colour options to complement any theme-based house, ranging from warm, earthy tones like beige, gold and cream to cooler colours such as silver, grey and ivory.
Endurance and Elegance that Never Fade
Australians are drawn to the Travertine's classic elegance and value its capacity to remain alluring over time. Travertine's timeless look never goes out of style, unlike fashionable materials that could do so rapidly, making it a wise long-term investment for any home with a particular theme. It's natural veins and patterns impart a feeling of history and depth to space.
Travertine is a sustainable alternative for theme-based homes in a time when environmental awareness is prominent. Travertine is a natural stone; thus, its extraction has a little environmental impact. Additionally, less frequent replacements are required due to its lifespan and durability, aiding in resource conservation.
Let's check out some popular themes and trends and how Travertine pavers are the perfect match.
Australians have always favoured the Mediterranean motif, influenced by the Southern European coast's allure. This motif is effortlessly complemented with Silver Travertine pavers that evoke the country charm of Spanish haciendas and Italian houses. The distinction between a house and a getaway resort is muddled by the earthy hues and worn materials that seamlessly connect indoor and outdoor areas.
The rustic concept conveys the feel of a country cottage or a lodge in the woods for people wanting a warm and personal setting. Warm-hued pavers like Classic Travertine with an antique finish enhance the cosy atmosphere of wooden homes while bringing a touch of refinement. Wooden components such as furniture and exposed beams blend beautifully with the natural beauty of the stone to complete the rustic motif.
The modern minimalist design style is popular among Australian homeowners who value simplicity and clean lines. A clean and modest backdrop created by polished or honed travertine pavers in beige and grey allows bold furniture pieces and artwork to take centre stage. The stone's gleaming surface gives it a hint of luxury and its minimalist appeal highlights the modern design's elegant simplicity.
Choose Travertine Pavers from Stone Depot for Amazing Quality
Due to their unparalleled versatility, timeless elegance and ecological qualities, Travertine pavers have earned their position as the top choice for Australians looking to build theme-based houses. These natural stone pavers offer a variety of colours and finishes to select from, allowing homeowners to create distinctive and captivating living spaces that easily fit into diverse theme trends. There are many natural stone suppliers in Australia, but Stone Centre is the most preferred one out of the lot for their premium quality and competitive pricing.. They have a wide range of Travertine pavers in different colours, textures and finishes. Not only this, but their stone experts also go the extra mile to help you choose the stone that would fit your requirements the best in terms of theme, style and functionality. So, what are you waiting for? Go and check out the best Travertine pavers range!