Roohome.com – Having a small apartment in the middle of the urban area is frequently chosen by people the most nowadays. By applying modern interior design ideas for your small apartment will be nice. You probably will look forward to unique concept, therefore this Japanese style is suitable to be applied for you. Do not forget to choose the perfect furniture in order to facilitate you in beautifying your small apartment. A combination of modern interior design ideas with Japanese style will be great. How to create it? let's take a look!
Modern Interior Design Ideas With Japanese Style by Sinato Architects
You will be amazed seeing this awesome interior design by Sinato Architects below. The designer conjures a small ordinary apartment becomes modern and stylish by using modern interior design ideas. This is an open space which has L-shaped inside the apartment. To make the room more artistic, the designer places a huge L-shaped wood wall in the middle of living room. This square is functioned as a divider of bedroom and living room. This wooden square is made of creative storages in order not to eat up space very much. Try these modern ideas for living room.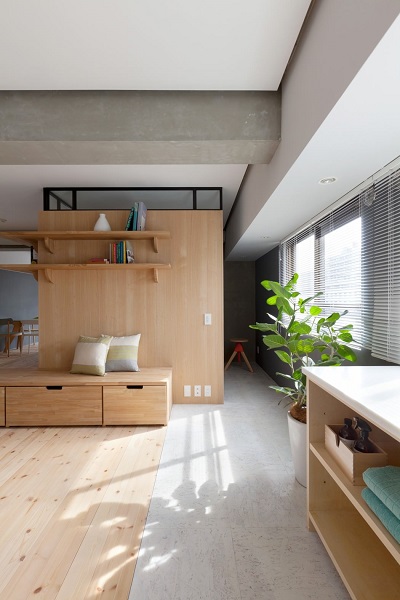 This modern living room is decorated with smart and gorgeous furniture. A grey couch looks perfect due to being combined with a unique coffee table against of it. There is an effective table opposite the couch. The table is functioned as washing stand which is decorated with wood as the main material. You might spot many wooden accents all over this small apartment spaces. Because wooden can be a perfect match with modern decorating ideas.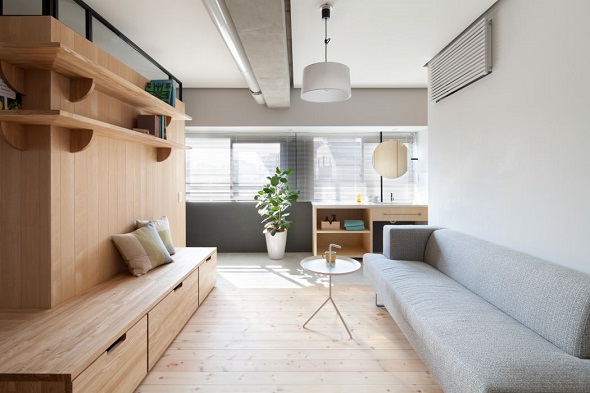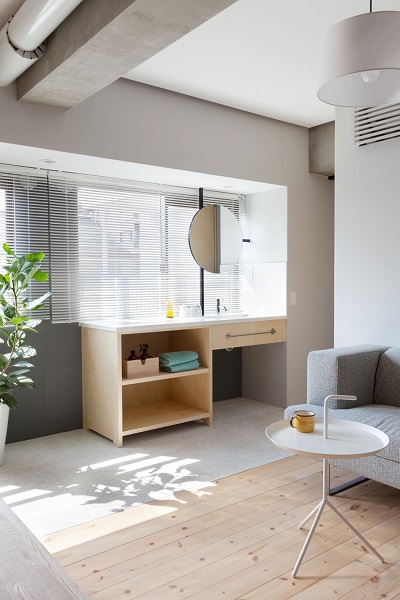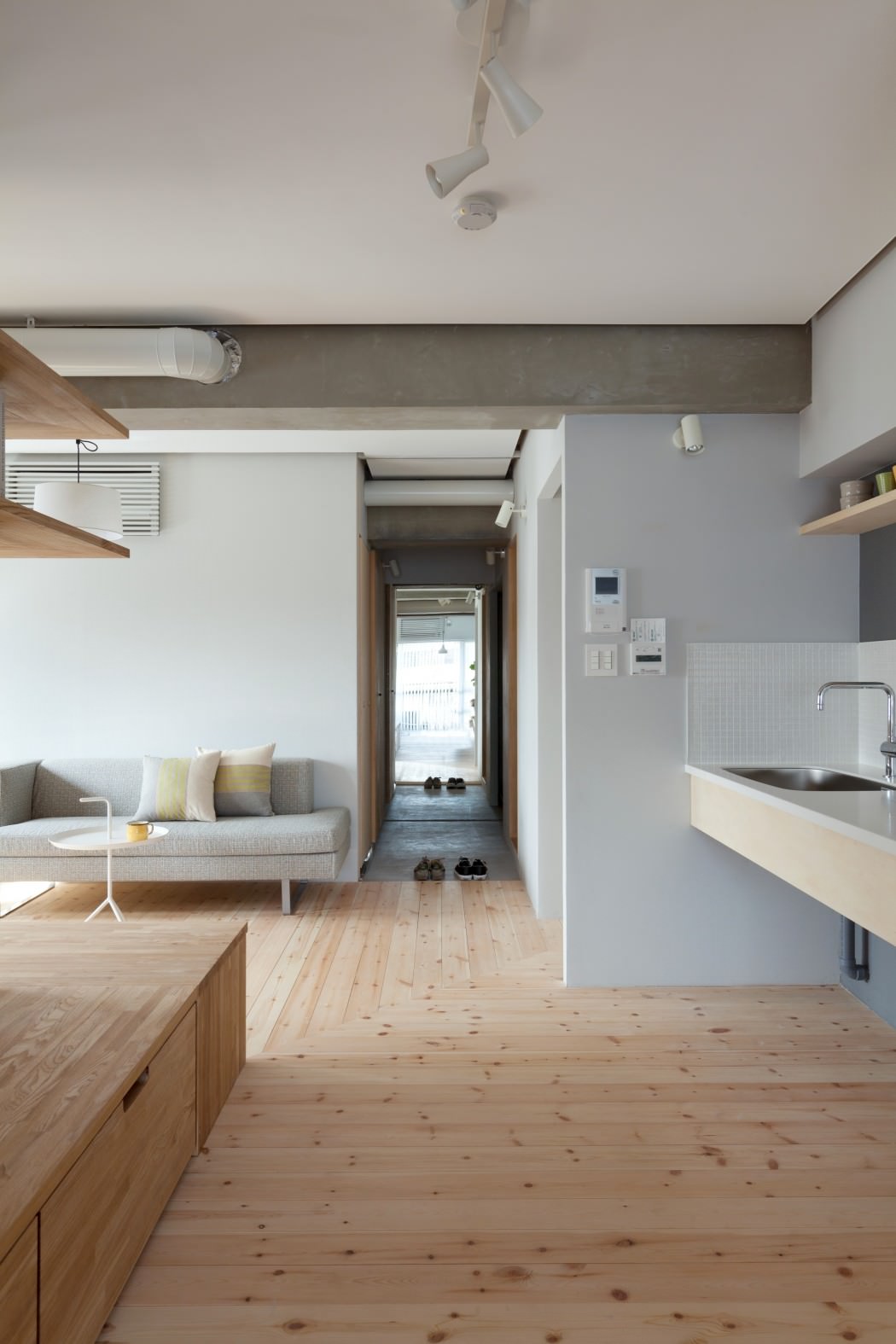 Modern Interior Design Ideas with Creative Arrangement
Move to another space there is a modest kitchen with a creative arrangement in it. Sinato Architects uses an effective kitchen set in order to get rid of a stuffy atmosphere and crowded interior around the kitchen. The designer also arranges some creative storages in the kitchen to make it minimalist and smart as well. Along with it, there is a glass simple dining table right against the kitchen. The dining table is designed to make this open space apartment more economical. The aim of applying modern interior design ideas in this kitchen to create a cosy atmosphere in it.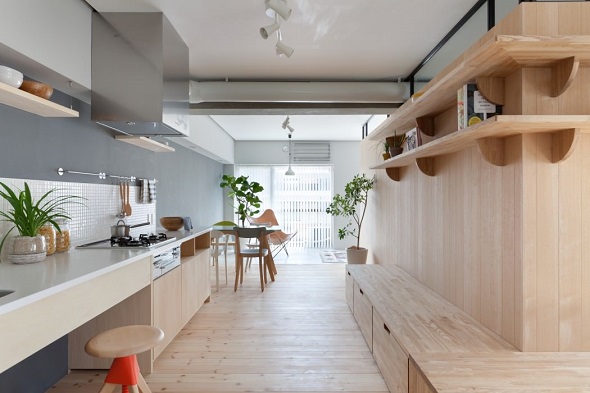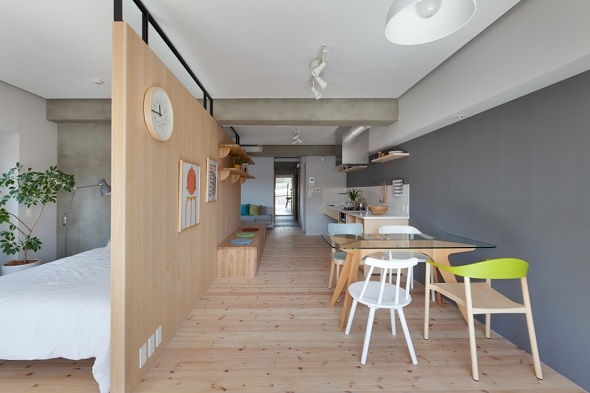 Modern Interior Design Ideas Which Suitable for A Modest Bedroom
Now, it is time for you to see the main bedroom of this small apartment. The main bedroom itself is placed right behind the L-shaped wooden wall. The designer is very brilliant in creating a creative and minimalist bedroom inside the small apartment. Sinato Architects places a grey floor reading lamp along with greenery as the decoration. Afterwards, two huge windows are used to beautify the bedroom brighter and clear. Make your modern bedroom decorating ideas by using this Japanese style.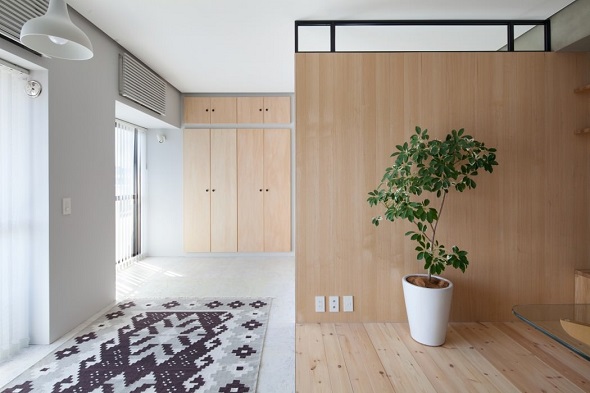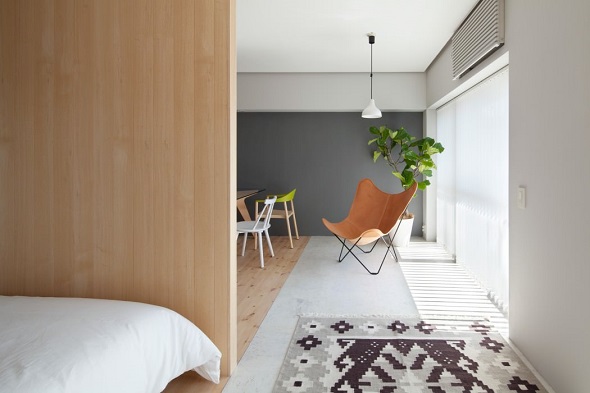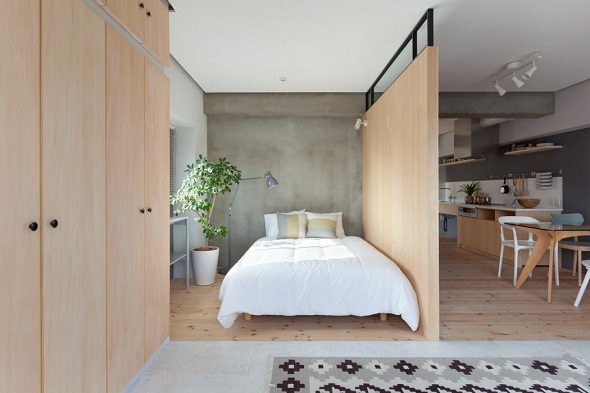 Having these modern interior design ideas for your small apartment will help you a lot. Sinato Architects has been successfully inspiring you to create your small ordinary apartment becomes gorgeous and modern. Grab your chance to create it one! If you want to see other designs, just visit and check here. Have a nice day!