Roohome.com – Finally, autumn has come into our month. Therefore, stunning small apartment decoration ideas below was designed perfectly for you who want to decorate your apartment to welcome the autumn. The designer creates the interior of this small apartment modern and stylish. Besides that, the arrangement is beautified with smart decoration ideas 2016. Do not hesitate to decorate your small apartment right now by using modern interior and smart decoration by a brilliant interior designer below. Do you want to see the masterpiece? Here there are!
Small Apartment Beautified With Modern Decorating Ideas by Lucas y Hernández-Gil Arquitectos'
Let us introduce you a brilliant interior designer who has designed an ordinary small apartment becomes stunning and stylish. Lucas y Hernández-Gil Arquitectos inspires you with modern decorating ideas that suitable for a small apartment. However, you must see from the living room firstly. The designer paints all over the room including other rooms with a shade of soft white color. The aim of the use of the color to create a cleaner and brighter living room. The living room has a lengthy size, therefore the designer utilizes the room perfectly. Besides that, the designer opens two doors that link it to the mini balcony. To emphasize the natural sunlight, the designer utilizes it.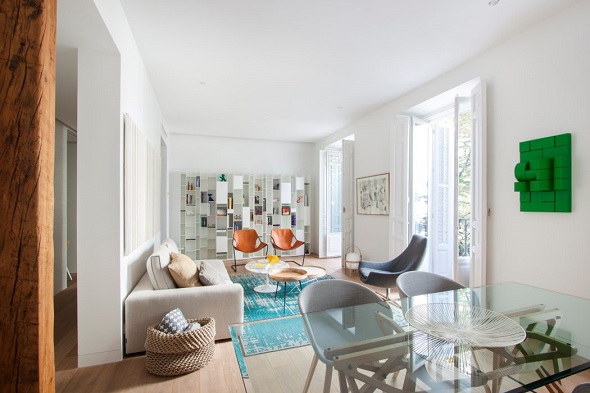 Having a small living room does not mean you will be confused to decorate it. You can take a look how Lucas y Hernández-Gil Arquitectos uses contemporary small living room interior ideas on this design below. Scandinavian style is chosen by the designer such as a navy blue single chair and three chic rounded coffee tables. To make the living room more fashionable and innovative, you can add a gorgeous rug on the wooden floor. The designer does not use any ornaments only a multifunctional cabinet and colorful wallpaper.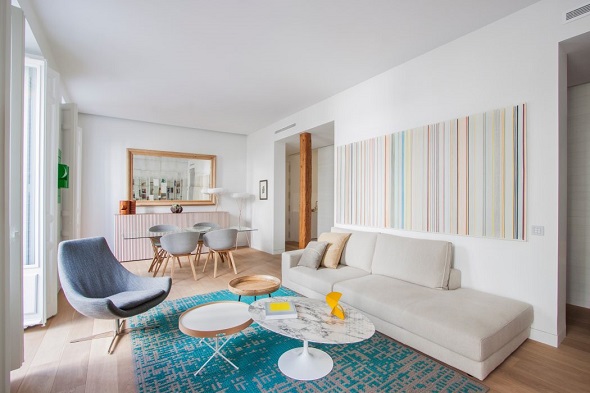 Contemporary Kitchen and Dining Room Decorated With Modern Interior Brings Coziness In It
Besides the living room, the designer also applies a modern idea into kitchen and dining room. If you have a super modest kitchen in your apartment, do not worry to make it minimalist by using a modern interior. The designer chooses a bright white kitchen set and a length kitchen cabinet. Interestingly, the designer makes the wall looks dynamic by placing two ovens on a line with the wall. For the dining room, the designer uses a glass dining table and Scandinavian dining chairs style. As the ornament, the designer hangs up a big mirror near the dining room. Applying modern small apartment decorating ideas will give a lot of inspirations.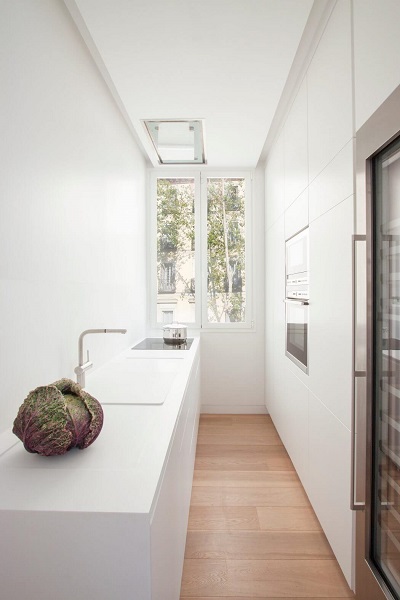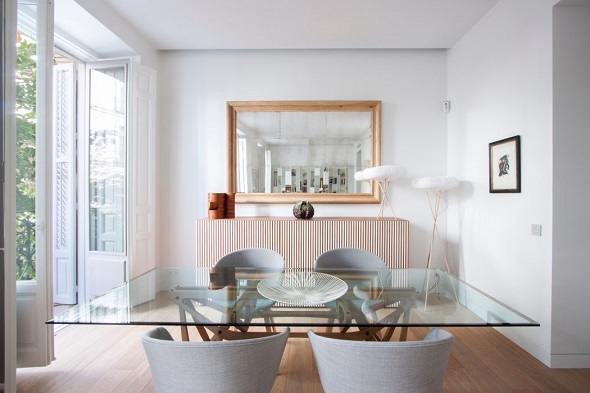 Cozy Bedroom and Bathroom Designed With Smart Decoration Makes It Gorgeous and Stylish
Having a modest bedroom makes you must be creative in designing it. Therefore, the designer gives you a solution to design it with a smart decoration. First of all, you must think a smart furniture which is suitable for your modest bedroom. The designer places two modern bunk beds along with a simple work desk. Another room is designed as smart as the first room. The second bedroom is dominated with wooden accents. The designer uses a big bed size because it is the master bedroom. Move to the bathroom, the designer keeps producing a natural atmosphere by utilizing two simple windows. The bathroom is dominated with a contemporary interior. Therefore, you will get a cozy bedroom and bathroom design.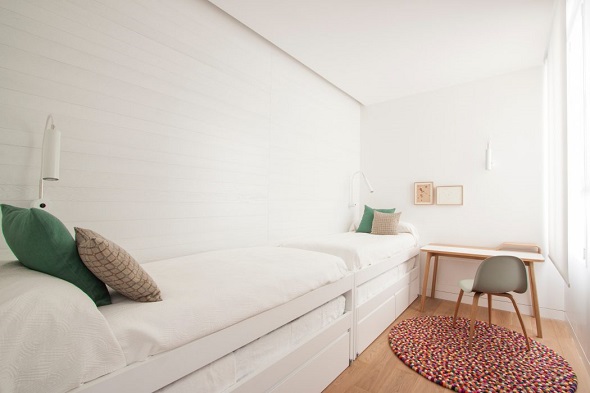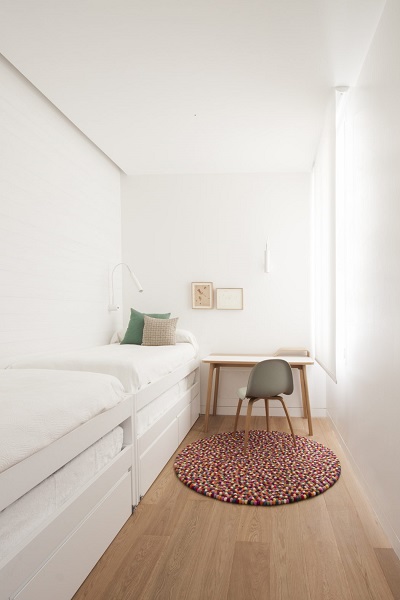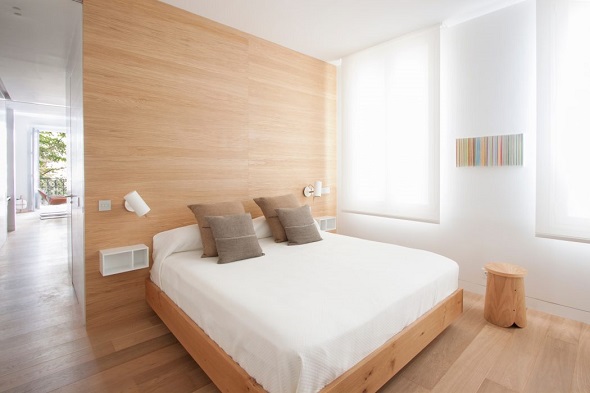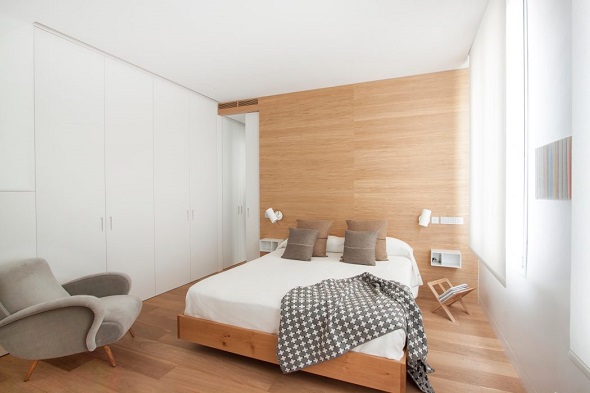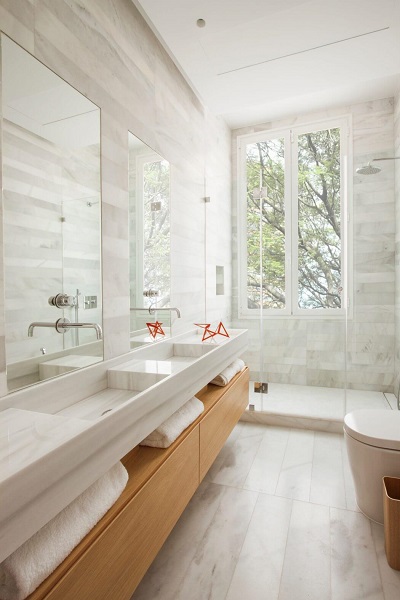 Do you want to apply this stunning small apartment decorating ideas? Grab your chance now. Do not miss this chance because your dreaming apartment will come true. If you want to see other designs, just visit and check here. have a nice day!