Roohome.com – Choosing a minimalist concept for your apartment it must be a good choice. Why? because of this minimalist apartment design below utilizes a perfect combination of contemporary wooden accents and features. To boost up the minimalist accents, the designer uses a shade of brownish interior ideas. Do not forget to take a look the modern arrangement which is suitable for this minimalist apartment design. Are you curious about that? Just grab your chance now!
Combining Contemporary Wooden Accents With Shade of Brownish Interior Ideas Into Minimalist Apartment Design Presented by Urbane
Living in the middle of a modern urban makes you think hard how to create a cozy and modern apartment like others. Therefore, Urbane proudly presents a minimalist apartment design which is decorated with a combination of contemporary wooden accents and a shade of brownish interior ideas. This concept is extremely brilliant because it will make your apartment more stunning and enchanting. The first stunning appearance is shown in the living room. In this living room, the designer dominates wooden interior features all over the parts. You can see a perfect match between a wooden ceiling and wooden flooring. Urbane knows when the wooden must be used and must be used as a decoration instead of an interior.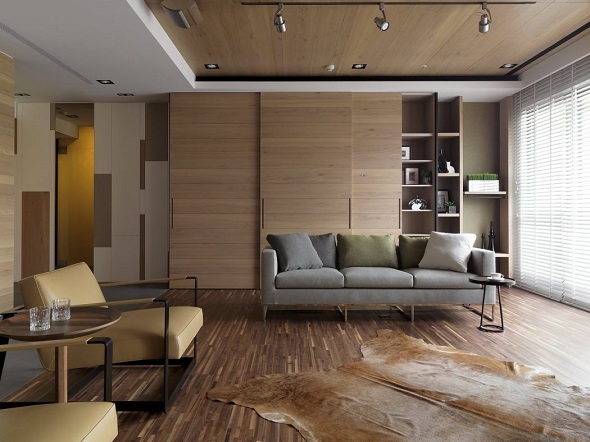 Move to the interior which is used by the designer. A multifunctional wooden cabinet looks brilliant and modern because it is placed near the living room and becomes the main interesting point in there. This cabinet can be functioned as a display cabinet or other storages which can minimize your modest room. There are three spotlights on the ceiling in order to generate an elegant vibe in the living room. The designer does not place a fancy couch instead, there is a simple gray couch along with soft pillow textures. The two light brown armchairs look great to be added as decoration in this living room. To make the brownish interior features more shining, the designer utilizes a big window right across the living room area. The contemporary wooden interior also becomes shining due to the lighting from outside.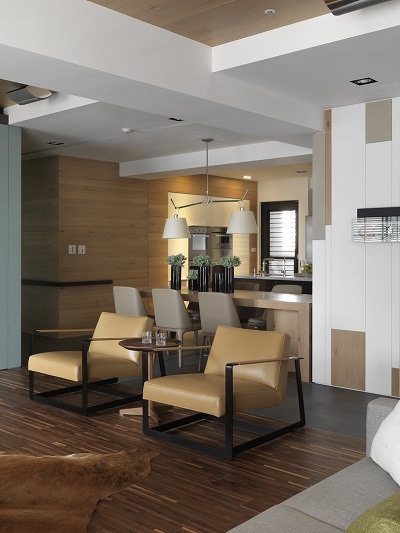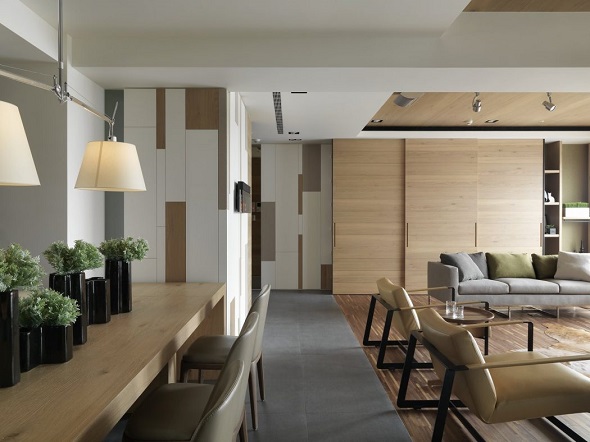 Modern Interior Features Combined With Contemporary Wooden Accents To Bring Coziness And Calmness
For your information, combining contemporary wooden accents with modern interior features will bring coziness and calmness sensation. It is like this kitchen which is designed by using those two design ideas. For the set, the designer uses a modern stainless steel and other simple things in the kitchen. The kitchen interior looks minimalist as minimalist as the dining table. There is a minimalist wooden dining table along with modern dining chairs. There are also flower pots and greeneries on the dining table in order to make your apartment fresher and cleaner. This is one of Urbane's modern interior ideas for apartment design. You can apply it into minimalist apartment design.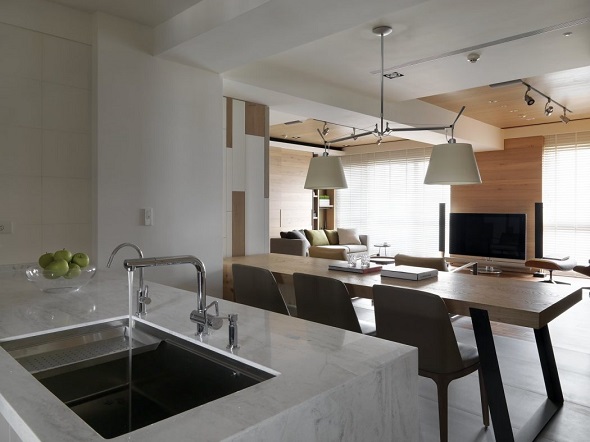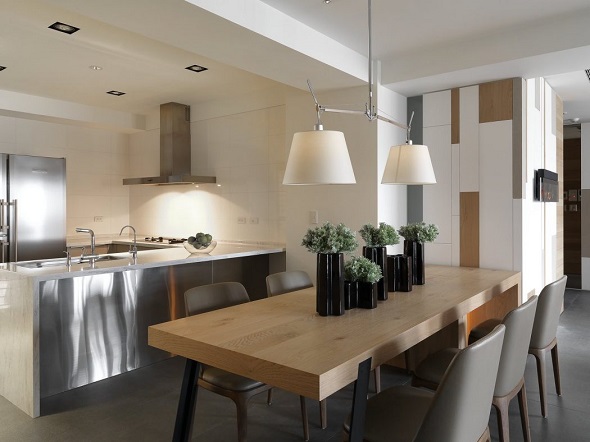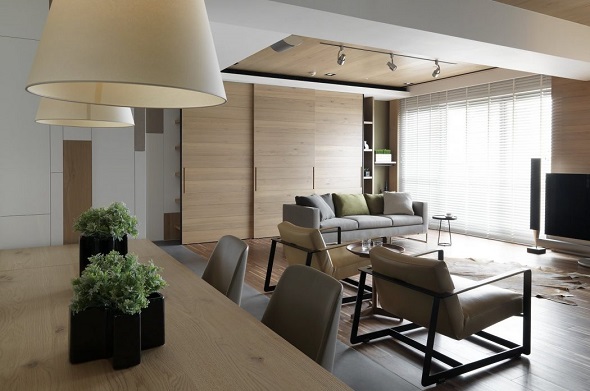 Utilizing Contemporary Wooden Accents And Features
Do not hesitate to apply contemporary wooden accents and features. This bedroom is totally arranged and designed by using contemporary wooden accents. Besides that, the shade of brownish interior ideas looks charming and stunning in this bedroom. The designer does not utilize any decoration in order to boost up a minimalist appearance. Besides that, you must be creative in choosing a perfect wooden work desk in order to balance with the other wooden interior features. Meanwhile, the bathroom looks very luxurious and modern all at once. The ceramic flooring makes the bathroom more stunning and luxurious.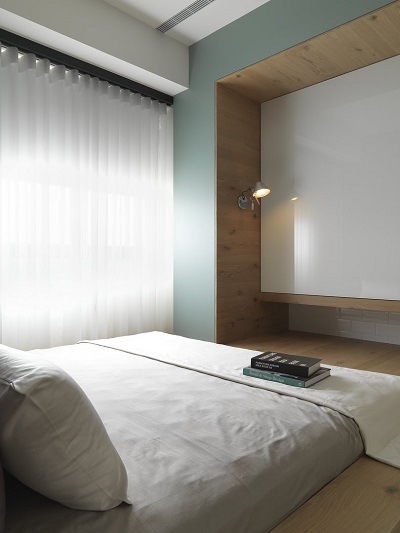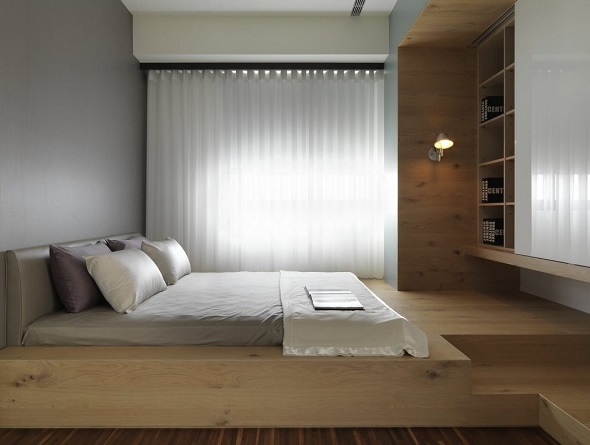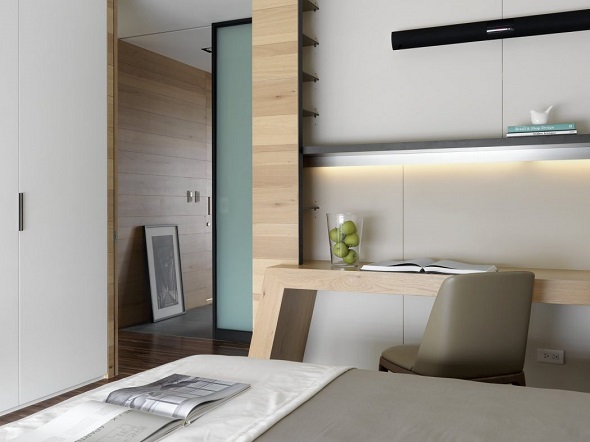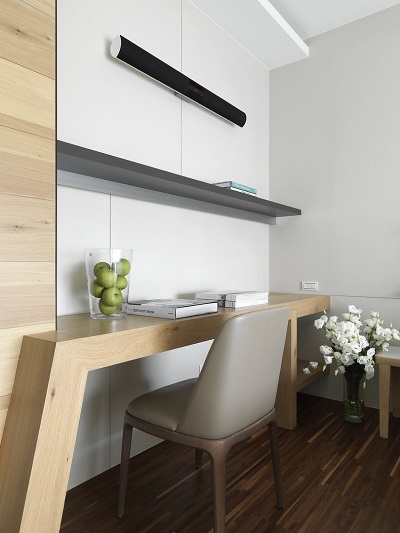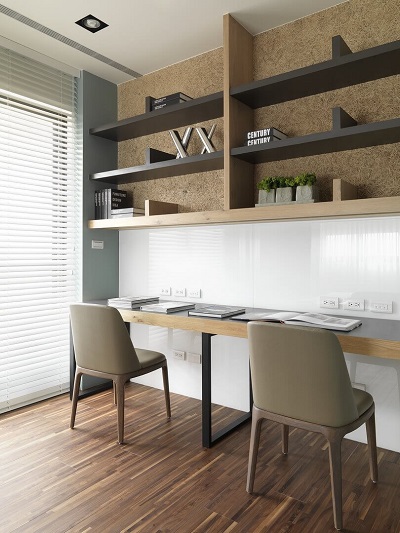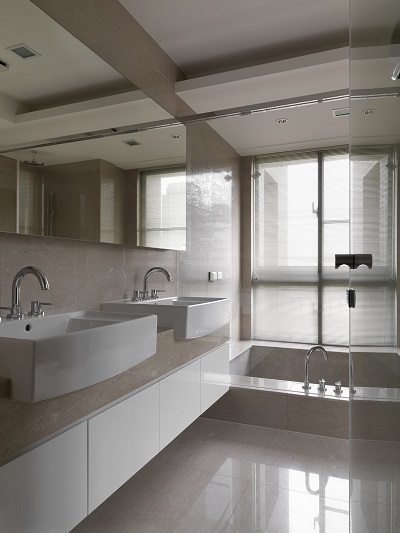 Do you wanna try this minimalist apartment design? Do not waste your time to follow this design which is presented by Urbane. If you want to see other apartment design ideas and tips, just visit and check here. Have a nice day!