Roohome.com – Having small apartment makes must be creative in decorating it. Therefore, there is a creative way to help you decorate a minimalist small apartment design by using contemporary interior and features. The designer is probably want to tell you 'do not hesitate about having a small apartment, build and create it in a creative way' through this design. Besides its design, you need to check the creative arrangement of the interior which will inspire you a lot. Are you curious about that? Let's check this out!
Minimalist Small Apartment Design Decorated With Contemporary Interior And Features Designed by Agence Glenn Medioni
Agence Glenn Medioni proudly presents a creative way in designing a minimalist apartment by using contemporary interior and features. The contemporary in here means, the designer is extremely utilizing modern interior for a small apartment which is necessary for the concept. Anyway, this concept talks about a modern urban packaged into a small apartment so brings a contemporaneous appearance. First of all, the designer decides to open up any spaces in this small apartment without utilizing some partitions in order to make the apartment looks bigger and wider. There are two small hallways which link it to the kitchen and two bedrooms. While walking to the kitchen or bedrooms, you will see a modern living room which is placed in the middle of the area.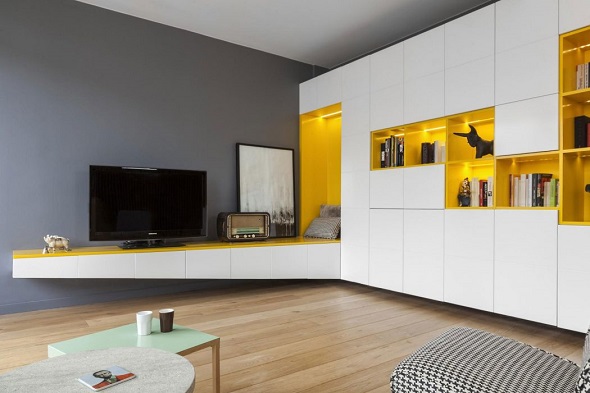 Beforehand, this small apartment is covered by soft wooden flooring textures in order to build up a warm atmosphere. Besides that, there is a high multifunctional cabinet which links it to the hallway. This cabinet becomes the main interesting point in this area. Why? because the perfect combination between yellow and white colors make the living room more modern and contemporaneous. To minimize the space, the designer uses a small rectangular cabinet for putting a TV and other decorations. Interestingly, Agence Glenn Medioni knows how to beautify the living room without using many things in it. The designer places a simple couch along with two lower coffee table as the set.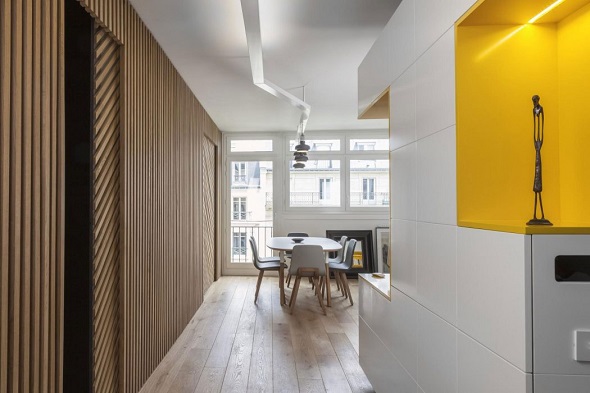 Contemporary Interior Accents Combined With Minimalist Small Apartment Design To Bring Good Vibes
Talking about a minimalist small apartment design, you might be curious about the interior that must be used in the kitchen and dining room. Agence Glenn Medioni solves your curiosity by showing you a creative modest kitchen with contemporary interior accents in it. This is not an enormous kitchen space but the designer has been successfully creating a brilliant modest kitchen. The kitchen is filled with bright white tone colors while the dining room is filled with natural sunlight through the window. The dining table is placed right against the window in order to bring good vibes into your dining room and apartment.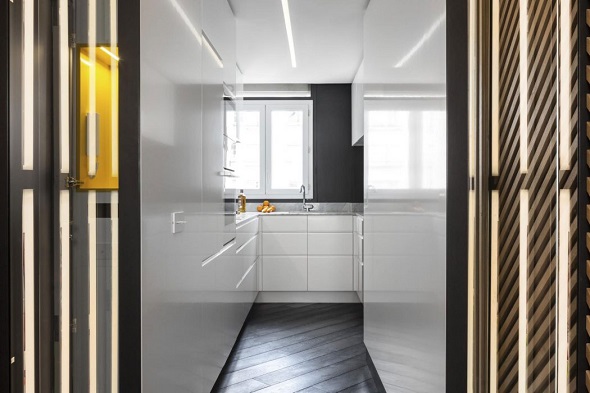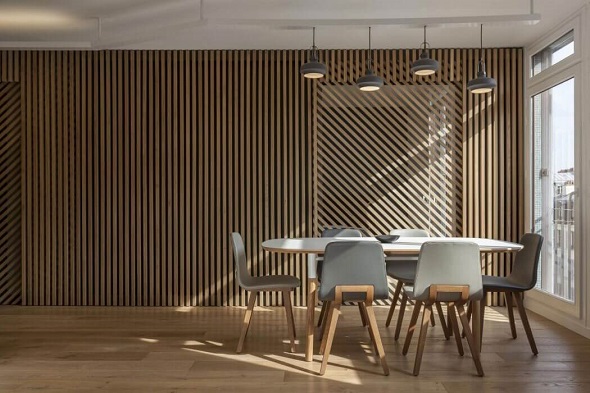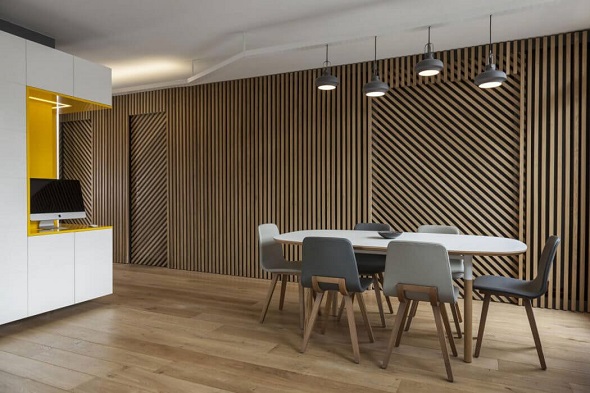 Shade of Colorful And Dark Tone Colors Are Needed To Give Characteristic Into A Minimalist Small Apartment Design
Using a shade of colorful into your nursery kid it might be a good choice. In this nursery kid, the designer uses yellow and white colors concrete. By using numerous storage, the designer wants to facilitate the kids in putting their toys into their bedroom. Meanwhile, the other bedroom is decorated with a shade of dark tone colors. The designer wants to give differentiation between the previous bedroom with this bedroom which has a mature vibe. The dark tone colors are also used to the bathroom. This bathroom looks modern and creative because the designer decorates it in smart ways. The floor is decorated with a modern hexagonal pattern and sloping straight lines on the wall.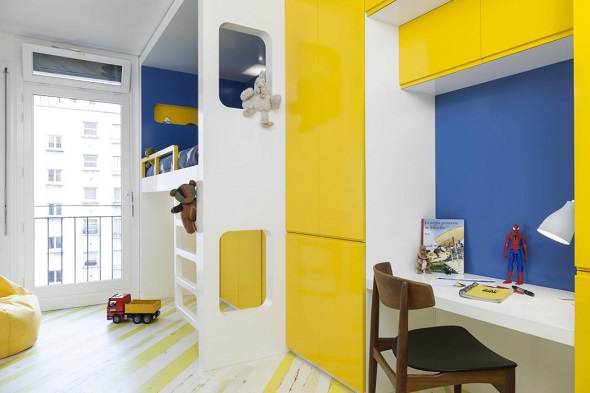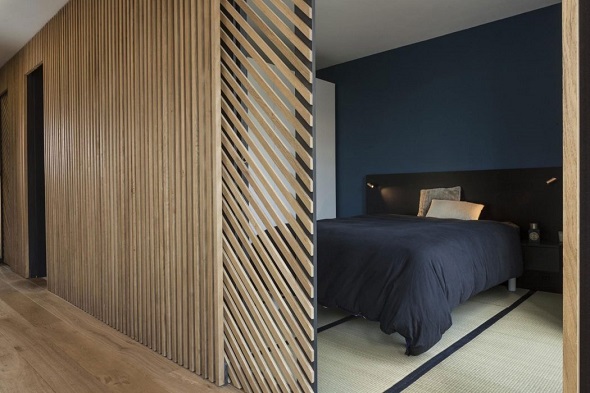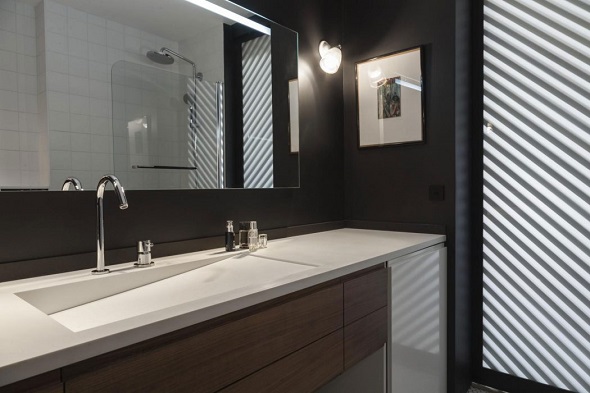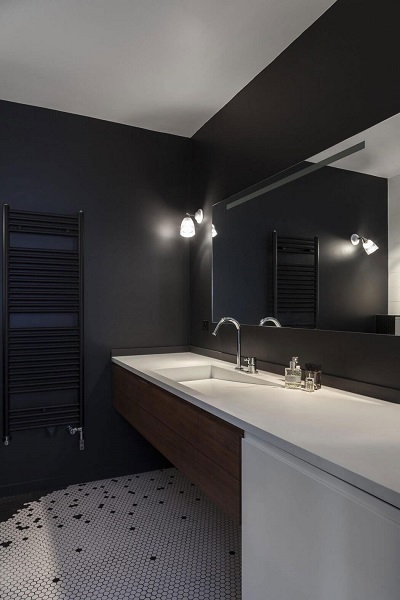 What do you think about this minimalist small apartment design? Are you interested? Grab your chance now. If you want to see other small apartment design ideas and tips, just visit and check here. Have a nice day!