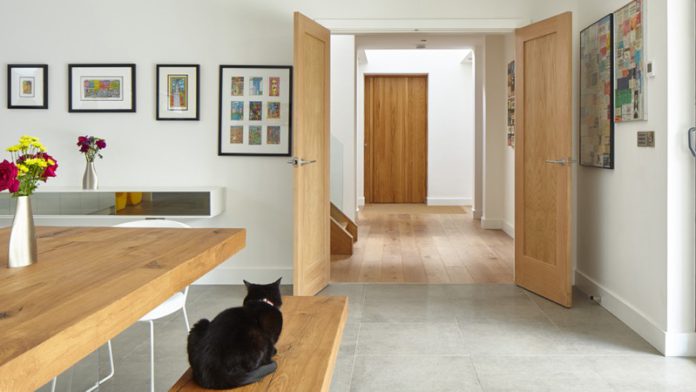 There are innumerable ways that you can influence the look and add to the feel and style of your home. Knowing what doors to install is one of the most effective ways to enhance a space in a way that is both functional and aesthetically pleasing. The challenging part of this process is knowing what type of door to choose to add the most value to your space.
Why is an Oak Door a Popular Choice for Interior Design?
Maria from Doors Galore had this to say "Oak is widely considered a great type of door for your home for a multitude of reasons that include stylistic, fiscal, and functional." While oak may not be the right choice for every room or home, it can meet the needs of almost any room. Why is oak a great choice for your home?
Range of Styles: Whether you are looking for internal oak doors or new front doors with glazed panels, oak has something that could be right for you.
Value: The value of an oak door comes from a combination of its durability, its aesthetics, and its many other properties.
Longevity: Oak doors, when properly maintained, will last generations.
Elegant and Luxurious: Oak can lend an air of elegance to any room where it is used.
Oak Door Design and Style Options
Choosing the perfect door means that you need to have options to choose from. Thankfully, oak doors come in every size and style you could imagine, creating the possibility for a great combination. What type of doors can you find in oak?
External Doors
Interior Doors
French Doors
Glazed Doors
Panel Doors
Oak Veneer Doors
Solid Oak Doors
How Do You Know Which is the Best for Your Home?
1. What Type of Home Do You Have?
The right door will need to match the style of home you have. What type of home do you want to enhance with the addition of an oak door?
Traditional Home
Modern Home
Mid-Century
Ranch Style
Matching the type of home with your ideal door is key to having a décor that flows seamlessly from one room to the next and from the interior to the exterior of the home.
2. Are There Door Styles and Door Designs that Match Your Style?
Thankfully, with new door styles arriving daily and new takes on classic door styles (as well as the classics themselves) available, no matter the style of home, you can find an oak door to match.
3. What Type of Features Do You Need from Your Door?
Natural Light: Oak doors come with a wide range of inset windows and glazing that can introduce more natural light into any room or space.
Sound Insulation: Oak is an incredible insulator, creating a sound barrier between an office or bedroom and the noise of the home.
Temperature Insulation: Exterior doors need to be rated for the temperature differences they will face. Wooden doors, particularly oak doors, are perfect for this application.
Security: Oak is strong and durable and works as a powerful barrier, providing an extra layer of security when it is used as a door material.
Design and Style: If you need special designs, painting and staining options or unique inset carvings, oak is a great material for your door projects.
Oak Doors: A Great Choice for Your Home
To choose the perfect door you need to know what you want from your door (design and style), what you need from your door (physical requirements) and where it is going to be placed (the style of home). When you know these three factors, you will be able to make the best choice and choose the ideal door for your home.