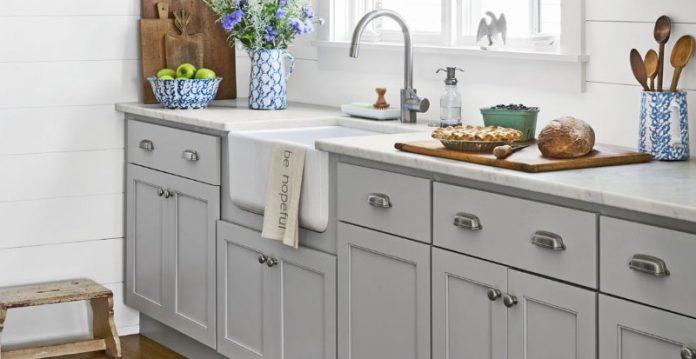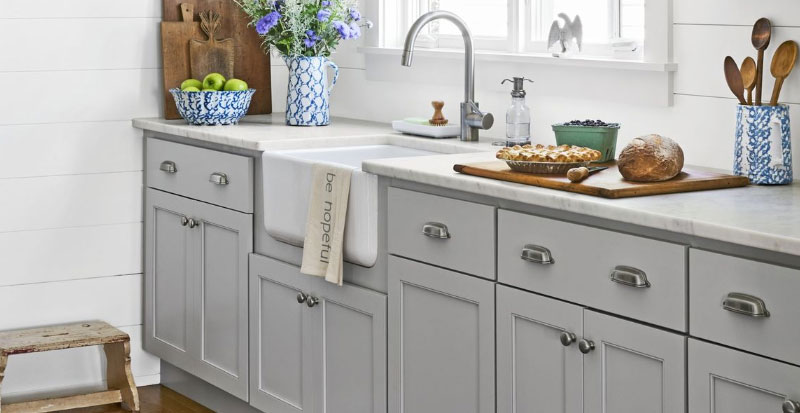 Why do you need a cabinet hardware jig to start a DIY kitchen upgrade project? That's what we're about to find out.
Say, you moved to a new home but didn't exactly love the overall look of the kitchen cabinets, perhaps they don't match the design of the kitchen. You want to update the kitchen cabinet hardware, but you know it takes time and patience. When you think about it, you know you'll have to decide on too many things.  Do you want cabinet pulls, knobs, or both? How big do you want the cabinets do be? Where do you want the hardware to go on the cabinets? These are some of the things you need to decide on so you can start the project. After realizing that there are too many things to do, you decide to back out.
To make this project a reality, you'll need the help of a cabinet hardware jig. It's the secret for a perfect cabinet hardware installation. But first, we have to understand what cabinet hardware jigs are. What do they do? Why are they important? What are the features that we need to look for to choose the right one? If you're also interested to know all these, then keep reading.
What is a Cabinet Hardware Jig?
Adding cabinet hardware such as pulls and knobs is the most challenging process in a home improvement project. You'll need to measure where to position the holes, but having a hardware jig can help you make the process of adding pulls and knobs incredibly easy.
A cabinet hardware jig is a tool that was created so people can drill mounting holes for knobs using one or two-stem pulls. Aside from making the installation easier, its primary purpose is to control the location and the motion of the parts and to act as a tool guide. It offers accuracy, repeatability, and interchangeability during the manufacturing and assembly process. This means that installing cabinet hardware is much easier and faster. Cabinet hardware jigs have different types and different functions. To know more about them, below are the types of cabinet hardware jigs and their specific functions:
Cabinet Hardware Jigs
Cabinet hardware jigs are perfect when it comes to DIY projects, refurbishing, and renovating kitchens. If your purpose is to upgrade the look of your kitchen, then you'll need these hardware jigs.
Printed Circuit Board Jigs
PCB or Printed Circuit Board jigs have a dump board inside. A lot of people use these jigs to test printed circuit boards.
Drill Jigs
Drill jigs are ideal when homeowners need to drill repetitive holes in interchangeable work parts. These primarily help to make sure that the drilling bit is on the exact location of the hole center.
Jewelry Jigs
If you're dealing with softer wires, then you should use jewelry jigs. They are perfect if you're handling softer wires, about ¼ inch in diameter. You can use these jigs if you want to make different kinds of jewelry and beading components.
Why is a Cabinet Hardware Jig Important?
Most of the time, a DIYer can only imagine upgrading his or her kitchen. When it comes to doing the actual work, he or she ends up backing out because the truth is, it takes way too much time. Below are the reasons why as a DIYer, you should use a cabinet hardware jig:
Accuracy
A cabinet hardware jig is exceptional when it comes to accuracy. It has the precision of an aircraft part. Everything is useful in any of the movable parts of the hardware jig. Each part has a great hold. Thanks to the precise measurement it gives you, you can quickly drill holes, so you don't need to worry about drilling holes in the wrong places.
Versatility
A cabinet hardware jig can do almost everything you need it to do, for both small and tall cabinets. If you want to shelf holes and also reducing the amount of time it takes to find the hole centers, then you can use a hardware jig. All you need to do is to set it up, and then do as many drawers as you need. If you have a tall cabinet, then you can also use a hardware jig to do long runs of shelf holes. A cabinet hardware jig is everything a DIYer can ask for, as it can fit handles of up to 960 millimeters long.
Efficiency
Because of its accurate measurements, you're able to drill holes quicker. If you need to finish a lot of work, but still save time, then a hardware jig is your best friend. Every time you need to install cabinet hardware, it'll be very easy for you. And have we mentioned that the results are always 100% accurate?
These are three good reasons why you need to use cabinet hardware jigs. If you need to choose the right hardware jig for your DIY project, then choose the one that will last for a long time. You may find some hardware jigs to be expensive, but you also need to take a look at the features. If they have the features you need to complete your project, then it should be worth every penny.
What to Look for When Choosing a Cabinet Hardware Jig?
If your goal is to install your cabinet hardware perfectly, then you need to make sure you have the right cabinet hardware jigs for your project. Below are the features you should look for:
Extender ruler
Cabinet hardware jigs must include an extender ruler attachment. This will allow quicker installation on drawers, which means you won't need a lot of time to upgrade your kitchen.
Large handles and tall doors
If your hardware jig includes large handles and tall doors, then you can easily eliminate the need to center them on every drawer.
Hardware drilling solution
Your cabinet hardware jig must also come with a complete hardware drilling solution. This makes the drilling process so much easier and will let you complete the project faster.