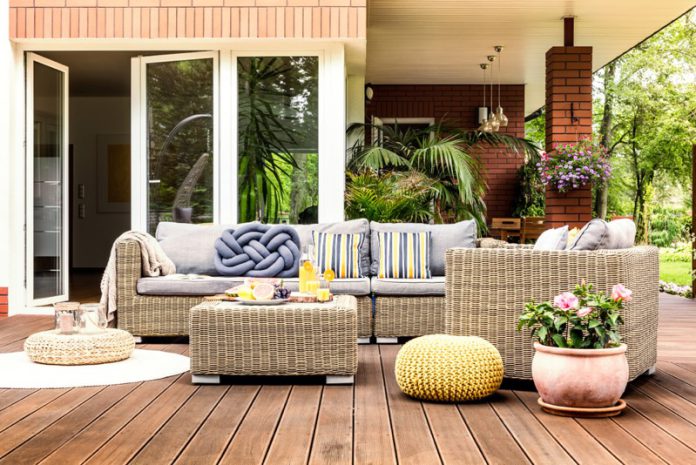 Are you looking for some ideas to help redecorate your backyard deck on a budget? If so, you have come to the right place! In this blog post, we will discuss a few different ways to give your deck a fresh new look without breaking the bank. So, whether you want to give your deck a complete makeover or add a few new touches, read on for some inspiration!
Use Extra Supplies To Add More Space
Using your dock building supplies, add another level to your existing deck for an even more spacious feel. If you already have one, consider adding a second outdoor kitchen or dining area below it so that everyone can enjoy their meals together without having to worry about getting up from the table too soon!
Add A Few Colorful Throw Pillows To Your Deck Furniture 
One of the easiest ways to give your deck a fresh new look is to add some colorful throw pillows. If you feel adventurous, try painting your outdoor furniture with a bright pop of color. This is a great way to add some fun personality to your deck, and it is also a very affordable project. This will instantly brighten up the space and make it feel more inviting.
Hang Some Interesting Garden Art Or Wind Chimes To Add Visual Interest
Another great way to add visual interest to your deck is hanging some interesting garden art or wind chimes. This will help to create a more dynamic and visually appealing space. If you have a deck that is already pretty plain, adding some colorful artwork or wind chimes will help to make it stand out even more. Best of all, you can find lots of great options online or at your local store for a very reasonable price.
Plant Flowers And Place Them Around The Deck For Color And Fragrance
One of my favorite things to do when I want some color and fragrance on my deck is plant flowers and herbs in pots. Then, place the plants around the deck so that they can be enjoyed by all who visit! You can also use this method for vegetable gardens if you have enough space available.
Use Outdoor Rugs To Define Different Areas On Your Deck
If you have plenty of space available, using outdoor rugs will help define different areas on your deck. For example, if you want to create a more intimate dining experience, then using smaller rugs in front of each chair will help to make it feel like its own little area. In contrast, larger ones next to benches or lounges can give people somewhere cozy where they can relax after enjoying their meal outdoors!
Create An Outdoor Kitchen Area For Preparing And Cooking Food
Many people love spending time outside, so why not create an outdoor kitchen for preparing and cooking food? You could even install some fans that blow cool air over the top of them and a sink with running water so that there is no need for anyone inside when working out in this space – pop up onto the patio every now again throughout the day!
Or do a barbecue party for the whole family just make sure there's no flammable material nearby like gas or wood like the deck flooring or maybe upgrade it to composite flooring so you won't have to worry about maintenance or the fire caching it.
Prevent Mold And Mildew From Growing On Your Deck
The best way to prevent mold and mildew from growing on your deck is by keeping it clean and dry at all times. Ensure you wash off any spilled liquids after they happen so there isn't anything that can grow inside those cracks or crevices where water might get trapped. This may seem unnecessary, but trust us when we say moisture causes problems later down the line if left unchecked for too long. Things such as wood rot will start developing soon afterward, which means replacing parts of the structure sooner than expected (which costs money).
Now that you've seen some of the ideas to help redecorate your backyard deck, like using your extra dock building supplies, it's time to get started! Think about what is most important for you, and then go on a journey to find the best products that suit your needs. Hopefully, this article has given you some inspiration so that when it comes time redecorate, there are plenty of options available out there.