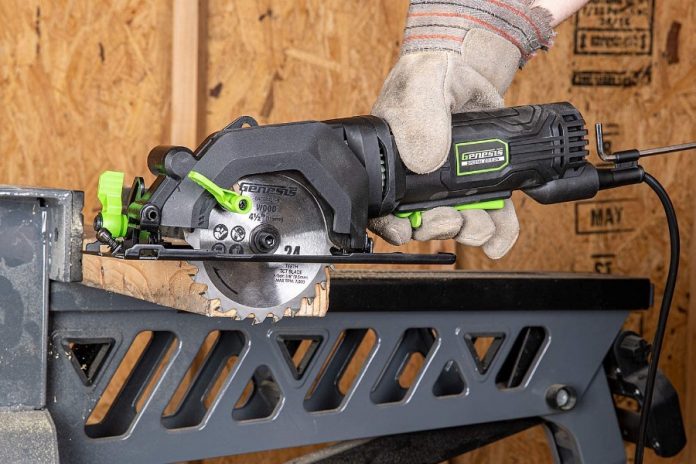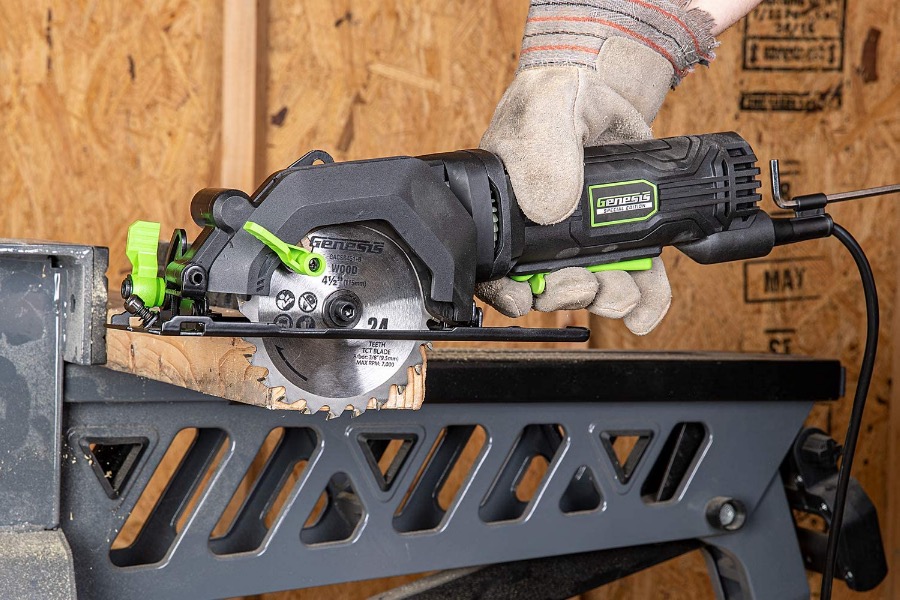 Small circular saws are easy to use. Beginners who are learning woodworking can get started using a circular saw. You can build many useful furniture or repair it inside the home using this saw. You can get creative with woodworking and use it for a variety of projects. They come with good speed and accuracy. They are compact to handle and let you get the job done with speed and perfection. You can cut wood as well as various materials using a small circular saw. The variety of materials you can cut depends on the type of blade and depth of the saw.
Types of Circular Saw
The worm drive is the most common and widely used circular saw. It has a narrow design that makes it easy to use at different angles. Hypnoid are more popular now because they are low maintenance and come with a self-oiling system. 
It also comes with a gear system not found in other types of saws that takes less power to start and perform various cutting jobs. A sidewinder is the lightest saw in the circular saw variety. They operate at a higher speed compared to the other two saws and are less expensive. 
Tips To Find Best Small Circular Saw
1. Size
The size of the circular saw matters as it makes it convenient to use it for hard to reach places. Size is one of the essential factors to consider as it decides the performance and the type of jobs you can perform with this saw. 
For heavy-duty woodworking or cutting through a variety of materials buy a large saw. A small circular saw is versatile and is useful for small and lightweight jobs. You must know the nature of the task you will be performing frequently before you decide the size of the saw.
2. Depth Adjustment
It is essential to look at the markings for the cutting depth. It lets you know the kind of material you can cut and the level of depth you can cut it. 
You must also look into the types of blades that fit the saw to perform the job with accuracy and speed. There will be fewer accidents or injuries when you use this saw to cut any material at depth. 
3. Bevel Angle
It lets you cut the wood at different angles and positions with ease. It is easy to mark the angles at which you want to cut and have less or no chance of having parallax errors. You will be able to create many DIY items with ease and accuracy. 
You can enjoy making furniture or renovating it at home with a circular saw that has this feature. The more number of angles it can adjust to, the better cutting jobs you can have. This setting lets you perform a job with high precision.
4. Markers And Laser Guides
The measures and scales must have visible and clear markings. It can let you use it for intricate jobs and cuts. The markings must be able to line up with the kerf exactly so you can make accurate cuts. When cutting using these markings there must be no obstructions and everything must be visible to the eyes. 
Check the maximum angle and depth you can adjust the saw checking the markings on the blade. The markings are indicators that let you know the maximum angle and the depth you can reach when cutting material. 
You can also look for LEDs and laser guides so you know you can also work at night or where there is a lesser intensity of light. They let you make long cuts and work with consistency for a lengthier time when you choose to cut different materials with this tool. 
5. Triggers And Kickbacks
The circular saws are dangerous tools though they do a versatile job. You must follow safety guidelines to start the cutting job. Buy a small that has an easy start button and has lesser kickbacks. 
It becomes easy to switch the saw to different adjustments when you buy a saw that has these safety features. You can easily make adjustments without experiencing kickbacks if the saw has a locking mechanism. 
6. Corded Or Cordless Saws
This is an individual choice depending on the frequency of use. According to woodworknation, cordless circular saws are handy and very easy to use for renovations and repairs around the house. A cordless saw isn't ideal for woodworking and construction projects.
Corded saws are perfect for anyone who wants to work for an extended period with continuous power supply. But, cordless saws are ideal for beginners since it can handle small jobs around the house comfortably.
7. Various Metrics To Look At
Horsepower is the torque used to start the saw. You can look for this metric and buy one with good horsepower to reduce kickbacks. Amps is a metric that lets you know the amount of power the motor draws. The standard diameter of the blade is 7.25 inches. You can also find lesser and higher measurements in blades. 
8. Weight
Check the weight of the tool instead of the shipping weight so you know which is handy for home or professional use. You can choose the weight based on the physical strength you can use to handle the weight. You must be able to lift the tool and use it at different angles with ease.
9. Blade Guard
This is essential as it provides safety and prevents injuries when cutting wood or any material. When you are retracing the action you must take extra precaution to prevent being cut. 
It is good to buy a saw that comes with a blade guard. The blade guard must be smooth and must not get stuck inside the material in the process of cutting it.
10. Ergonomic Design
It must be easy to handle and convenient to use. The handle it comes with must fit your hand. You must feel comfortable using it. A handle that comes in a good shape and is made with good material creates a good balance and lets you work for a long time without feeling fatigued or inconvenient. 
Conclusion
These are the tips and features to look for when buying a small circular saw. It makes woodworking a joy when you find the right saw that suits your budget and the tasks you wish to perform. With these tips, you can choose the perfect saw that gives you accurate and precise cuts on various materials.