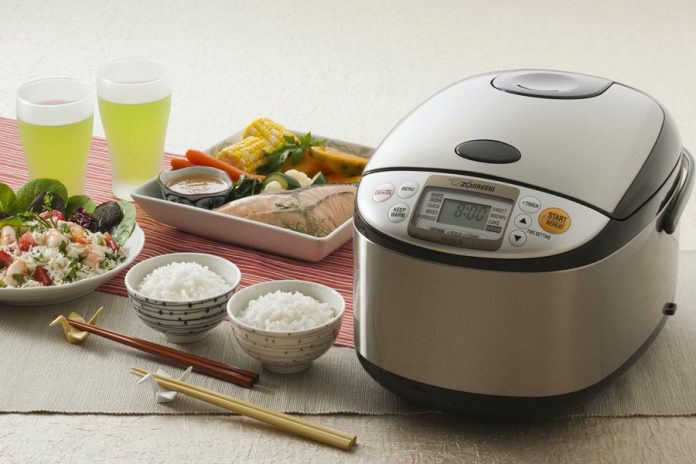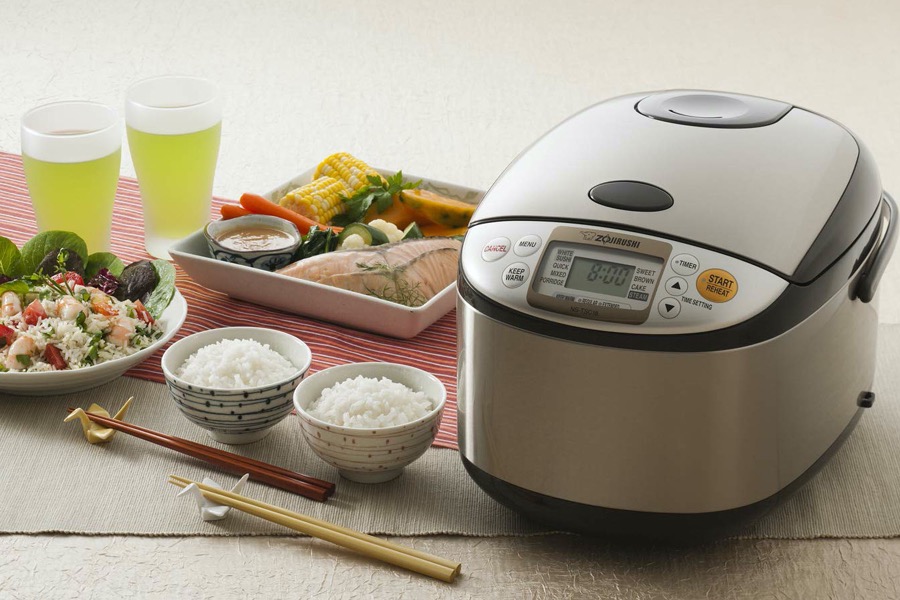 Enjoy a bowl of freshly cooked sushi rice or cooking various rice varieties choosing from a multi-functional sushi rice cooker. You can pick one with a fuzzy logic and dimensions that suit the capacity you want to cook. Sushi dishes are world famous and can be cooked easily at home when you buy a rice cooker with these features.
Tips To Find Best Sushi Rice Cooker
A sushi rice cooker comes with many features letting you cook many other rice dishes. Multiprogramming, automated, and safety features.
1. Capacity
Everybody has different needs. Choose the capacity based on the frequency of use. If you cook sushi rice occasionally, choose a cooker with smaller capacity. 
Socializing, throwing parties, entertaining people often? Choose a cooker with large capacity. Also consider the space inside your kitchen when choosing capacity. Sushi rice cookers come in all sizes.
2. Multiprogramming And Controls
Choosing a rice cooker with multiprogramming options and controls makes cooking faster and convenient. The digital controls and menus let you cook a variety of dishes with ease. 
It saves cooking time preventing overcooking and burning of food. You have to spend less time monitoring as the recipes are cooked to perfection using this feature.
3. Fuzzy Logic
Rice cookers with this feature smartly adjust temperatures. They make decisions like humans and cook every dish faster and to perfection. You will have more confidence cooking recipes with this feature. You get best results with a cooker that has fuzzy logic.
4. Temperature
Choose a rice cooker that comes with better temperature controls. It is safe to buy a cooker that remains cool on the outside. This is an essential feature as it prevents accidental burns and injuries. It is also safe for families with children as they will not get bruised if they touch the exterior.
5. Lid And Locking System
The lid must come with a locking mechanism so you can cook hassle free. The lid must fit the cooker because without a proper lid, cooking rice recipes would be inconvenient. Detachable lids and the ones with a good locking mechanism prevent overflows and mess.
6. Cooking Methods
A few brands come with cooking methods that let you choose single, double, or triple heating. You can saute, steam, simmer, and choose various cooking mechanisms if you choose a versatile rice cooker.
7. Easy To Clean
Buy a rice cooker that comes with non-stick inner coating as it is easy to clean and maintain. They can be used for many years as cleaning and maintenance is easy. A few brands come with automatic, self-cleaning options that makes cleaning easy and hassle-free.
8. Delay Timer
This makes cooking and preparation easy. It comes with different metrics and you can choose one with a larger delay timer if you cook large quantities or dishes that need preparation. A few brands also come with delay timers for 15 hours, suitable for those who want to slow cook traditional dishes.
9. Affordability
There are umpteen brands available in the market that come with multiple features for a lesser price. Many budget options are available in compact size that can fit any space. 
10. Special Features
You can choose a rice cooker with sushi settings, wi-fi, Bluetooth and voice controls. Language options, more than 10 cooking settings, automated features, water system to collect excess water and many more features are available in various brands of sushi rice cooker.
Customization is another feature that lets you cook a variety of sushi dishes. You can enjoy preparing various sushi recipes and enjoy the flavours and aromas of cooking these dishes.
11. Heat Settings
This is an essential feature to look into so you get fluffy sushi rice that does not have too much water or is undercooked. A rice cooker with multiple settings and adjustments is good to buy. It retains all the flavours of various sushi and rice dishes.
12. Types Of Rice
A few models support all types of rice. Sushi rice recipes with vegetables or seafood are best cooked with Japanese rice. You can make a variety of rice dishes with different types of rice that has sushi settings. 
13. Accessories
They come with spatulas, bowls, baskets. It makes cooking even more enjoyable. It becomes easy to cook any dish when a rice cooker comes with accessories.
14. Inner Pan Or Basket
This is an essential feature to look into as it makes cooking and cleaning convenient. Choose one that has a non-stick pan as it makes daily cooking and cleaning easy.
15. Touchscreen And LCD
It displays the menu and settings chosen. It also displays the timer making it easy for you to monitor cooking sushi. The touchscreen makes choosing settings easy.
16. Commercial Grade
These types of rice cookers have a capacity as large as 90 cups. You can buy it for home use if you want to prepare large meals.
17. Durability
Electric sushi rice cookers come with many automatic features and settings. Rice cookers made with turbo technology and various smart technologies are durable as they make cooking convenient and easy to maintain. A few brands come with a warranty of many years.
18. Weight 
Most of the cookers come in compact size and are lightweight. You can look at the weight and dimensions before buying one. 
19. Detachable Options
Detachable bowls, lids, steam wands make it easy to use this appliance. A few brands come with detachable options that you can look for when buying a rice cooker. A retractable cord makes storage easy.
20. Storage
Rice cookers with large capacity are bulky and take up space on the counter top. Compact size cookers with medium capacity fit kitchen space of all sizes.
21. Cookbooks And Manuals
Check if the rice cooker comes with a manual so it is easy to follow the instructions if you are using it for the first time. You will know to use it the right way as makes correct use of it. 
22. Design
They come in sleek and sophisticated designs. A few come with graphic prints on the exterior. Color options are also available with a few brands. If you are looking for aesthetics along with functionality, you can also look at various design options. 
Conclusion
You can look into these tips when it comes to buying a sushi rice cooker. It makes cooking various sushi recipes easy with programmable options. Cleaning and maintenance is also easy when you choose the non-stick variety.