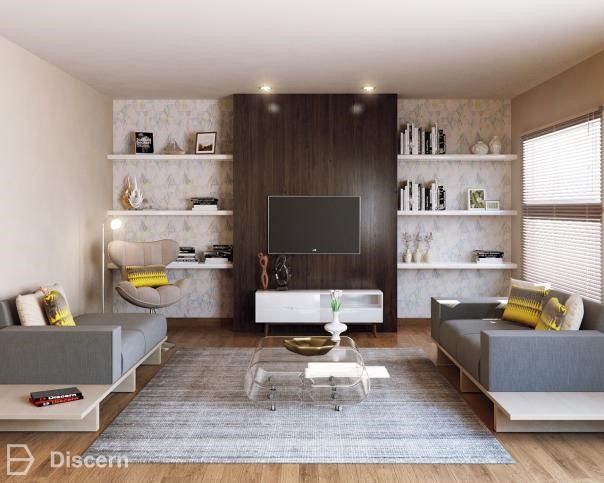 Scandinavian interior home design is straightforward and ultra-functional. It reflects the natural light and cleanliness by maintaining the uncluttered nature. And the best part is that it is loved by almost everyone because of its simplicity and natural vibes. It is very is easy to fit it in the modern design because of it's extremely sophisticated. Everyone will feel comfortable in such a home. If you also want to bring the Modern Scandinavian theme to your home in an easy way, simply add the home décor to it. Here are some tried and tested ideas for you.
Say no to carpets: Never add the Carpets to your modern Scandinavian Home as it doesn't justify this theme. Rather, add the wooden flooring in your entire home and enjoy its sophisticated vibes. You can add soft rugs to wooden flooring but don't do something out of your style.
Muted Colours: Whenever you are choosing the modern Scandinavian home décor make sure to follow the muted colour theme. These colours do justice with this theme and maintain brightness. Also, by following the same colour theme, you will be able to maintain uniformity.
Say yes to Wood: Wooden elements will look amazing in this theme. Choose it in different shades likes beech, ash, and pine and play with it. When your home décor will combine with the home interior design, it will give the natural vibes.
Maintain the line: Don't do something out of the box and get the modern, clean-lined, and solid pieces for your home. These will combine well with the theme and enhance the entire Scandinavian Design. These detailing will make your home look sophisticated as well as natural.
Decluttered Pieces: As you know Modern Scandinavian Interior design ideas are all about cleanliness, make sure to not add too much stuff to it. And if you are willing to do something out of the board, get the home décor that works as the storage option like baskets, bags, etc. Simple aesthetics will make a huge difference.
Maintain Simplicity: Again, Simplicity is the best policy. So try to keep overall décor simple and minimal. Bare walls will some sophisticated home décor will do justice with Modern Scandinavian theme. And don't forget to follow the colour theme here.
Maximize Natural Light: Don't let your home look too dark and therefore allowing natural light to enter will help. Add light and sheer curtains to the windows will help. Even if you are planning to add the light to your home, make sure to keep them minimalistic, more decorative, and matching.
Greens: You can use plants as the home décor and add colour to this sophisticated interior home design. Add as many plants as you want to. Don't forget to maintain simplicity by their pots. In this way, you will be able to do something different in your home. And trust us, it will add more freshness to your home.
Play with Cosy textiles and make your home complete. By following these interior design ideas, you will be able to do justice with your Modern Scandinavian Home.