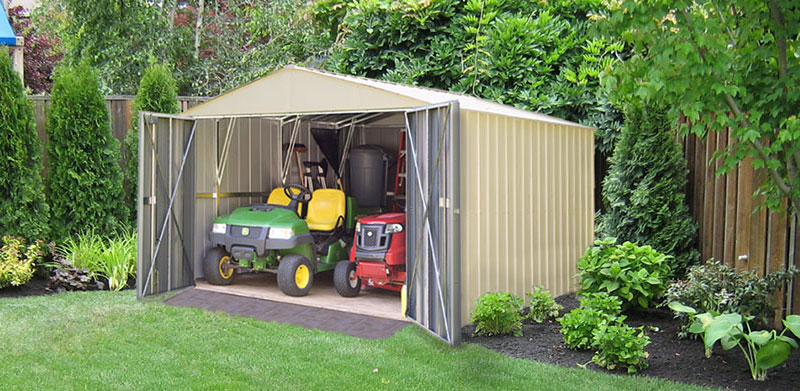 You might have a lot of space at home, but nothing beats space that you can call your own. Whatever the reason may be, having it separate from the house may mean more privacy and segregation from your home.
Sheds may come as small as storage and go as big as industrial ones where you can do more complicated processes. So let us go ahead and cover the essential details you need to know when you are thinking about getting a shed.
Shed Materials
The usual materials used when making one can range from wood to metal, and may depend upon where you will use it for. Safety should also be a priority when it comes to having a shed made. So if you think you are going way over your head, it would be best to contact a professional.
Wood Shed
It is the most natural-looking shed of all. It makes for an excellent addition to your garden. Your usual garden tools like cordless strimmers or materials can be placed inside it. It might be susceptible to termite and insect damage, but as long as it is regularly maintained, you can rest assured that your woodshed may last a long time.
Plastic Shed
It is easier to construct compared to its wooden version and may last longer against harsh temperatures. You might want to look for a professional if, in case, you would need this type to be fixed.
Steel Shed
Aside from wood, steel is the next popular option people have when it comes to how sheds are made. It is a bit more reliable and sturdy and is cost-effective when it comes to its maintenance.
Things to Remember Before Buying a Shed
Based on your area, it is best to be aware of any problem that might happen when you decide to buy a shed. For areas that it can occupy, some councils would allow it to occupy up to 10 square metres without needing any permission from the local government. Also, look into how close the shed should be to your home because there are rules that may limit how close it can be.
When buying a shed, make sure you choose the material wisely, considering the changes in weather or how strong the winds can be, so it can hold its own whatever may happen.
The foundation is also one of the factors you need to consider when buying a shed. While buying one, the location must be the first one to be decided on, and then the foundation and finally the shed itself.
No matter how simple it may seem, the design is one of the things you also need to think about when buying a shed. If in case you decide to sell your property, a good shed can add more value.
Lastly, think about how or where the shed will be placed. Irrespective of why you like to get one, think about how people and things can move in and out of the shed. You might have been gunning for one, but would it hurt to get two?
If in case you still cannot decide if you want to get a shed or not, reach out to a professional, and provide all the ideas that you have for your dream shed. Tell them the price you are willing to pay and watch them work their magic.
Author Bio
Lora Ray is a farmer of words in the field of creativity. She is an experienced independent content writer with a demonstrated history of working in the writing and editing industry.  She is a multi-niche content chef who loves cooking new things.