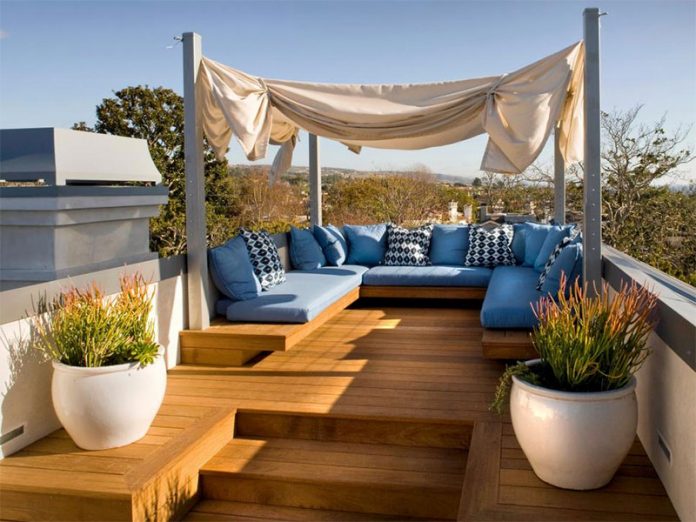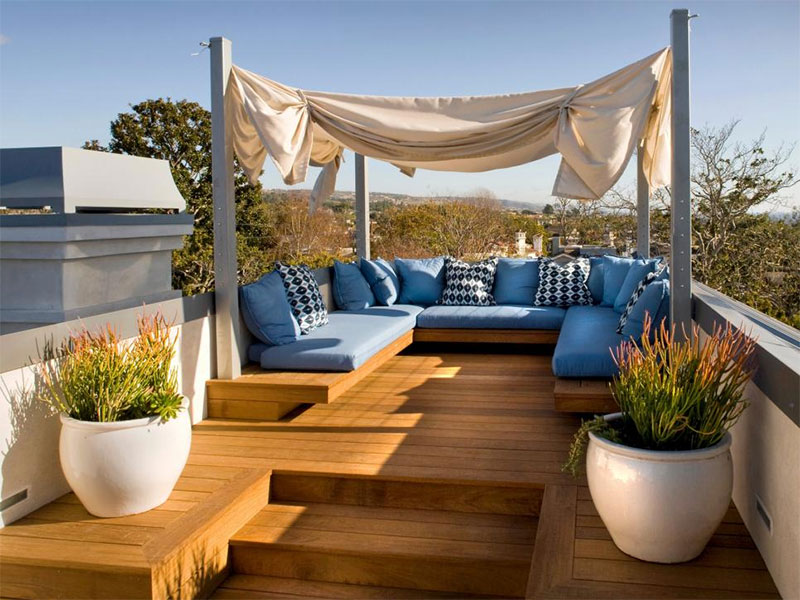 If you are lucky enough to have an apartment with a rooftop terrace, you have already won a lottery. Now the only thing waiting for you is to design it! We know that it can be either a pleasure or a nightmare; that's why we've prepared a few ideas to inspire you before you get started.
You don't have to finish design studies to be good at it. The most important thing is to let your imagination and a pinch of inspiration work harmoniously together.
Just imagine, you are about to design a place of your dreams, to spend a lot of lovely days there.
1. Pavement as the main decoration
Terrace surface should fulfill several requirements: it must be practical and correspond to the style of the house. It can be surprising that the pavement can be the main decorative element on the terrace, but it often occupies the largest area, which implies style determination.
The range of materials for terraced surfaces is huge. Modern architecture currently supports wood, granite, concrete, and sandstone paving. Those materials are used in modernist arrangements separately and – increasingly – together.
On some terraces, artificial grass would make a great option. It is easy to install, has a soft touch and natural look. Navigate to beesley & fildes to find those materials and many more effortlessly.
2. Marvelous dining zone
The rooftop terrace is a perfect place to spend time drinking your morning coffee and eating a healthy breakfast. You can also eat romantic dinners outdoors.
How to organize the space of which the main task will be gathering people for meals? Of course, there should be a table in a central spot and some comfortable chairs for everyone. As no romantic dinner should take place without candlelight, decorative additions will be critical in such a project. Twinkling flames can come from classic, slender candles, scented ones, or charming tea-lights. To add splendor, be sure to display them in lanterns, or in beautiful jars.
3. Bookworm's corner
You can simply arrange a romantic reading corner on your terrace. Set up a comfortable armchair filled with pillows and make sure to protect yourself against excessive sun, rain, wind, or prying eyes of neighbors. The best solution is to install fabric covers.
What is needed? The most important is the material. It must be strong so that the wind does not blow it. Sailing canvas is a very durable and popular option. Pick a colour that matches the overall design of the terrace.
4. Sunbathing is a must
Isn't it obvious that having a rooftop at your disposal you would like to sunbathe every sunny day? The best and certainly the most convenient solution will be to set up several sunbeds. Undoubtedly, small tables will be useful for placing a drink, so remember to get them in a style similar to your deckchairs. Finally, don't forget your sunscreen!
5. Barbecue master
Warmer days are an ideal opportunity to organize some kind of a "garden party". A rooftop terrace seems to be a perfect spot to arrange such. At such an event, good food prepared by the host cannot be missing. Can there be anything better than grilling on the terrace? The smell of the grill can lure not only guests but also neighbors.
An interesting type of grill to set on the terrace can be an electric table grill, which allows you to enjoy good food even in the winter season.
6. Gardener's dream
Well-chosen flowers on the terrace will provide coziness and will beautifully decorate the whole place. It is essential to choose plants that will grow properly both in the sun and in the shade.
You must determine whether your terrace is sunny (located from the west or south) or is it located on the east or north side and is, therefore, more shaded.
Ideal plants for a sunny terrace are sage (Salvia) and lavender (Lavandula), which need many hours of sunshine to obtain the characteristic refreshing aroma.
Various species of climbing plants, such as ivy, feel better in diffused light or in partial shade.
The plant pots themselves can be a great decoration. Just make sure that the roof terrace construction is strong enough to withstand heavy clay pots and kilos of soil.
Summary
Don't be afraid to combine the above inspirations into one in a kind project. For sure, at this stage, you already know what you need to include in your dream-like rooftop terrace. Use your imagination and sense of aesthetics as guidance. Grab some ideas and get started!