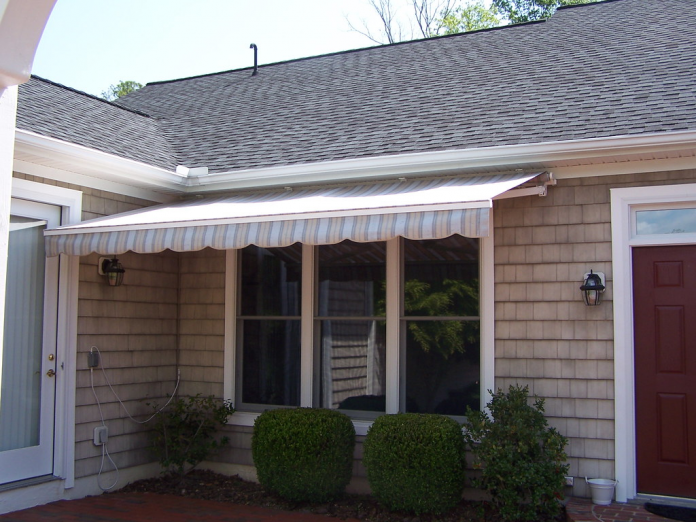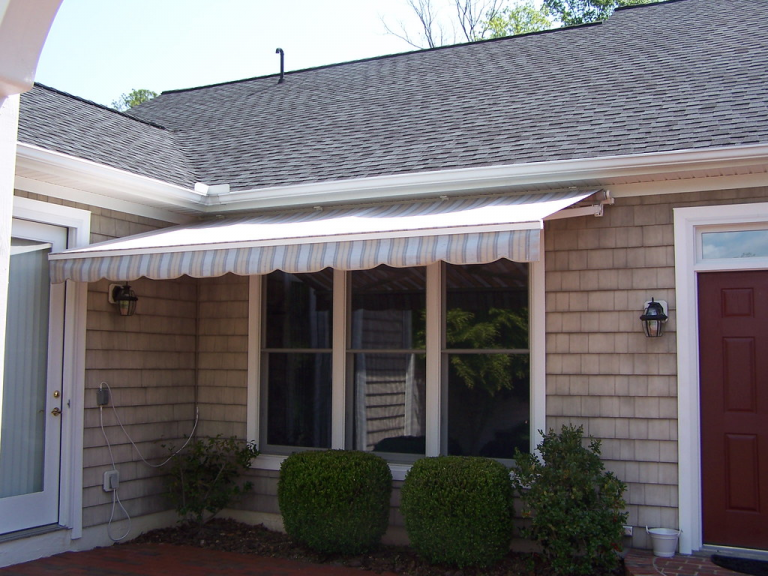 Awnings are an excellent way to protect both your indoor and patio furniture. If your outdoor space is shaded, the furnishings and fabrics that are usually exposed to the environment will no longer bleach or dry out from the sun.
Reasons to install retractable awnings
There are many reasons to consider retractable awnings for your home:
Helps control temperature
Awnings block direct sunlight, which can raise the temperature inside your home. In the summer, Rollac retractable awnings can also shade your outside air conditioning unit to maintain energy efficiency.
Protects indoor and outdoor furniture and upholstery from weathering
Installing awnings will provide weather protection indoors and outdoors, extending the longevity of your furniture. Exposure to direct sunlight, snow, and rainfall can lead to discoloration and fabric deterioration in your outdoor furnishings. Awnings can also prohibit UV rays from coming through the windows and fading or aging your indoor furnishings or flooring.
Decreases the surface temperature of your deck
One study found that composite decks get 34° to 76° F hotter than the surrounding air in direct sunlight. Thus a surface temperature of a deck could rise to 150° F on an 80° F day. You can keep the surface temperature down by placing an awning over your deck and be able to walk comfortably around your outdoor area.
Protects you from sun exposure
You may want to invite friends over or let your children play outside during the summer but think about the negative effects of prolonged exposure to the sun. Under the safety of vertical drop awnings, you will be able to appreciate warm, sunny days without worrying about exposure to ultraviolet rays. Awnings open up a whole new living space.
Warms your home during the winter
Retractable awnings can be folded back during the winter to allow more sunlight into your home. This helps increase the interior temperature and keep your heating bill down.
A buyer's guide to selecting the right retractable awnings
You can control the amount of shade your space gets with retractable or roll-up tags. Awnings can stand up to a stiff breeze, but you should be sure to retract them to prevent damage from strong winds. They are great for defining an area that is intended for a specific use, such as a particular place for the barbecue.
Retractable awnings for homes are typically made of aluminum and cloth. There are lots of fabrics and colors to choose from, but cloth awnings typically require higher maintenance. Aluminum is more durable than cloth and does not need much structural support.
While thinking about how the final design is going to look, you can spend plenty of time choosing the right angle for installation.
Longitudinal panels are accessible. They offer awnings a completely new look and provide better coverage from sun and rain, allowing you to use your patio and deck more frequently.
You should choose a smaller retractable awning if you simply want to add a decorative element. If you want maximum protection from the effects of rain and sun on your patio or deck, you should go for a larger one.
Be aware of installation fees when comparing prices. Also, keep in mind the costs of operation and regular maintenance. By applying these amounts to the estimate for the awning itself, you'll get a clearer picture of the total cost.
A light color will make an awning stand out, but you have to make sure the shade you choose will go well with your house's color scheme. Lighter colors generally fuse well with any palette. Brighter colors do not absorb as much heat, which makes your patio or deck cooler. Some awnings can lower the temperature by up to 20°.
Features of retractable awnings
In general, homeowners install retractable units to adjust the amount of shade their outdoor spaces get. If you plan to invest in awnings for your home, make sure you buy some that will let you determine how much sunlight to let in or block out.
After all, the advantages of controlling shade go beyond comfort. The strategic use of awnings will help you save on electricity costs in summer and winter by regulating heat. Here are a few other things you ought to consider.
Weather resistance and durability
It is important to select a product that can withstand the effects of high humidity and sunlight and continue to look good. You need to look for high-quality, fade- and mildew-resistant synthetic materials. Make sure the frames have a powder coating and thick finish, are rust-resistant and  easy to clean.
Protection against weather conditions
Retractable awnings are a smart purchase, but you should carefully consider the options. Be mindful of the equipment, cloth, frames, and motors that are used.
Considering the above-mentioned points before you purchase a retractable awning for your house will help ensure that your choice will meet your needs. Whatever you choose, a quality retractable awning will protect your patio or deck from adverse weather conditions and prolong the life of your outdoor furniture.
Conclusion
Retractable awnings are the perfect way to extend the living area of your home, while dramatically improving the aesthetics of your deck and patio.
Products such as retractable marrows, retractable awnings for patios and decks, rotating roof systems, retractable vertical drop marker panels, or retractable side arm markings present endless possibilities for beautiful, customized patio covers for your home.