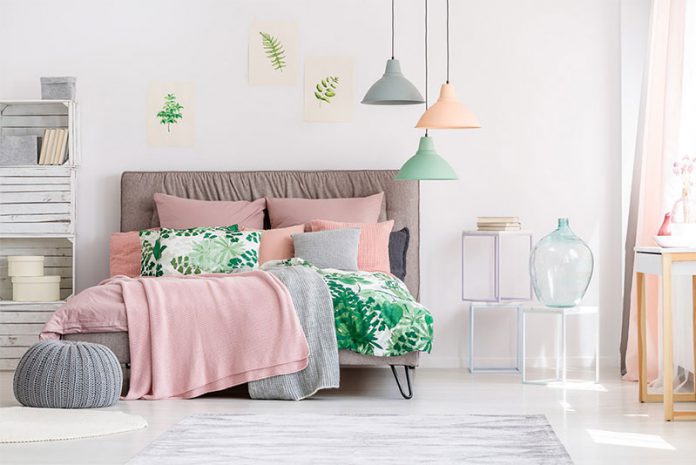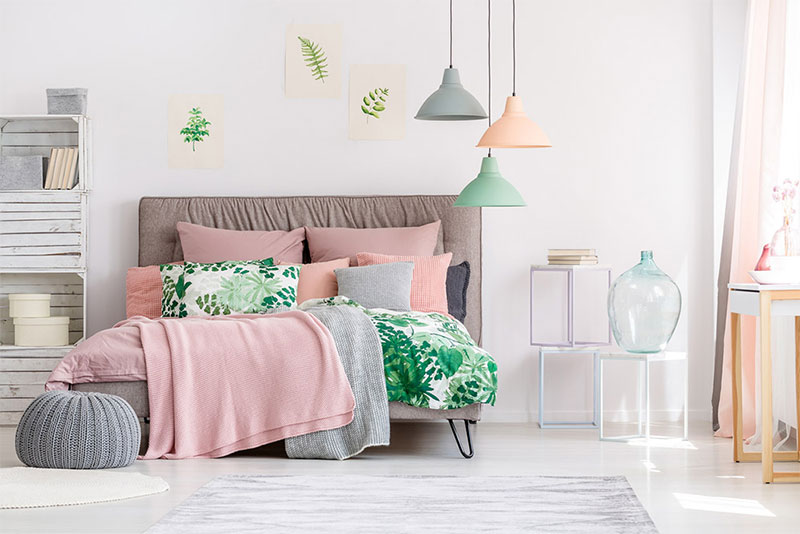 Graphic created by ImproveNet.
Whether it's a single story ranch, a condo, or a small studio apartment, your residence should offer a relaxing refuge from the chaos of the outside world. This is especially true during these uncertain times.
Creating a tranquil space that's filled with positive energy and a sense of calm can decrease anxiety, foster creativity, and boost your mental health. Read on to learn how to transform your home into a serene and pampering haven.
Scent Your Spaces
The power of scent to promote wellness in your house should not be underestimated. Picture it: You come home after a long day of work and you're greeted by the intoxicating scent of rose geranium as soon as you walk through the door. The stress of the day begins to fade and you immediately feel inner peace.
Aromatherapy can uplift the whole atmosphere of a home. Studies have shown that it also helps reduce anxiety and improve the quality of sleep, among other benefits. To create an aromatic ambience, add a few drops of your favorite essential oils to a diffuser or simply incorporate bath products with delightful natural scents into your skin care routine.
Focus on Lighting
Sunlight plays a major role in elevating mood and can strengthen your connection to nature. Maximize the natural light in a space by replacing heavy drapes with gauzy curtains. Strategically placing mirrors near windows may also help bounce the sun's rays across the room.
Create a Dedicated Workout Area
Designate a spot in the house where you can stay motivated and keep your body moving. Studies have shown that regular exercise has the ability to decrease stress as well as symptoms of depression and anxiety.
Try changing a spare room into a home gym. If you live in smaller quarters, you may have to get creative and turn a certain corner into a multipurpose area. This can even be part of the basement or living room where you set up a yoga mat or some fitness equipment.
Decorate With Plants
Happy greenery infuses a home with the tranquility of nature. Indoor plants are also a great way to purify the air and bring the outdoors into your decor. If you're new to plants, start with succulents and low-light shrubs. Even a vase of wallet-friendly grocery store blooms can make a huge impact aromatically and visually.
Convert Your Bathroom Into an At-Home Spa
Want to turn your morning shower into a spa-like experience? Hang a few stems of eucalyptus upside down from the showerhead. The hot water and steam will diffuse the plant's natural oils. Eucalyptus oil acts as a decongestant and helps clear your airways.
Contain Clutter With Baskets and Bins
Cleaning is essential for maintaining a peaceful home, so toss any knick-knacks that don't truly bring you joy. Then organize any remaining chaos. Corralling clutter in baskets and bins reduces visual distractions and makes a room feel bigger. Moreover, a minimally styled space can open the door to peace and healing, allowing you to focus on what matters without being disturbed.
Embrace Neutral Colors
While statement walls can make a room pop, too many bright hues and bold colors may send your senses into overdrive. Stick with a palette of neutrals and earth tones to create a soothing effect. Colors such as grey, beige, deep blue, and lavender encourage you to relax and unwind.
Whether it's creating a nook for workouts or adding more greenery, an escape at home may help you adjust to a new normal. For more ideas on how to transform your abode into the ultimate self-care sanctuary, see the accompanying infographic.
Author bio: Excited to share her love of home design and décor with readers, Jaclyn Crawford started with ImproveNet in 2016. As a staff writer, she enjoys chronicling the latest trends and ways you can make your home the loveliest it can be. You may also find her in ImproveNet videos, sharing tips and trends for your home.