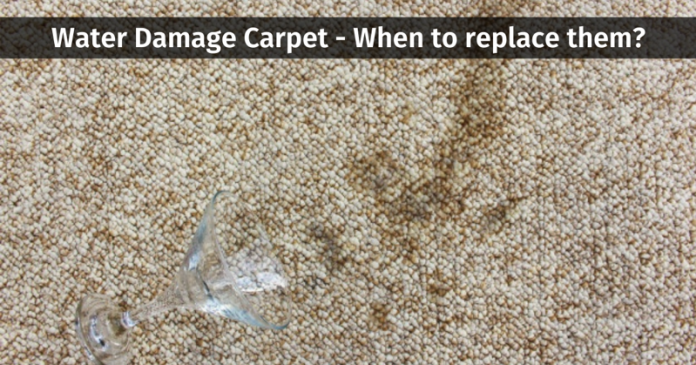 The undeniable fact about carpets is their overall expense; from purchasing to installation and maintenance every step requires spending money. In situations of flooding the dilemma arises about whether to go for carpet replacement or get water damage carpet cleaning Adelaide.
How to identify if your carpets need replacement after water damage? Here in this blog, we are going to find the solution to the dilemma. So, continue reading to find out how water damage restoration specialists identify the condition of your carpets.
How old are your carpets?
In case your carpets are quite old and not in great condition, then water damage carpet cleaning Adelaide would be a waste of resources, time, and money. Old carpets aren't durable enough to handle the application of chemicals and powerful devices.
However, in case your carpets are new and well-maintained, then you must consider hiring water damage restoration specialists for their suggestions. The chances of saving your carpets increase with professional water damage services.
What was the level of water?
It is quite obvious to understand that if a carpet has soaked more water, it's difficult to restore, clean, and dry them. However, it is not completely impossible to restore such carpets. You must consult experts for carpet water damage cleanup.
In case your carpets remained submerged in water for days then it may not be wise to hire water damage restoration specialists. With increased duration, the fiber of the carpets starts deteriorating making it difficult to restore.
How long did your carpet remain soaked?
As per the water damage restoration specialists, the process of carpet restoration must begin within 24 to 48 hours. Any further delay invites mould and mildew growth that gradually destroys your valuable carpets. In case your carpets have to remain soaked in water for a long time then it is time to go carpet shopping. You should avoid the hassle of availing of water damage carpet cleaning Adelaide.
What was the source of water?
There are three categories of water namely known as clean water, greywater, and black water. In case of clean water flooding, you must go for carpet water damage cleanup.
However, in case of grey or black water flooding that comes from the toilet or sewage backflow you should not even consider availing water damage carpet cleaning Adelaide. Avoid being around such highly contaminated water and carpets as it can impose serious health risks.
Can your carpets be restored?
Despite severe flooding, when you act quickly in consulting professionals there is a hope that your carpets may be saved. It is best to allow the water damage restoration specialists to inspect and provide the best solution for your water damage carpet. Based on the condition of your carpets they may or may not suggest carpet replacement.
In the situation of flooding your response time and carpet's condition plays a huge role in deciding whether to go for carpet replacement or carpet water damage cleanup. For better assistance feel free in contacting us!
Health Hazards of Water Damage Carpets
Depending on the category of water, there can be severe to moderate health hazards. Some may experience extreme allergic reactions while some may not have noticeable symptoms initially.
The level of contamination and duration of exposure plays a key role on the health of an individual. You may experience milder symptoms like runny nose, sore eyes, and skin rashes to extreme symptoms like asthma, severe allergic reaction, breathlessness, and skin irritation. Symptoms may vary from person to person.
The moulded carpets and walls are the major reason why water damage is considered the worst form of accident at home. Exposure to such conditions especially to kids can increase the risk of respiratory diseases like asthma and bronchitis.
Therefore, availing carpet water damage cleanup is necessary. You must not expose yourself and your loved ones to water damage. Rely on professionals and seek emergency water damage restoration services.
Property Damages Associated with Water Restoration
Your health should be your utmost priority at the time of water damage. However, apart from health risks, property damage is another consequence of flooding. These are the few most common property and assets that get damaged during flooding:
Floorings
Walls,
Furniture
Electronics and other appliances
Foundation of the property
Cabinets
Carpets
Porous structures like floors and walls get severely damaged as water keeps on soaking in the structures and damaging your property.
How to Control Water Damage At Home?
As we always say your response time is the key. At the time of flooding inside your house, there are a few things you can do to protect against severe damages.
Find the source of water: Make sure to identify the source of leakage or spill inside your house. If possible stop the flow of water using tools at home or seal the source. Call water damage restoration specialists as soon as possible.
Extract Water: After the flow of water stops make sure to extract the water from your premises. Use vacuum cleaners or wipers for extracting water from the unwanted spaces of your house. Before proceeding with water extraction make sure to identify the category of water. If the flooding is caused by sewage backflow or toilet backup, then avoid extracting it. Wait for professionals to rescue you from such a situation.
Ventilate your house: after you are done with the extraction of water, it is time to ventilate your house. Open up all the windows and doors for a cross-flow of air. Also, turn on fans so your property can dry as soon as possible. Wait for the professionals to arrive and restore your wet carpets and rugs.
Final Words
Flooding accidents can happen anytime anywhere. These accidental floods invite tons of troubles along including intense property damage and health risks. Therefore, it is necessary to act quickly and hire services for water damage carpet cleaning Adelaide.
Feel free in contacting us for quick flood restoration services in Adelaide! Give us a call now!