Typically, most homeowners focus on primping and polishing the interior of their homes to create a cozy and welcoming space for everyone in the household. From beautiful decorations to family photographs hanging on the walls, the interior is often prioritized in terms of home improvement projects.
However, just like the interior of your home, the exterior also deserves tender loving care from homeowners like you. It creates a first impression of your place of abode as it's the first thing neighbors, friends, and guests see when they pass by or visit. That's why if you want to set a good impression about your property, a remodel might be in order.
Thus, if you consider the idea of remodeling the exterior of your home, below are the five common reasons for doing so:
1. Improve Home Value
One of the best reasons for remodeling the exterior of your home is to improve its value over time. With some exterior renovations, you can ensure increased functionality and beauty to your property, making it more attractive to potential buyers in case you want to resell it in the near future. Also, when you conduct some exterior remodeling projects, you can sell your home faster and for a better price.
For example, one of the renovation ideas that can help improve your home's value is eavestrough and siding replacements. Due to their ability to transform an outdated outer shell of your home into something fresh and attractive, many homeowners consider these projects useful in adding more value to your property. Thus, if you decide to replace these exterior parts anytime soon, be sure to hire professionals who offer reliable eavestrough and siding services for your exterior remodeling project.
2. Make Your Home Aesthetically Appealing
As mentioned, the outer shell of your home is the first thing people will see when they approach your driveway. Hence, when the exterior looks old and outdated, it can be an eyesore to anyone passing by or visiting.
Not only that but if you belong in a neighborhood where several home renovation projects are conducted, you'll also want your property to stand out by making it aesthetically appealing. This can be one of the reasons why remodeling the exterior of your home makes a lot of sense for you.
3. Enhance Your Home's Energy-Efficiency
Renovating your home's exterior will not only enhance its overall appearance but it'll also provide improved energy-efficiency for a long time. For example, an out-of-date siding and eavestrough may cause cold and hot air to escape from your home. In such a case, it can result in rising energy bills which in turn, can affect your monthly finances.
Therefore, if you want to save some money on your monthly energy bills, think about some home exterior renovation ideas like eavestrough and siding replacements as soon as you can. Doing so will not only help you financially but also help you stay cool during summer and warm during winter.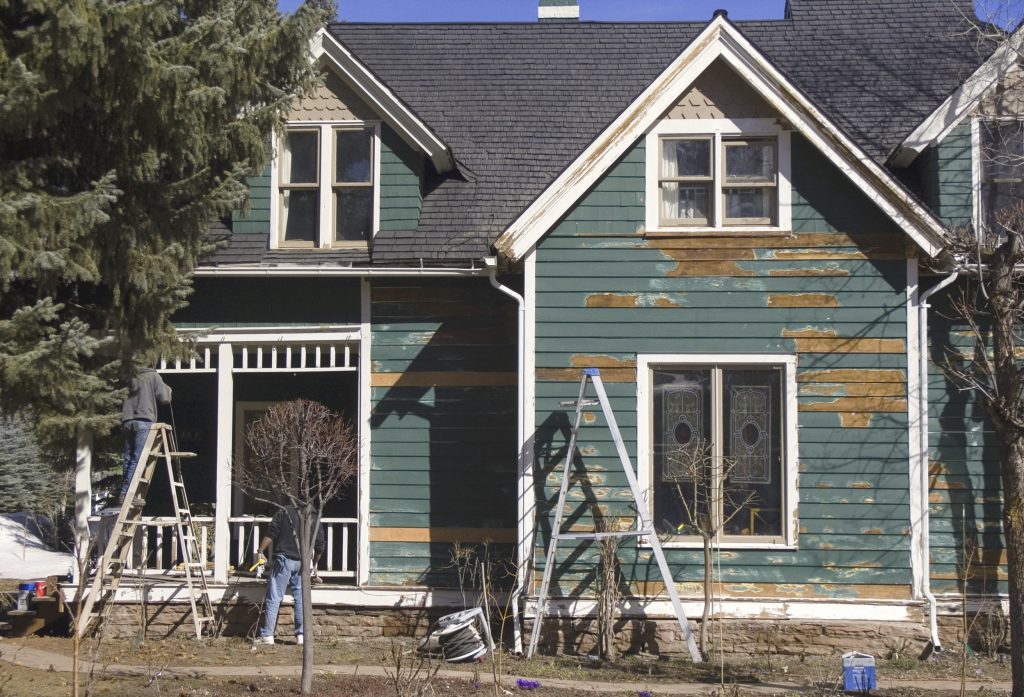 4. Get Rid Of Costly Maintenance
Another essential reason for getting your façade renovated is to avoid costly maintenance. Generally, when the exterior of your home is out-of-date, you may end up paying for expensive maintenance costs, including repairs. Because of this, remodeling the outer shell of your residential property can be an excellent idea. With good renovations in place, you can prolong the life of your home's exterior and there'll be no maintenance works which are costly.
Additionally, today's building products for exterior renovations are durable, which therefore, require less maintenance. For example, if you're looking for a siding that doesn't stain each year, then you can use and install a new vinyl siding that looks like wood as a replacement. By doing this, you no longer need to spend more money for replacing your home's siding next year and counting.
5. Provide Added Security And Safety
An exterior remodel of your home can also go a long way in providing added security and safety to your property. This is especially true if you're living in a home with an outdated façade. For example, when you have old and exterior doors and windows, you, your family, and property are more prone to break-ins and other security issues.
That being said, it can be a perfect idea to remodel your home's façade to ensure everyone's safety and security, including the property itself. For instance, you can install new windows with solid locking mechanisms and doors with deadbolts and strong locks. It can be one of the best ways to renovate the exterior of your home while staying safe and secure.
The Bottom Line
As a homeowner, you have the responsibility to ensure your dwelling place is well taken care of. This means you shouldn't only pay attention to the interior but also include the exterior in your home renovation projects. By keeping the information mentioned above in mind, there are many important reasons why you should upgrade your home's façade or outer shell.