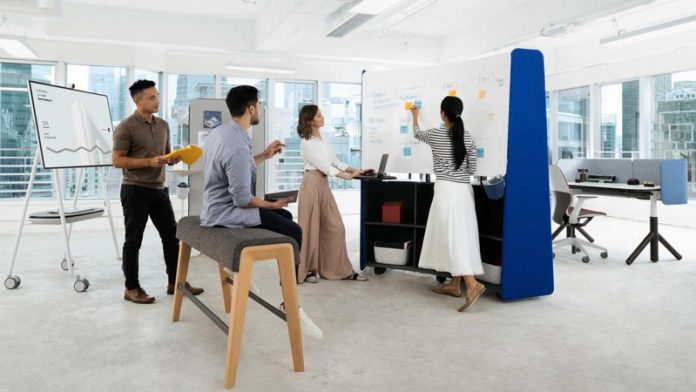 Do you want to brighten up your office in a cost-effective manner?
Maybe you've tried various ways to enhance your home, but nothing seems to work. How frustrated can you be!
If this is the case, it's time to consider professional carpet cleaning. Keeping your office free of allergens and microorganisms is an important aspect of maintaining a healthy atmosphere and enhancing indoor air quality.
Did you know employees spend approximately one-third of their life working for an establishment!
They do so to grow and nurture the company like their own. Everyone running companies should consider the various ways an unkempt environment can play on the employee's health. Professional carpet cleaners are essential for keeping a clean work environment. They employ innovative technologies to keep your carpets in tip-top shape. There are various companies providing carpet cleaning services which you can avail. They use their best carpet cleaner solution and equipment to eliminate all the dust and debris off your carpets.
Let's look at how professional cleaning can help you.
Prolong Life Of The Carpet
Carpets at the workplace face a vast amount of footfall, which leads to a more impenetrable amount of dust piling.
Office renovations and repairs take a huge chunk of money and time, and minor changes to the routine can avoid larger expenses.
Carpets are bound to collect dust and allergens, and various other debris, which sticks to the carpet's fibres and deteriorates its quality. Over time it looks dirty, thin and unkempt, which spoils the whole aesthetics of the office. Commercial carpet cleaning uses highly advanced technology to eliminate dust and debris most gently and effectively.
No Disruption To Work
When you run an office, it isn't easy to assign leaves just for cleaning or refurbishing.
Imagine the horror of your finances!
You must hire a carpet cleaning company who can get done with the job as soon as possible. Your company will have reduced downtime as experts have a fast drying system and even clean a larger surface area. Time is money, and you cannot risk losing clients over clean carpets!
Healthy Workforce
Have you been receiving complaints and sick leaves every other day? Well, it can be due to the dirty work environment.
Dusty desks, dirty computers and filthy carpets are the beginning of an infectious atmosphere. What we want from employees is productivity, and if they keep falling sick, your productivity will be down the drain. Carpets are a magnet collecting pet hair and dander, dust mites, and all kinds of debris. One or several of your employees may have an allergic reaction to those and fall sick. A pro cleaning service makes sure your office is spotless ready for prolific work.
Awesome First Impressions
According to experts, seven seconds is what you have to make a lasting impression on a client who walks into your office. When clients walk into the room, they look around the surrounding areas, and an unkempt carpet is a far cry from making a good impression.
Floors are an important aspect of any office's interior. You will create a good initial impact by covering them with clean carpeting. It would help if you got the best carpet cleaning service available in your area to make your carpets look immaculate.
Safe Cleaning Solutions
Businesses have been utilising unsafe cleaning agents in their workplaces for many decades. This affects worker efficiency while simultaneously providing a harmful effect on the environment.
Top carpet cleaners use eco-friendly professional carpet cleaning chemicals. These items are completely safe for both your employees and the environment.
Conclusion
Professional carpet cleaners are unquestionably important for successful business cleaning. They have the knowledge and equipment to provide a sanitary working environment. The top carpet cleaners customise their services to meet your company's demands. Such services are less expensive, more reliable, and much more convenient.
If you like this article, don't forget to show some love in the comments below.