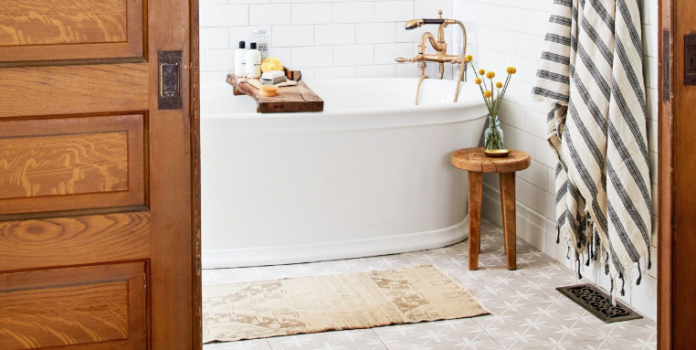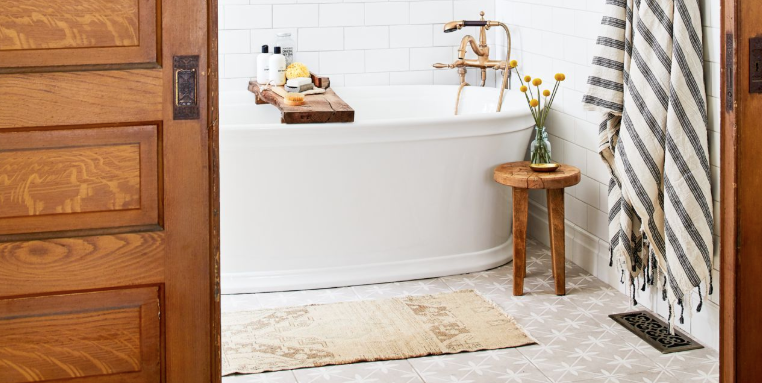 Bathroom floor tiles can be laid in a variety of different ways to introduce a layer of pattern and interest in your new bathroom's design scheme. Popular tile layout options include chevron and herringbone as well as the traditional staggered and stacked tile layouts. Each of these options will create an entirely different look in the bathroom which will enhance your overall design theme, whether you are going for a classic, timeless look or more of a modern and contemporary design style in the bathroom.
Chevron Tile Patterns
Chevron tile patterns are created using a unique shape of tile (referred to as a parallelogram; a rectangular shape with angled, pointed ends) that is laid in an interlocking design to form a zig-zagging, arrow style pattern. This style of tile laying can often fetch a higher price tag, both for the cost of the tiles themselves and also the laying process itself as there is much more care and attention to detail required at every step of the way to ensure a perfectly balanced finish. It is usually advised that chevron tile patterns be planned out properly before laying them; once you've received your new tiles, lay them out in the pattern you would like with your Tiler so they are informed of your design and layout preferences.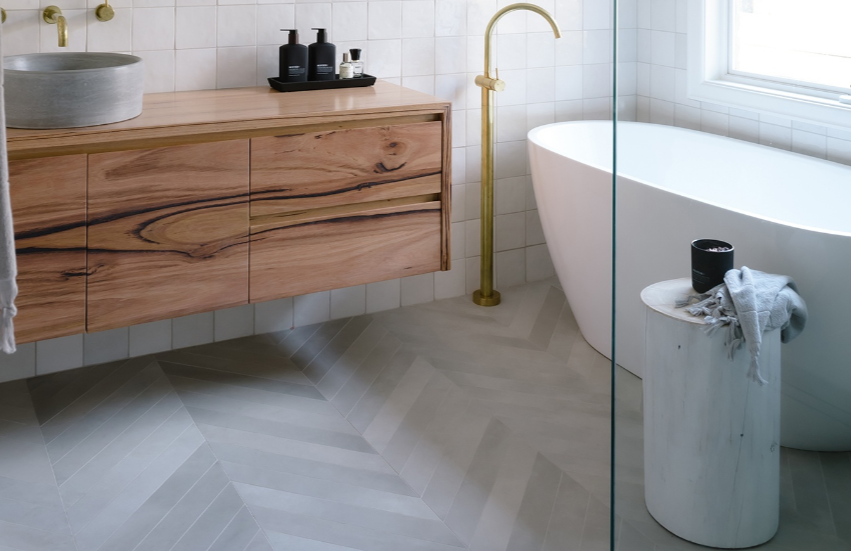 Caption: This elegant bathroom design scheme uses a combination of neutral toned tiles and warm, rustic textures to create a soft and timeless look. The soft grey chevron floor tile flooring offers a subtle contrast with the warm white wall tiles for a well-balanced style.
The key to creating the perfect chevron tile layout in the bathroom is to start your tile pattern in the centre of the room, with the pointed 'arrow' of the tiles being in the middle and each tile stemming from that point. This technique will ensure a perfectly balanced and symmetrical pattern is achieved in the space with minimal tile cuts required, making for a neat and complete finish in the bathroom.
Herringbone Tiles
Herringbone tile patterns are created using simple, elongated rectangular tile shapes that are laid in a staggered, interlocking pattern. This offers a similar look to the traditional chevron tile layout however the style can be achieved with a wider range of tile options as this particular shape is more widely available, thus becoming a little more cost effective to source the tiles themselves. As with chevron tile pattern though, paying attention to carefully planning a herringbone tile layout is the key in creating a perfectly balanced look in your next bathroom design project. Together with your Tiler, plan out the starting point of your new herringbone tile pattern for the best results.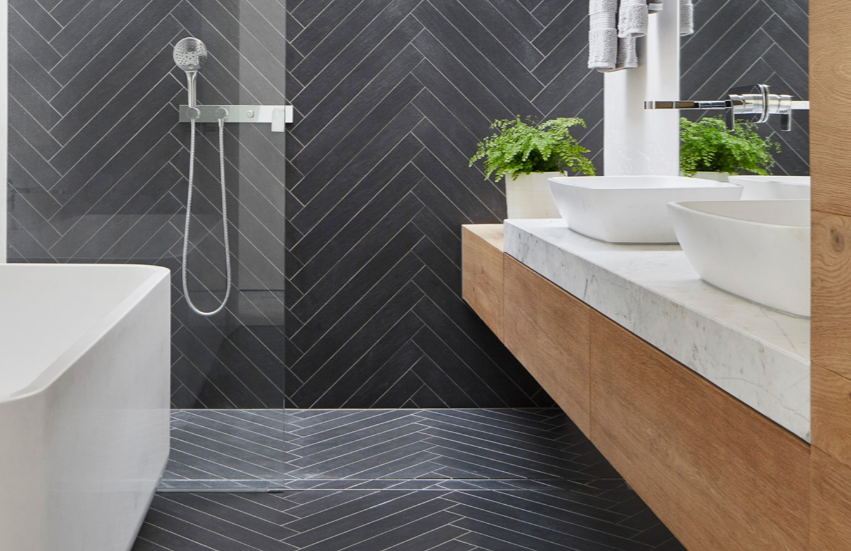 Caption: The herringbone tile pattern in featured in this modern bathroom design scheme has been carried up from the floor to create a feature wall in the large shower area of the space. This style of tile laying creates a sleek and unified look in the design, making the feature timber and marble materials of the vanity unit and benchtop the standout features of the design while the tiles make for a neutral backdrop.
Staggered & Stacked Tile Floor Patterns
Perhaps the most common tile layouts seen in bathroom designs, stacked or staggered floor tile patterns will always be on trend thanks to their simplicity. As most tiles are available in traditional square or rectangular shapes, there is certainly no shortage of options to choose from in a vast range of designs including various colours, materials and textures as well as patterns.
Stacked tile layouts will feature a square or rectangular shaped tile that is laid in a straight line with the next tile with all edges being in line with each other whereas a staggered pattern is created with each tile's edge being offset from those beside it, thus achieving a staggered effect.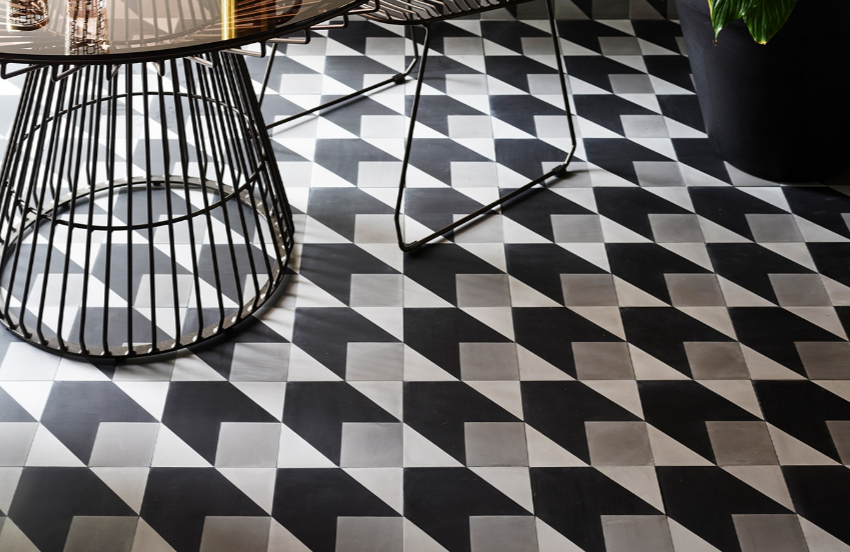 Caption: Simple square shaped concrete tiles are used in this space to create a feature tile flooring that makes use of repeating shapes and blocks of colour to create a bold pattern.
Bold patterns can be introduced into your bathroom floor tile finish with the use of patterned floor tiles in place of focusing on the actual layout pattern itself. Patterned tiles often feature a repeating, printed design that can use colour blocking, line-work or intricate images to create a stylish visual feature in the bathroom. Concrete tiles are the perfect example of such patterned options. Also referred to as encaustic tiles, concrete tiles will often feature a range of bold colours and patterns that can be used in the bathroom to create an elegant look that recalls the romance and traditional styles of past architectural periods, making for a warm and inviting aesthetic.
Using Grout Colours
When creating specific tile designs and layouts, selecting your grout colours will help you create the perfect look you are after. As a basic rule of thumb, if you are wanting to accentuate the shape of each individual tile, you can opt to use a contrasting coloured grout that will add definition to each tile. This technique can be handy when it comes to creating a herringbone or chevron tile layout for example, where defining the tile's shape and pattern is desired. If you are instead looking to make less of a feature of the grout colours, opt for a grout that will match the colour of your tiles. This technique will draw focus away from the grout lines and back on the tiles themselves, being especially favoured for stacked or staggered layouts to help achieve more of a uniform surface finish.
Creating a tile floor pattern in the bathroom can be achieved in many different ways; from using popular tile layouts such as the chevron or herringbone tile patterns to creating an individual look using traditional square and rectangular shaped tiles, there are many different solutions available to choose from. Your grout colours will also play an important role in creating the perfect tile floor pattern in the bathroom so it is always important to carefully consider your options prior to making any final decisions when shopping for tiles.