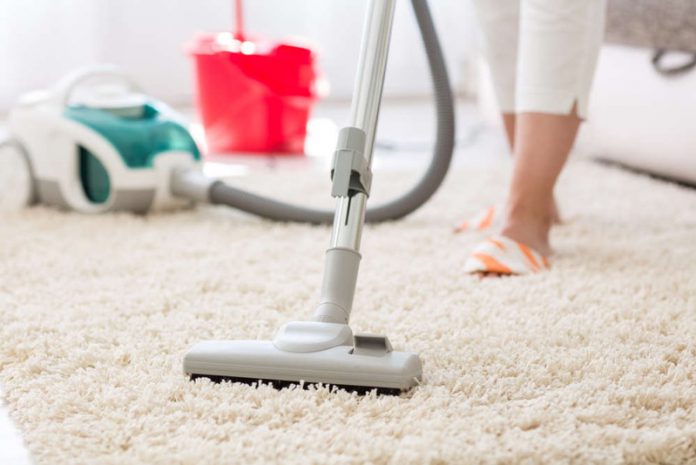 Cleaning your carpet can be a tedious task. Not only that but it can also be time-consuming, especially if you are cleaning stubborn stains that just won't come off. That said, you don't want to be left using just the basic cleaning equipment. What you'd want is to have the proper carpet cleaning supplies.
If you're on the market for carpet cleaning tools, then you're in the right place. Because in this article, we will talk about how you can find the right cleaning supplies for cleaning carpets. So, without further ado, let's begin.
1. Search for a good vacuum
While sweeping the rug will help you rid it of dust and dirt, nothing gets the job done as quickly and as efficiently as a vacuum. A good vacuum, usually of industrial quality, will be able to remove dust, hair, lint, dirt, and other dry objects that might have found its way into your carpet.
In fact, having a vacuum cleaner in a house that has carpet flooring is essential and should always be a part of a household's cleaning arsenal.
Here are some of the things that you should consider when shopping for a vacuum cleaner:
Weight – You would want to invest in a vacuum cleaner that is not too heavy and that is something you can operate without exerting too much effort. If you own a cleaning company or if you have a business that offers janitorial services, it's important to have a lightweight vacuum cleaner as it will allow them to carry the carpet cleaning equipment to multiple locations with ease.
Motorised brush – It's also important to check the carpet cleaning brush of the vacuum cleaner as investing in one that can be activated on and off for deep carpet cleaning can help protect the finish on bare floors.
Micro-filter systems – You'd also want to buy a carpet vacuum that can extract fine dust particles. Using a vacuum that has filters like high-efficiency particulate air (HEPA) filters will not only clean the carpet but will also improve the air quality in the room. These include pollen dust as well as pet hair.
Vacuuming the carpet at least two times a week will ensure that the rug stays clean and fur-free.
2. Get the right spot remover
While vacuums can deal with most of the dry items in your carpet, some cleaning products are best used for carpet stains brought by wet things like mud and beverages.
Often called by cleaning professionals as spot cleaning solutions, these chemical products can help remove discolouration, blemish, and marks on light-coloured carpets. The best ones are detergents that have been specifically formulated for carpet use.
In addition, you also want to know which product will work best with what stain you're dealing with, and avoid using products that have strong corrosive chemicals as they may damage the carpet in the process.
If you're unsure of what type of stain the spot cleaner is best used for, ask assistance from the store clerk or sales representative of the particular brand as they will know specifically the formulation of their product.
3. Dry and steam cleaners
You might also want to try using a dry cleaner or a steam cleaner. These carpet cleaning tools are often used with a carpet cleaning solution which can be used in conjunction with the equipment on or before the actual cleaning begins.
A dry carpet cleaner uses compound cleaning agents which pre-treats fibres and break down the dirt before the actual carpet cleaner is used. The cleaning agent is pre-applied to the carpet using a brush. The solution absorbs oils and loosens sediments in the carpet while the dry carpet cleaner is used to finish off the task.
On the other hand, steam cleaners water vapours to clean the carpet. It does inject moisture in the carpet but only enough to rinse any dirt or stain from the fibers of the rug. Many homeowners and business operators swear by the efficacy and efficiency of steam cleaners because it deep-cleans almost any type of carpet.
That said, it has some sort of restorative effect on carpets which helps bring them back to their former beauty. Dry and steam cleaners are used in many applications including furniture cleaning and car detailing.
Takeaways
These are just some of the most common and effective tips that even professionals use when buying carpet cleaning supplies. To make sure that you are buying authentic and original carpet cleaners, make sure to get your products from a reputable supplies store.