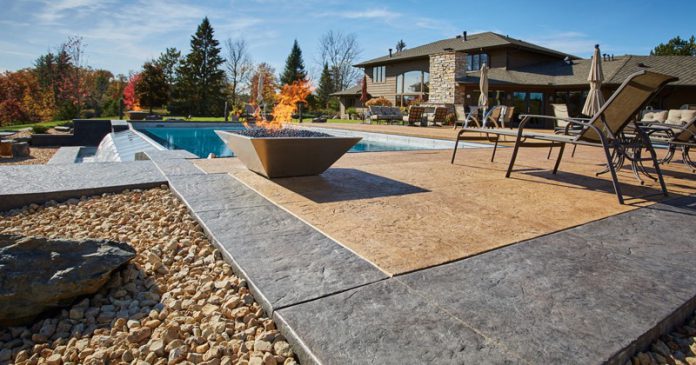 There are many ways to improve your business, such as renovating your building or adding more decorative pieces. Your main objective as an owner is to attract clients to your physical store to do business with you. If you want to renovate your dilapidated building, consider adding decorative concrete.
You can find many businesses trying to incorporate decorative concrete into their building because of the positive effects they can get. With the thousands of designs, it's no surprise why it's a great product to add to your building. If you don't know much about decorative concrete, you can start with the basics.
Decorative concrete is applying or creating designs on a concrete surface. You can find that there are five processes to decorate concrete which include:
Concrete Overlaying
The first method to get decorative concrete is by using concrete overlaying. As the name suggests, you apply the layer of decorative concrete onto a base concrete surface, which is a method that many contractors use because it's easy and fast to complete. They
Concrete Stamping
The second method is concrete stamping, which is "stamping" an image onto a concrete surface. Contractors can only stamp the design on the concrete surface when it's still wet. But if the concrete hardens, it's impossible to stamp the image and cause the concrete to break instead.
Concrete Engraving
Another method that requires the concrete to stay wet is concrete engraving. A designer cuts the designs and textures into the surface. Once they finish engraving, they have to cover and wait for the concrete to dry up. The concrete can get smudged in rare cases because the designers failed to protect it from birds, dogs, or cats.
Concrete Staining
If you want to design wet concrete the fastest way, you can always go for concrete staining. You use a solid pattern with a solid engraving, and then the contractor presses it onto the wet concrete. Most of the time, contractors leave the solid pattern on the concrete until it hardens, which provides the cover it needs to protect the wet concrete from getting damaged.
Concrete Sealing
The last process after using the four methods of decorating concrete is sealing it. Once the decorative concrete hardens, the contractor must apply a protective coating that prevents it from getting damaged too fast. Without the protective layer, you can easily stain them with your shoes or chip the concrete.
Don't forget that you have four methods of decorating concrete, and never miss out on the last step, which is concrete sealing. You must do the final step every time to ensure your decorative concrete doesn't break easily.
Why Choose Decorative Concrete?
Since you now have an idea about decorative concrete, you may want to find out more about how it can benefit your commercial building. Some of those benefits are:
Better Building Aesthetics
One significant benefit of decorative concrete is you get to improve your building's aesthetics. It's an essential piece if you want to make your building look more presentable and appealing. Since you have free reign to choose whatever design you want on the concrete, you can create a design related to your business. Some commercial building owners even try to engrave their brand name on the concrete so that clients will see it before they step inside the physical store.
Highly Resistant to Damage
The best benefit you will like about decorative concrete is it can withstand heavy foot traffic. Every commercial building needs concrete flooring that can last for years of foot traffic, and you can quickly get that with decorative concrete. It can withstand years of abuse because of the concrete sealing applied after placing the design.
It's so durable that you can place benches, park cars, or anything heavy on top of decorative concrete, and you won't see any damage on its surface.
Easy to Maintain
No business owner wants a building that takes up too much money because of maintenance. Fortunately, you don't have to do much upkeep when you have decorative concrete. It shares the same properties as an average concrete surface but with designs added to make it more appealing.
You don't have to hire professional cleaning companies to maintain decorative concrete surfaces. Your building's cleaning personnel can use a mop or broom to clean out the surface. And after a few years, you can re-wax or reapply the concrete sealing to regain its integrity.
Gain Cooling Benefits
If you want to cool your building more, installing decorative concrete doesn't trap heat inside. It's best to install the decorative concrete indoors to add more cooling for your employees or clients. And when you pair it with roof hatches, you get to maximize interior cooling.
Choose best of the best when you want decorative concrete installed in your building. Find a designer who understands what you need for your business and a contractor who can install the concrete without a problem.