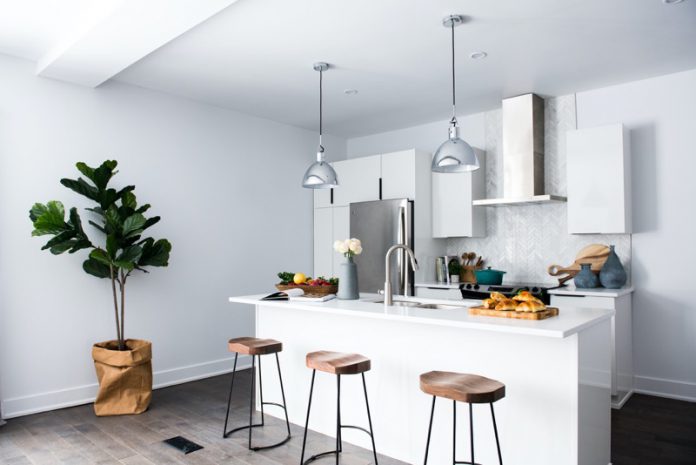 If you are planning to remodel your kitchen, there are several factors you need to consider. What types of cabinetry are you going to use? Should you replace the old appliances? Is it a good idea to try a new flooring style? We know that all of this sounds like a stressful process. But, the good news is that there are some parts in which you can have some fun. For instance, choosing your kitchen backsplash.
Today, many homeowners are interested in looking at white kitchen backsplash ideas because they can create a timeless design. Even when this look is trending, some people worry that a neutral color won't give them too many options to choose from. However, they are wrong. In the market, different materials will offer them unique versatility and texture. Plus, with the arrangement of the backsplash, they can display a one-of-a-kind style.
Further, if you want to add a touch of color to your kitchen, you can get different cabinetry tones. But, to make a strong statement, we will advise you to look at the most popular countertop colors. Check out this post to learn more.
9 White Kitchen Backsplash Ideas
We know that when most homeowners think about backsplash ideas for a white kitchen, their mind goes to elegant tiles. This is a great style that will be also functional since it will require minimum maintenance. However, this is not the only option you have. That's why if you are feeling a little adventurous, we invite you to keep reading and find other design alternatives that will make your kitchen stand out.
1.   Timeless Marble
There are several kitchen backsplash ideas for white cabinets, but this one is our favorite. Getting a slab of marble backsplash will give you a touch of luxury. The best part is that this material will also protect your walls and create continuity in your design. Remember to check the heat resistance of the marble your provider offers. If you choose this aesthetic, it will be easy to introduce different decor elements.
2.   Painted tiles
Even though we love all-white kitchen backsplash ideas, sometimes a touch of color can create the ambiance you have been looking for. If you like a French cottage design, then you need painted tiles for your backsplash. This style works better when you match it with an all-white kitchen island. Remember that there are different pigments you can choose for this pattern design. However, we would recommend mixing white with blue, pink, or black. That way, if you want to remodel, your backsplash can stay.
3.   Large Subway tiles
This is one of the backsplash ideas for a white kitchen that has always been around. The reason why it is so popular is that it is easy to install. Some homeowners even do this process alone, achieving incredible results. Plus, this classic arrangement brings you a rustic and elegant element of your kitchen ambiance. But, this time we won't be using regular subway tiles instead you should pick extra-large ones. Also, if you want to go a step further, take the design up to the ceiling.
4.   Belgian texture
When you are looking at kitchen backsplash ideas for white cabinets, before going straight to the modern designs, we advise you to try out the classics. Belgian tiles with a glossy finish are perfect to achieve a timeless and elegant style. But, at the same time, it displays an aesthetically pleasing texture. Keep in mind some of them might be uneven. However, that is the unique characteristic we are looking for.
5.   Geometric shapes
Hexagon patterns are always a homeowners favorite since it allows them to experiment with different shapes. Usually, people don't choose an all-white style because they want to add some depth. But, the good news is that you can achieve the same effect with neutral tiling. Plus, if you want to make a statement, you can take the design up to the ceiling. To highlight this backsplash, choose gold decor and introduce a green element choosing some small plants.
6.   Handmade tiles
In case you have a little bit more room in your budget, this is one of the backsplash ideas for a white kitchen that you will love. When it comes to design trends, it seems like homeowners are feeling nostalgic this year. That's why handmade tiles are making a comeback. Your kitchen can turn into a place where you can showcase craftsmanship and unique styles. We are sure that with this type of backsplash you will impress all the guests.
7.   Modern edge
If you are thinking about having an all-white kitchen, it doesn't mean you avoid all the modern styles. Instead, you need to see this as an opportunity to get creative and showcase an opulent style with classic materials. To achieve this, you'll have to purchase narrow tiles. Then, ask the contractor to stack all of them in columns. The result will amaze you. Keep in mind that because this design is a little complicated, it might cost you more to install it.
8.   Minimalistic style
Every homeowner is looking to display their personality in their home design. That's why most of them concentrate all their efforts on the kitchen. This space is where you will prepare meals with your family and engage with your guests. A minimalist style will allow you to create a relaxed ambiance that feels welcoming. When it comes to your kitchen backsplash, you'll only need some narrow tiles and arrange them vertically. We know that this sounds unconventional, but we assure you it will work.
9.   Rustic backsplash
Even though many people consider stone for their countertop, they never think about using the same material for their backsplash. The best part is that you will get a rustic texture combined with some optical illusion. It could be difficult to find an all-white stone design, but you can always paint the backsplash.
Now that you are aware of the latest backsplash ideas for a white kitchen, it is time to try out some of them. Remember that the advantage of using this neutral tone is that you won't have to remodel your kitchen.