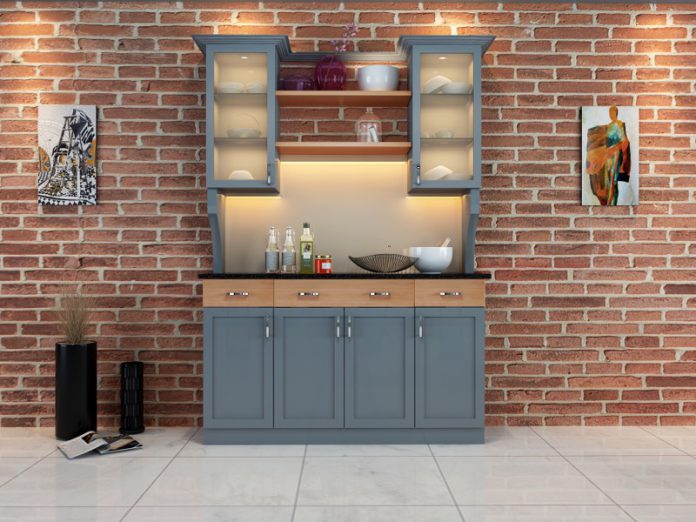 It's not a crime to own too many plates. However, the difficult part is to keep them organized. You don't want your precious glassware strewn across the kitchen for lack of space.
So, what's the solution? Crockery cabinets, of course!
Crockery units have been a kitchen design staple for decades. There's no denying that the trend is timeless. Besides providing you with a space to arrange your ceramics, they also lend a beautiful, classy appeal to your kitchen/dining room décor.
Whether you choose a free-standing crockery unit or a wall-fixed one, you're in for a treat. Let's look at six remarkable advantages of having custom-made cabinets for your crockery.
1. Helps Display Your Crockery in Style
If you have quite a few eye-catching porcelain dinner sets, don't stow them away in a dark corner of your overhead loft. Instead, you can invest in a crockery cabinet with glass panel doors.  Not only does it allow you to create a pretty display out of your ceramics, but also keeps them neatly compartmentalized.
2. Protects Delicate Crockery
Fine china and glassware are notoriously brittle. Needless to say, they need a lot of tender love and care. A crockery unit can safeguard your beautiful collection from falling and breaking unceremoniously. Find a cabinet with special shelves for different plates, bowls, cups, and glasses. These can keep the ceramics upright and steady, no matter which way you move the unit.
3. Enables Quick and Easy Maintenance
Sure, the lesser you use your best glassware, the longer it lasts. But tucking it away indefinitely can do more harm than good. Ideally, you should take your dinner sets out of their slumber every three to four months, wipe them with a soft cloth, and give them an airing before placing them back.
Sounds like too much work? A crockery unit can make things easier for you. With your delicate crockery only an arm's length away, you won't have to go through hell and high water to access them. All you have to do is open the cabinet door, take out your crockery carefully, and you're good to go!
4. Provides Increased Storage
Are your dinner plates hogging all the space in your kitchen cabinets? Do you have to keep your spice bottles in the refrigerator because there's no room in your drawers? If the answer to these questions is 'yes', then a crockery unit is a must-have for you.
Crockery cabinets can ensure clutter control by holding the majority of your dinnerware, especially items you don't use as much. Based on your requirements, you can choose a multi-shelf unit to keep all your china in order.
Additionally, drawers and doors in these crockery units can hide frequently used tableware, such as placemats, coasters, and runners. The possibilities are endless!
5. Keeps Your Crockery Dirt-Free
In case you're thinking of keeping your china out in the open, think again. Regardless of where you stash them, they will collect dust. Consequently, you'll have to undertake frequent cleaning missions to keep them sparkling, and more importantly, hygienic.
A crockery cabinet can save you from this hassle with ease. Because covered cabinets keep dirt and debris at bay, you won't have to schedule cleaning sessions for your dinner sets anymore. That's a great time-saving hack right there!
6. Adds a Decorative Element to Your Décor
There are multiple ways you can use a crockery unit to make a fashion statement. For starters, adding attractive lighting inside the unit can amp up its style quotient. Plus, from a functionality point of view, this can act as a secondary source of illumination in the kitchen.
That said, crockery units aren't meant for the dining area alone. You can place them anywhere around the home to take the room's décor up a notch.
For example, use an antique, wood-finish crockery unit to display books and showpieces in your living room. Place some vases and picture frames on the flat top, and you have yourself a chic mantelpiece-style arrangement.
Bottom Line
There's a reason why crockery units have been around for so long. They offer the perfect balance of style and purpose, providing you with some much-needed extra space in your kitchen while elevating its design. Now that you know the many benefits of installing a crockery unit in your home, don't hesitate to get one for yourself.
Author Bio:
"Riley Swanson is a lifestyle blogger, passionate about food, fashion, home improvement, and traveling. She is also an avid traveler and shares her traveling experiences in her blog Riley+Christian Travel."